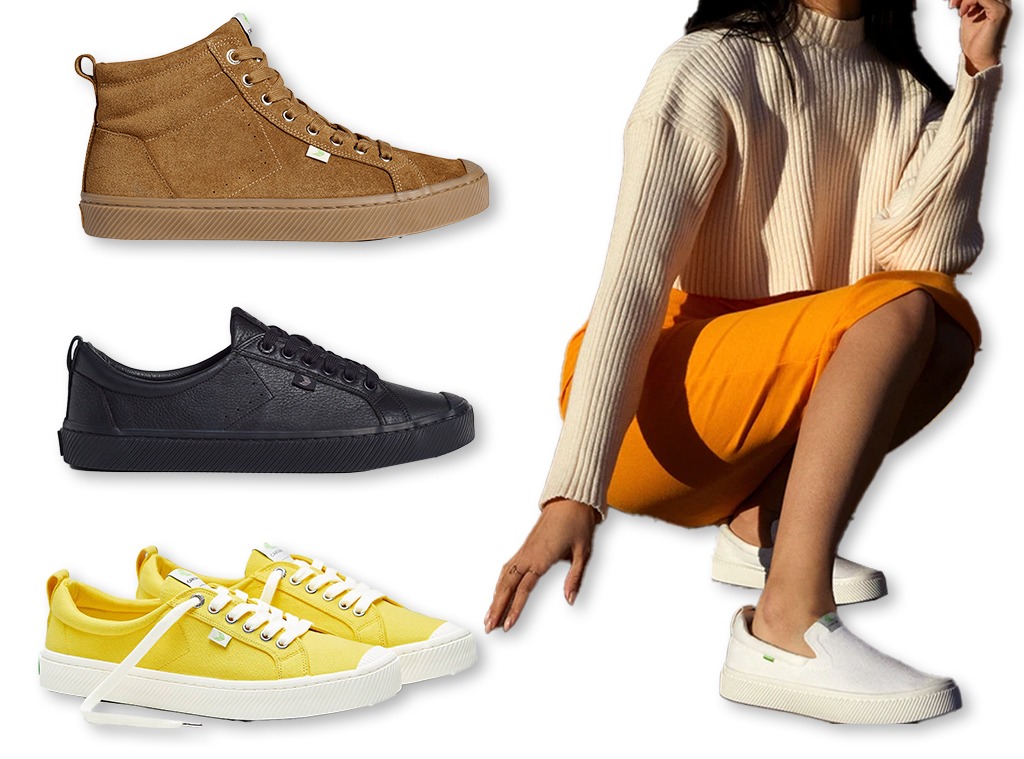 We independently selected these products because we love them, and we hope you do too. Shop with E! has affiliate relationships, so we may get a commission if you purchase something through our links. Items are sold by the retailer, not E!.
If you've been looking for shoes that are environmentally conscious, durable, and fashionable, look no further than Cariuma's IBI Slip-On. These shoes have the lowest carbon footprint of any sneaker. Ever. According to a March 2021 study, each pair has a carbon emission of 5.48kg CO₂e. Beyond that, the slip-on sneakers are super comfortable and come with lightweight, removable memory foam. The shoes are available in men's and women's sizes and there are eight colors to choose from. They're built to last and they're even machine-washable.
There are many other eco-friendly styles available from Cariuma. And, if you're looking for another reason to shop, Cariuma started its own reforestation program. The company plants two trees in the Brazilian rainforest for every sneaker sold.  But, wait, there's more. For a limited time, customers will get free express shipping when they use the code GIFTEARLY at checkout. Celebrate National Recycling Day by shopping some of our favorite styles below. 
Cariuma Off-White Knit IBI Slip-On
These are the off-white version of the IBI Slip-On, the shoe with the lowest carbon footprint of any sneaker EVER. The comfortable footwear is made from harvested bamboo and recycled plastics. And an all-white shoe will always be on trend.
Cariuma Yellow Canvas OCA Low
These sneakers "exist at the intersection of functionality and style." The insoles are 100% vegan. These shoes are so comfortable that you might want them in every color, just like one customer who shared, "I own 5 pair of these wonderful shoes. I have bought some as gifts also. These are definitely the most comfortable and stylish shoes. I wear them with all types of casual dresses and jeans. Many compliments from people. My goal is a few more colors!"
Cariuma Leopard Suede OCA Low
If you love leopard print and eco-friendly shoes, check out the Cariuma Leopard Suede OCA Low. The suede sneakers are available in zebra print, camouflage, and five solid colors. There are also some leather options to choose from. One customer said they are "Cute but comfy. The best." Another shared, "it feels so good to walk in comfort."
Cariuma Rose Knit IBI Slip-On
These shoes are ultra-comfortable, environmentally conscious, and they're available in pink, grey, white, black, red, blue, green, and yellow.
Cariuma All Black Premium Leather OCA Low
These black leather sneakers are made from high-end raw materials. The shoe perfectly coordinates with almost any outfit. In addition to looking great, the sole is made from 100% slip-resistant rubber.
Cariuma All Camel Suede OCA HIGH
The Cariuma All Camel Suede sneakers are crafted from high-end, raw materials. The shoe has lightweight cushion technology and there are three colors to choose from.
Cariuma Camel Suede OCA Low
These sneakers come in 8 different shades of premium soft suede. They have memory foam for a personalized fit, making these the perfect combination of style and comfort. One customer shared, "I have neuropathy so I have issues being comfortable for any length of time but I was out for hours the first time I wore them and I was comfortable. Would recommend highly."
Cariuma Stone Black Knit IBI High
Not all high-top shoes are created equal. One Cariuma customer said, "I've never found a hi top sneaker that I could wear without it chewing up my heels and ankles but this how is a dream to wear and to walk in. After the first wear it became my go to for every day and long walks." Additionally, the IBI High sneakers are made from self-regenerating bamboo & recycled plastics.
Cariuma All Black Premium Leather OCA High
These durable sneakers are made from premium pebbled leather. They have memory foam, which molds to create a customized fit with time. These shoes are made to last and the black leather is easy to clean.
If you're looking for great footwear, check out these fall shoes our shopping editors are obsessed with.
—Originally published Apr. 20, 2021 at 3 AM PT.