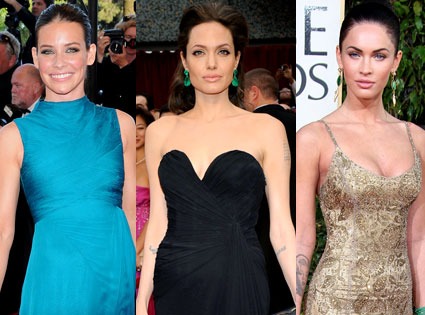 Tony Barson/Getty Images,Kevork Djansezian/Getty Images, Frazer Harrison/Getty Images
When you're a superhot movie star, it's usually a sign of success when people start trying to find another variation of you. Such is the case, it seems, with Angelina Jolie.
In the June issue of Women's Health, Lost lovely Evangeline Lilly tells the mag her show's producers have expressed their disappointment that she hasn't capitalized on her fame.  
"It frustrates [them] that they've given me this chance to become the next Angelina," she says. "Sure, I'd love to be her, but just the humanitarian side."
Of course, this is no doubt music to Megan Fox's ears…
After all, the sexy starlet already seems to have positioned herself (or would that be the media?) to become the next Angie.
Sure, she may not have what it takes to pull off a Changeling, but given her experience battling Decepticons, she could easily slip into Lara Croft's tight-fitting tees if called upon to do so.
Then again, maybe the two could simply share the wealth, with Megan taking on a few Angie-type roles while Evangeline helps cover some of the goodwill stuff, thereby freeing up the actress a bit to spend more time with Brad Pitt and their six kids. A win-win-win for everyone involved.
But what say you? Do either of these ladies have what it takes to transform into the megawatt star, or should they both simply get, well, lost?
______
Follow us on Twitter @eonline and get our free iPhone app