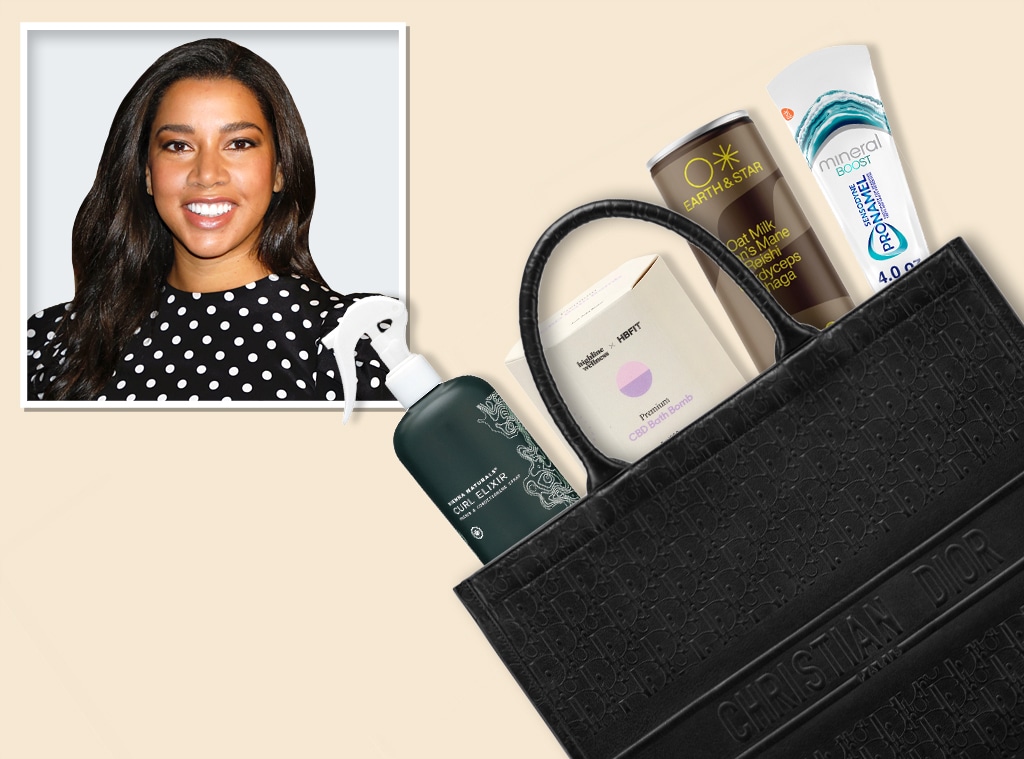 We interviewed this celebrity because we think you'll like their picks. Some of the products shown are from the celebrity's own product line or a brand they are paid to endorse. E! has affiliate relationships, so we may get a commission if you purchase something through our links. Items are sold by the retailer, not E!.
Hannah Bronfman is ready for a very special season!
With temperatures rising, the health/wellness entrepreneur, HBFIT founder and proud mom is focused on looking and feeling her best. And yes, she wants to spread that positivity to other women across the country. 
"Honestly, I think that confidence is probably the number one sexiest thing about a woman, best accessory you can have," Hannah exclusively shared with E! News while partnering with Pronamel Mineral Boost. "I think finding confidence in yourself is a journey in itself, but once you find it, it's one of those things that I think is just the epitome of self-love. Another really big part of confidence is your smile, and that's why I like to use Pronamel Mineral Boost, because it helps strengthen, and whiten and protect your teeth."
In between her busy schedule, Hannah opened up her bag to E! News and shared some of the items she loves. Keep scrolling to see her favorite items she can't live without. 
Sienna Naturals Curl Elixir Hair Primer
Hannah is a fan of this conditioning leave-in spray that moisturizes, strengthens and helps revitalize hair's natural texture with luxe vegan ingredients.
CBD Bath Bomb Hydrate, Relax, Restore
In collaboration with Hannah's very own HBFIT company, Highline Wellness formulated a bath bomb that helps soothe, release and restore skin. Plus, it's packed with rich essential oils, botanicals and minerals to reduce inflammation and help the body relax. 
Sensodyne Pronamel Mineral Boost Sensitive Teeth Enamel Toothpaste
Hannah recommends this toothpaste that protects against the effects of dietary acids, prevents enamel loss and improves natural mineral absorption to help you maintain strong, white teeth. Plus, it has a pleasant peppermint flavor!
Earth & Star's Cacao Oat Milk Latte
Stay focused and calm while also maintaining your energy with Earth & Star's latest drink that Hannah enjoys on the go. 
Flow Alkaline Spring Water
Stay hydrated all summer long with Flow Alkaline Spring Water. The Hollywood favorite beverage comes in many flavors like peach blueberry, strawberry rose and blackberry hibiscus. See what all the fuss is about as temperatures begin to rise. 
Dior Book Tote
With Mother's Day right around the corner, there's one thing every mom dreams about getting: a luxurious and reliable handbag. For Hannah, she's in love with Dior's book tote that is designed to hold all the daily essentials.
Original Crispy Seaweed Snacks by Nora
Itching for an afternoon snack? Avoid that piece of candy or sweet treat and instead try Nora's crispy seaweed that is crispy and crunchy like a potato chip, yet low-carb and gluten free.