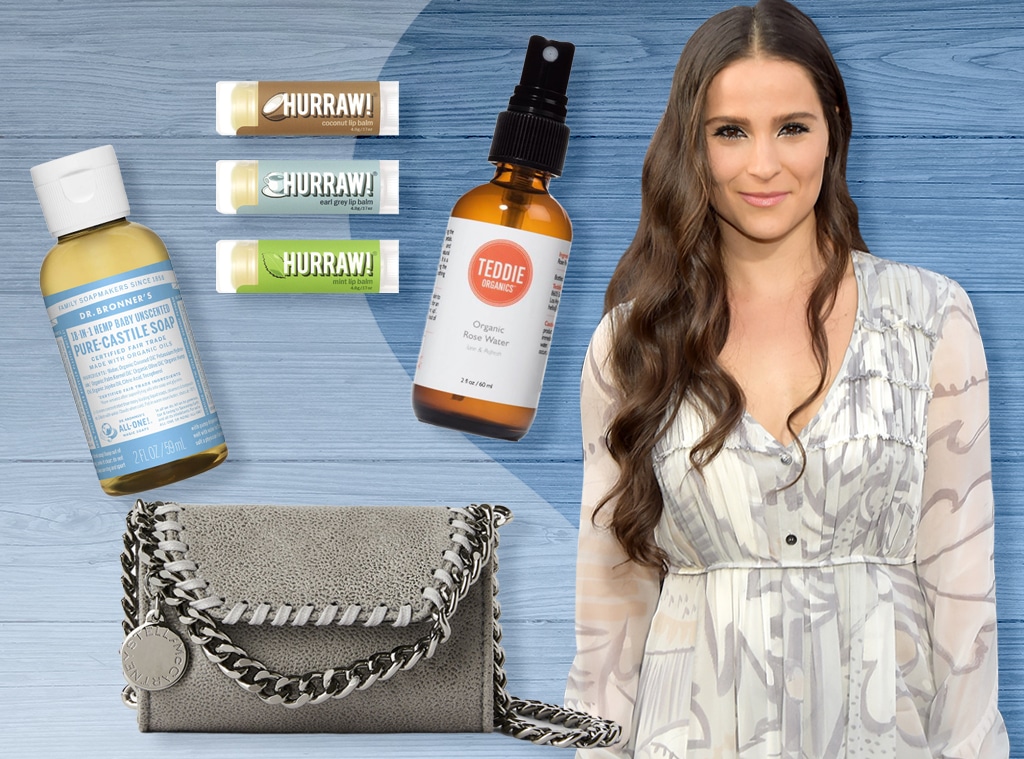 We interviewed this celebrity because we think you'll like their picks. Some of the products shown are from the celebrity's own product line or a brand they are paid to endorse. E! has affiliate relationships, so we may get a commission if you purchase something through our links. Items are sold by the retailer, not E!.
Actress Gianna Simone has made it her mission to educate others about the many benefits of a plant-based lifestyle. Gianna and her best friend Andrea Logan just released a vegan cookbook called Plant Love. She hosts the web series Love, Gianna on Amazon, where she discusses plant-based nutrition with doctors, athletes, and other experts.
Gianna wholeheartedly believes that "feeling out best starts with what we feed ourselves," but not she's not just talking about what we eat. She emphasizes the importance of feeding ourselves "with food, with care, with what we watch, read, listen to and speak into existence." 
Gianna makes sure to "speak in positives rather than negatives," which she says involves "saying what I want rather than saying what I don't want." In addition to dispensing some solid advice, Gianna also shared her go-to items that she keeps in her handbag, which is a Stella McCartney Micro Crossbody Bag, in case you were curious.
Check out Gianna's favorite hair brush, chapstick, natural deodorant, facial mist, and more vegan and cruelty-free products.
Tangle Teezer Compact Styler Detangling Hairbrush, Gold Leaf
"I love this cute and fashionable brush! It comes in handy when I curl my hair and want to brush them out to get smooth, voluminous waves on the go."
Teddie Organics Rose Water Facial Toner Spray
 "When I need a splash of hydration and a cool mist, this all natural & super clean, organic rose water is so rejuvenating."
Green Tidings Natural Lavender Deodorant
"After a long search of finding a natural deodorant that actually works, I found a winner!"
Eo Products Display Hand Santz Wipes
"I've used these wipes long before covid LOL! I use them after getting gas, on planes, and just to clean anything that comes up; these are my go to!"
Hurraw! Coconut, Earl Grey, Mint Lip Balms, 3 Pack Bundle
"This chapstick is so smooth, hydrating, and smells so good. My lips love getting kissed by it!"
AYFLOR Bamboo Travel Utensils, Reusable Bamboo Cutlery Set with Carrying Case
"I love having a set of reusable utensils everywhere I go, especially when traveling."
Rixx Lotion Original Natural Herbal Blend (Travel Size)
"This lotion is my all-time favorite for my sensitive skin (alcohol free). I put it all over my body and face (calms my skin). I even put it, lightly, on my hair sometimes, to tame flyways."
Dr. Bronner's- Pure-Castile Liquid Soap (Baby Unscented, Travel Size, 2 ounce)
"I like to avoid using soaps that can be loaded with formaldehyde, carcinogens, chemicals, dyes/colorants, fragrances, alcohol, etc. So I bring a little travel size Dr. Bronner's around with me."
Plant Love a Plant-Based E-Cookbook by Gianna Simone & Andrea Logan
"This is a whole food plant based E-cookbook free of refined sugar and oils, and made up of 71 recipes of meals that I eat & LOVE!"
Stella McCartney
"Beautiful high end vegan cross micro bag that I love: (above link) It's truly a beautiful, unique and easy to wear piece; that'll add a cute flare to any outfit, dressed up or relaxed."