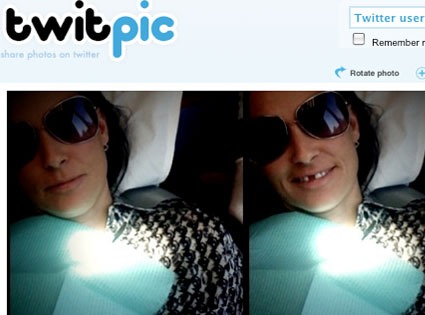 When it comes to twittering, Demi Moore is known for really sinking her teeth into the latest communication craze. At least the ones she has left.
The 46-year-old actress hopped on her account over the weekend to post a couple of pictures in which she's smiling in a dentist's chair and revealing a gaping hole where a tooth used to be.
"I lost it and had to have it fixed! I personally thought this look went out after you were eight, didn't know I would be rocking it again!" she wrote. "Happy to share and always appreciate the opportunity to find humility!!! Or at least be able to laugh at myself!"
However, other news has Demi doing anything but smiling...
Twitter may spawn a reality-TV series that would allow the common folk to trail celebs in a competitive format, which doesn't make Demi or her fellow famous twitterer hubby, Ashton Kutcher, happy.
"I hope this isn't true," Demi wrote. "If it is, our Twitter time may come to a quick and sad end!"
"I really don't like being sold out," added Ashton on his popular account. "May have to take a twitter hiatus." 
At least then they'd have time to look for missing molars. 
______
Follow us on Twitter @eonline and get our free iPhone app