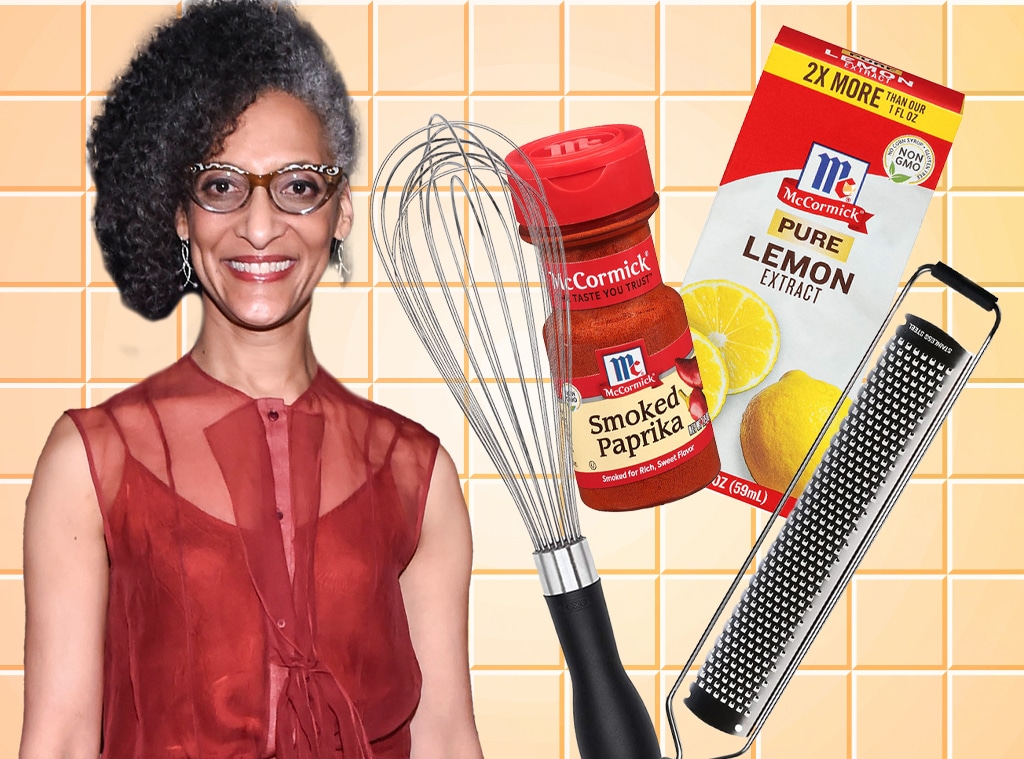 Daniel Zuchnik/WireImage / E! Illustration
We interviewed this celebrity because we think you'll like their picks. Some of the products shown are from the celebrity's own product line or a brand they are paid to endorse. E! has affiliate relationships, so we may get a commission if you purchase something through our links. Items are sold by the retailer, not E!.
Are you ready for a new episode of Top Chef tonight? Because we sure are!
In honor of every foodie's favorite TV show, we caught up with none other than the insanely talented and amazing Carla Hall! After starring on the fifth and eighth seasons of Top Chef, the chef continued to share her cooking expertise with the masses through must-have cookbooks and co-hosting The Chew. And most recently, she partnered with McCormick to teach her Instagram followers how to make Roasted Carrots-in-a-Blanket!
If you're like us, and try to mimic the contestants on Top Chef while cooking dinner, you're probably wondering which kitchen essentials a professional chef always has on hand. Luckily, Carla revealed exclusively to E! News what she keeps in her pantry at all times. And she dishes on the latest TikTok cooking trends and if she's watching this season of Top Chef!
E!: Do you have any tips for people who live alone and cook for one person every night?
CH: A couple of things. One is I use my air fryer, which is so perfect. I've created a delicious recipe for carrots in a blanket, baby carrots, which is a take on pigs in a blanket. It's a perfect snack or a meal and you can make them ahead, keep them in the freezer or the fridge and you can pop them in the air fryer. And the other thing about cooking for one is don't be afraid to make meals for three days, so that you're not cooking every night. Nobody, including myself, really wants to pull out everything every single night. You can have enough for a number of days. 
Air Fryer
Take Carla's advice and get an air fryer if you don't already have one! Not only does this magical appliance cut down on cooking time, it doesn't require additional oils, so you can cut down on added fat. To get you started on your air fryer journey, we rounded up a few below that have great reviews!
E!: What are your must-have kitchen or pantry items? 
CH: A microplane, a really good whisk and a box grater. I use a box grater when I'm grating butter for baking because you don't always have a food processor. A lot of times a box grater can be a substitute for a food grater. I always have carrots, I always have some kind of herbs in the springtime. I have mint and peas. I love peas and have spring garlic on hand. Tomatoes and beans and then carrots. Carrots can be a snack. I think carrots are great raw and cooked- they're great and savory!
Deiss Pro Microplane
Whether you use this to create the perfect zesty mixtures or grate cheese, this $11 microplane will come in handy. 
OXO Good Grips 11-Inch Balloon Whisk
With polished stainless steel wires and a soft grip handle, this whisk is a kitchen must-have.
Professional Box Grater
With four sharp sides, this grater will allow you to perform coarse grating, medium grating, fine grating and zesting.
E!: For people who have limited cabinet/pantry space, what are the top spices they should prioritize buying?
CH: Well I always like the best bang for my buck. For spring, I really enjoy using McCormick coriander and get it because I'm always talking about how I love a good pucker. Wait for it: coriander is a spice that deserves a lot more love and I know most people don't associate coriander with cilantro, but it is the seed of cilantro. In terms of a dry spice, coriander is the bomb. Now, lemon extract, is something people automatically think is for baked goods like cakes and muffins. But it also works well in sauces and soups to add a little tart punch and just in terms of balancing that flavor, so I love lemon extract. And I think of it as intensifying lemon juice, just a drop, really blossoms things for you with a punch of flavor.
Paprika and spiced paprika, too. Right now I'm making some collard greens and I use smoked paprika instead of meat so it stays vegan but still very flavorful. Some others: pepper, garlic powder, ground mustard. If you do any cheese dishes and you like the sharp cheddar, ground mustard is the spice that's going to give you that lift. It's always in my pantry. And cinnamon, I always need cinnamon. 
McCormick Smoked Paprika
"I use paprika in salads and in my macaroni and cheese." 
McCormick Pure Lemon Extract
"I love lemon extract," Carla revealed to us. "And I think of it as intensifying lemon juice, just a drop, really blossoms things for you with a punch of flavor."
McCormick Gourmet Organic Ground Coriander
"If you don't like cilantro it doesn't mean you're not going to like coriander," the Top Chef contestant explained to us. "It's kind of citrusy for fruits and vegetables and you also have it in a lot of Greek food."
E!: What do you think about the new wave of people sharing recipes on TikTok? 
CH: I think it's a wonderful way for people to share. All generations and ages getting online and sharing and really getting into cooking. And I think people were really surprised with themselves. I still don't Tik Tok. I don't understand it. I watch it, I have an account. It makes me feel so old, it makes me understand my mother. Everything is new and changing so quickly. I'm just now doing more talking myself into doing more with it. You're in this moment with me.
E!: Top Chef's new season in Portland just kicked off. Will you be watching and what are you looking forward to?
CH: I love Portland. I have some really great friends from Portland and I love their point of view. I always look forward not just to the chefs, but the challenges that connect them to the city and you can actually learn about the city. That's a reason to watch. I keep saying I want to go to Portland. Top Chef will probably talk me into getting a ticket.