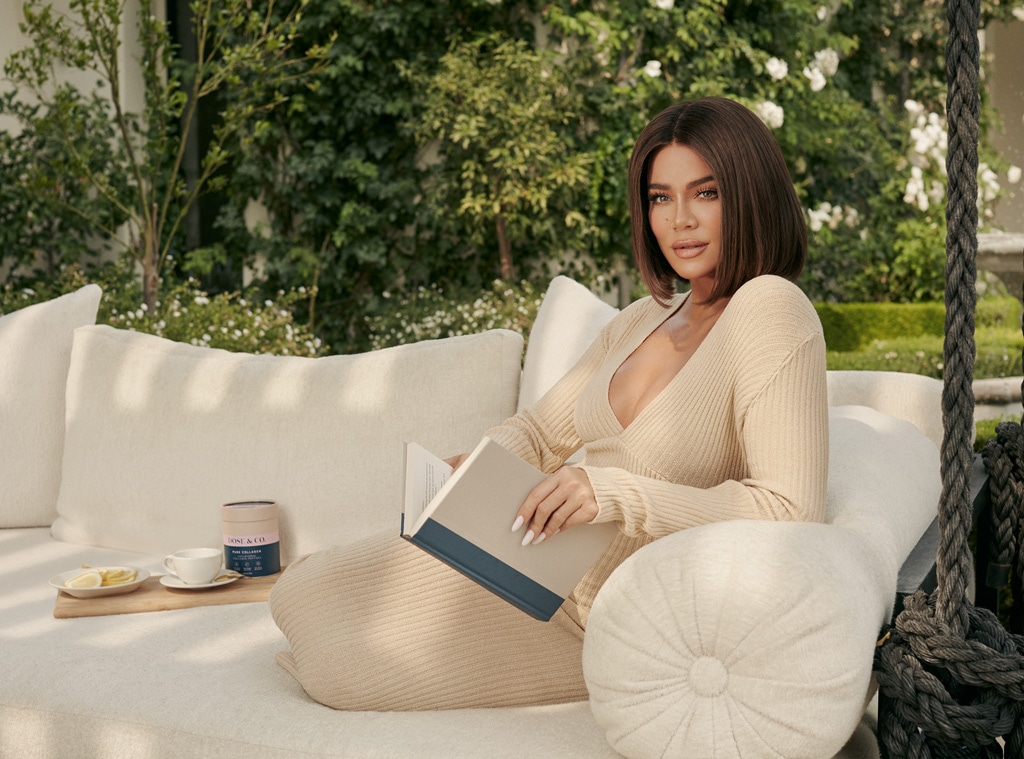 Dose & Co.
We independently selected these products because we love them, and we hope you do too. Shop with E! has affiliate relationships, so we may get a commission if you purchase something through our links. Items are sold by the retailer, not E!.
"Do as the Kardashians do" has been my motto since 2007 when Keeping Up the Kardashians first premiered on E!. From their clothing lines and beauty empires to fitness routines and even the famous Health Nut salads they eat on the show, I've tried it all. And I've never been disappointed. Bible! So, when Khloé Kardashian announced her partnership with Dose & Co. as the brand's co-owner, I knew I had to try out the beloved collagen powders to see if the hype was real. Spoiler alert: My morning cup of coffee  would not be complete without a scoop of Dose & Co.!
"Health and wellness is something I'm hugely passionate about, and I wanted to find a way I could help inform people about the benefits of collagen, without confusion or expensive prices. I was looking into brands and speaking to experts around the world when I discovered Dose & Co. Once I tried the brand I quickly saw how easily it fit into my overall routine and lifestyle," Khloé said about the partnership. "I was so impressed by the ingredients, the results, and the vision, I knew I wanted to get more involved." 
Founded by Libby Matthews, a certified nutritionist, Dose & Co. offers a range of premium collagen powders aimed to help skin, hair and nail concerns. Whether you use the dairy free collagen creamer in your morning latte or mix the pure collagen powder in your beverage of choice or add a scoop of the collagen protein powder in your post-workout smoothie, the brand makes it easy to integrate collagen into your daily routine.
"On the search for the right supplements, I noticed many were loaded with fillers, fake sweeteners and all sorts of nasties that outweighed the benefits of the supplements themselves," founder Libby Matthews explained. "As a new mother, I also wanted products that were safe during pregnancy and breastfeeding. I set myself the task of creating a product line formulated to focus on improving wellness from the inside out, using the highest quality ingredients, without GMOs, fillers or plastic packaging."
Between Dose & Co. offering safe and sustainable products and Khloe Kardashian giving it her stamp of approval, what's not to like! And while Dose & Co. won't cure your acne or give you a head full of healthy hair overnight, I have personally benefitted from my daily dose of the brand's collagen supplements, especially after suffering from hair loss during quarantine. I've also noticed my nails are stronger and look healthier. Plus, the powder doesn't upset my stomach. But as always, don't take our word for it, check out the thousands of raving reviews on the brand's website. 
This week, the brand released its first-ever Marine Collagen formula made from non-GMO sustainably-sourced fish, plus added Vitamin C for extra absorption and a boost of immunity.
"Working out has become such a huge part of my daily routine over the last couple of years and I never feel better than I do when I wrap up an intense workout with a scoop of Dose & Co," Khloé revealed. "I've noticed such a huge difference in both my performance and recovery when I started taking the brand's Marine Collagen on strength days. It's just as versatile as the other collagens and so easy to pop into my morning lemon water or coffee, plus my hair and skin have never looked or felt more hydrated. It's a staple on long workout days!" 
If you're ready to give your skin, nails and hair a boost, we've rounded up Dose & Co.'s collagen powders below.
Dose & Co. Marine Unflavored Collagen Peptides Powder
Whether you've tried Dose & Co. or are new to the collagen way of life, the brand's newest formulation is for you. Made with the best Marine Collagen from the scales of non-GMO, sustainably sourced fish, this pescatarian-friendly collagen will help improve skin elasticity, hair growth and muscle strength among its many benefits. One serving offers 10,000mg (10 grams) of unflavored collagen and Vitamin C, which you can add to your smoothie or coffee!
Dose & Co. Pure Unflavored Collagen Powder
Although all of the powders and creamers offer the same benefits, we especially love the Pure Collagen Powder since you can mix it in any beverage. Each serving offers 10 grams of bovine collagen and you can't taste it once it's been thoroughly mixed in your drink.
Dose & Co. Collagen Protein Powder- Vanilla
If you prefer some flavor, the Vanilla Collagen Protein Powder offers 10 grams of Type 1-3 collagen and 20 grams of protein in every serving. And it's keto-friendly!
Dose & Co. Collagen Protein Powder- Chocolate
For the chocolate lovers, the Chocolate Collagen Protein Powder is for you! Containing the same amounts of collagen and protein as the vanilla version, your post-workout smoothie or shake will taste even better after breaking a sweat.
Dose & Co. Dairy-Free Collagen Creamer- Caramel
For the gals and guys who are looking to upgrade their morning coffee without adding dairy, try the Dairy-Free Collagen Creamer. Each serving comes with 10 grams of Type 1-3 collagen and will add a delicious but not overpowering touch of caramel to your coffee.
Dose & Co. Collagen Creamer- Caramel
This fast-dissolving creamer offers the same amount of collagen as the dairy-free version above. Like all of Dose & Co.'s powders, it's free from gluten, sugars and GMO!
-Originally published on Tue., April 6, 2021 at 2:53 p.m. PST.