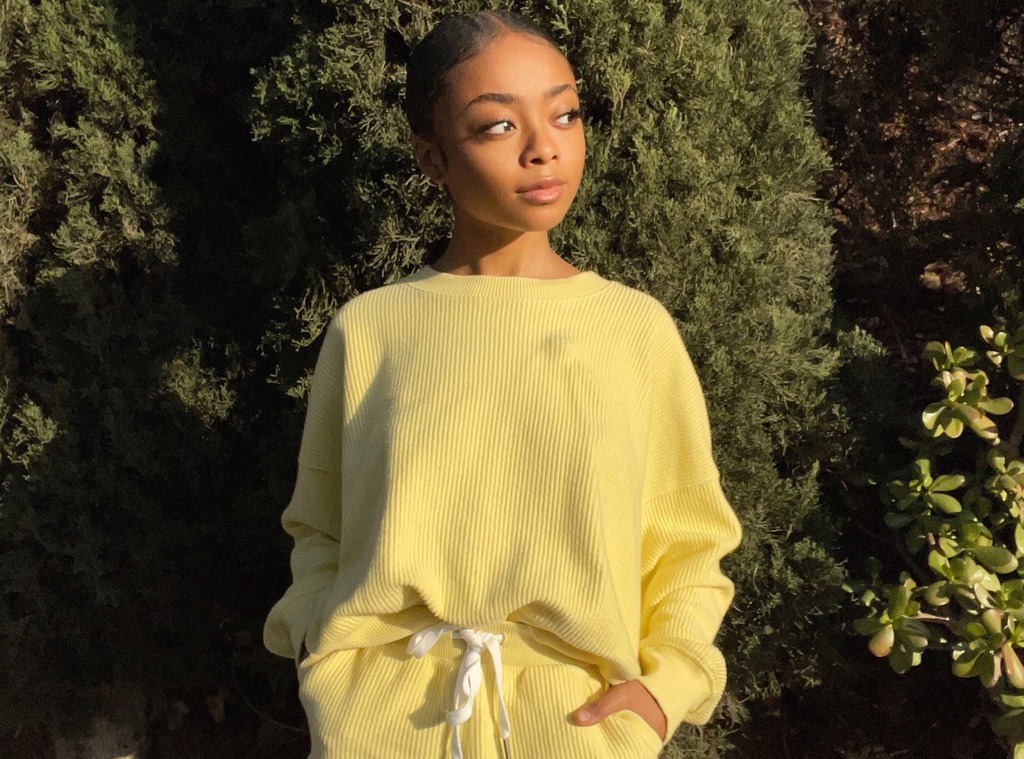 We interviewed this celebrity because we think you'll like their picks. Some of the products shown are from the celebrity's own product line or a brand they are paid to endorse. E! has affiliate relationships, so we may get a commission if you purchase something through our links. Items are sold by the retailer, not E!.
Everyone has scrolled through Instagram, marveling at someone's flawless skin or seemingly perfect life, even Skai Jackson. She teamed up with Aerie for the #AerieREAL campaign, which promotes sharing authentic, unedited content to social media. The challenge encourages people to show their real lives on TikTok and Instagram, use the hashtag #AerieREAL, and tag @aerie. For every post, Aerie will donate $1 (up to $100K) to NEDA, the National Eating Disorders Association. In addition to Skai, Keke Palmer, Lana Condor, Aly Raisman, Sienna Gomez, Ava Michelle, Lauren Chan, Danae Mercer, Remi Bader, Taylor Cassidy, and Manon Matthews have partnered with Aerie for this initiative.
Skai spoke to E! about representing the brand and her experiences with social media. She shared, "I've been a really big fan of Aerie for a long time and I love the message of wanting people to show their true selves" The actress even acknowledged she "might feel a little bit down" when she looks through Instagram sometimes. When that happens, she reminds herself "those are real people too and they're not going to show everything they're going through." 
Skai admitted, "Sometimes it makes me sad when girls are like 'I wish I had this' or 'you're so pretty,' which is, of course, a great compliment. But, it's like, girl, don't worry. I am just like you. I wear big t-shirts around the house with no makeup on. And I try to show that on social media." As an entertainment industry veteran, Skai has had her hair and makeup done many times, and as a result, she knows "how much work goes into just taking a picture alone."  She added, "With Aerie, it's nice to see that they want to embrace people just being their true selves and that's why I love the brand so much."
Another perk of working with Aerie is the clothing, of course. That's because  the styles convey much more than just a great fashion sense. Skai explained, "The clothes are so cute. They're so chill and very relaxed, which shows you don't need to be dressed up or wear heels to look and feel pretty. You can wear an oversized sweatshirt and some shorts and look amazing by just showing people how you really are." Skai added, "You don't have to wear makeup or feel the need to edit your photos, but I totally understand when people do because of the pressure. It's so great that companies like Aerie are really making it OK to show your real self and not be afraid of who you are."
Another reason Skai loves Aerie is the range of sizes and lengths that accommodate tall and short customers. The actress often has her clothes altered since she's five feet tall. However, she doesn't need to do that with Aerie. She explained, "They really put their hard work and dedication into catering to the tall girls, petite girls, and really every girl around. They're affordable as well. We need more brands that cater to everyone's body type."
No matter who you are, you can exude that same confidence Skai does when she wears Aerie. Check out her 10 Aerie essentials below.
Aerie New Love Corded Cropped Crew Sweatshirt
Aerie New Love Corded Short
The Aerie New Love Corded Short has an easy, relaxed fit. It's made from soft, fleece fabric, which is available in eight colors that are perfect for any season. Aside from comfort and style, these shorts have pockets to hold your phone, keys, chapstick, or whatever else you like to have with you.
Aerie Daydream Denim Short
It's always a good idea to add denim shorts to your wardrobe. They're a classic for a reason. Well, many reasons. They're soft, comfy, and slightly distressed. 
Aerie Distressed Boyfriend T-Shirt
Aerie Button Front Mini Dress
You'll feel like a fashion influencer in this mini dress, which is available in four floral prints. You can wear it on its own or over a t-shirt, tank top, or bralette. The looks are endless with this dress in your closet. And, you can make sure you have the perfect fit thanks to its adjustable straps.
Aerie Printed Tie Banded Wide Strap Scoop Bikini Top
This adorable tie-front bikini top comes in four beautiful prints. It has removable pads, so you can wear it how you want.
Aerie Printed High Cut Cheeky Bikini Bottom
Aerie Vintage Crew Sweatshirt
Aerie Adventure Short
You'll be ready for any adventure in these shorts. They have pockets to store your essentials and Aerie has five classic colors to choose from.
Aerie Sunday Soft Printed Quarter Zip Sweatshirt