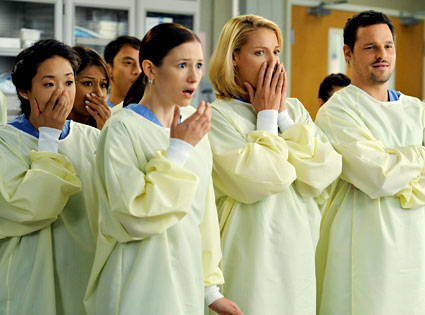 ABC/Eric McCandless
Move over, Grey's Anatomy. It looks like the CW is making a play for fans of the medical drama.
And we're not talking about the behind-the-scenes battles with Katherine Heigl and T.R. Knight.
The CW is developing a reality series in the same vein as Shonda Rhimes' hit ABC primetime soap.
I just got my hands on a casting notice that apparently has been sent to dozens of hospitals throughout the U.S.
Here's what they are looking for…
"Reveille and the CW would like to document the extraordinary experience of Emergency Medicine residents at a world-class hospital," the notice reads, in part.
"Residents are at an incredible personal crossroads as they complete their medical education. Those training in the Emergency Department face exceptional professional pressures as they work on the frontlines of the medical system. We would like to present a portrait of these hard-working physicians during this incredible period in their lives."
The notice also promises some great publicity for the chosen hospital.
"Our hospital partner on this project will have the opportunity to highlight their medical facilities, their world-class training program, and their service to the community on primetime network television," the notice reads.
No word yet if a match has been made, but it should happen soon enough. I'm told producers hope to start filming some time this summer.
________
Follow Marc on Twitter @marcmalkin and get our free iPhone app