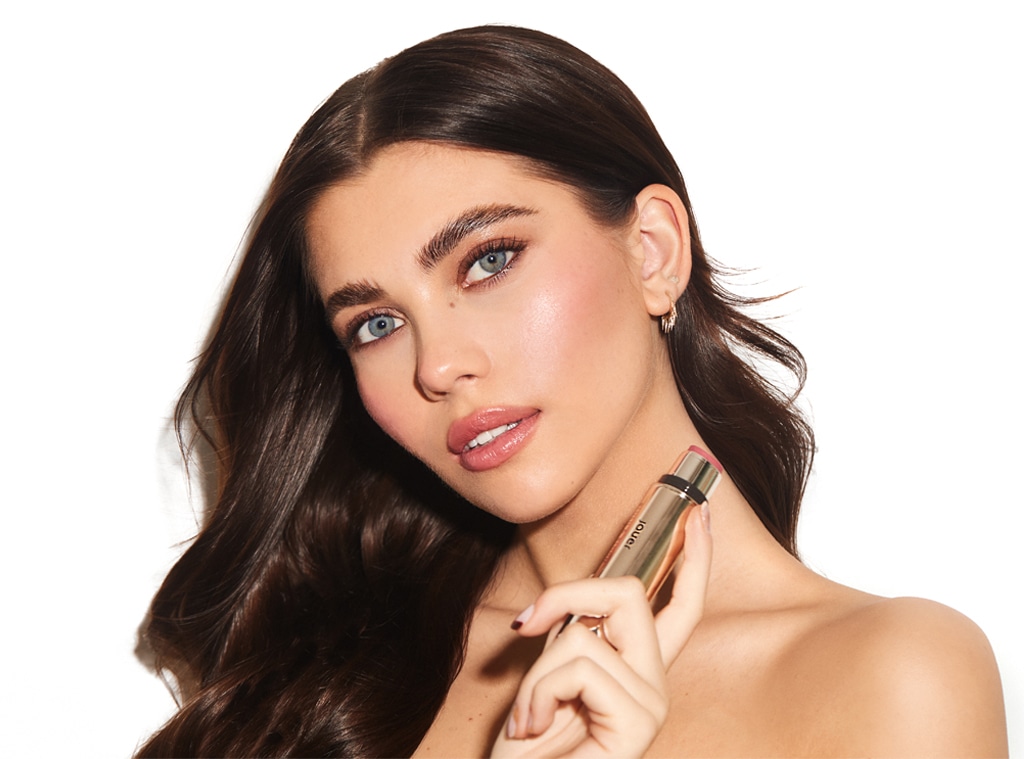 Solmaz Saberi
We interviewed this celebrity because we think you'll like their picks. Some of the products shown are from the celebrity's own product line. E! has affiliate relationships, so we may get a commission if you purchase something through our links. Items are sold by the retailer, not E!.
Amelie Zilber is not like other 19-year-olds. The Gen Z digital creator and founder of Two Minute Times regularly uses her platform to educate and empower followers to be loud and be strong. And as if inspiring a new generation of activists and attending Georgetown University wasn't keeping her busy, Amelie announced her partnership with luxurious, clean beauty brand Jouer Cosmetics in honor of her birthday today and Women's History Month.The meaningful collaboration features a multi-use, creamy duo stick that will allow you to achieve the perfect glowing makeup look.
We were lucky enough to catch up with Amelie and have her demonstrate how to use the limited-edition shade and what the collaboration means to her.
Watch:
Amelie Zilber's Guide to Minimal Sunkissed Makeup
E!: Talk to me about your collaboration with Jouer Cosmetics and what we can expect?
AZ: It's a beautiful, beautiful blush duo, so basically it's a blush on one end and then, super dewy glowy highlighter on the other. And I'm obsessed with it. I'm a very light makeup type of person. I generally keep my makeup light, and for me blush and highlighter is like my go to, especially because it kind of elevates me and makes me awake without a whole face of makeup.
What I love so much about this product is that "Be Loud" and "Be Strong" are the two shade names. And for me, my entire platform is about being loud and being strong and being informed about the world around you and being strong in your convictions and using your voice and speaking your truth.
For me, this entire collaboration, it's kind of like blending the two worlds together of what I preach to my platform, which is being empowered and embracing your beauty, but also cultivating your mind, and embracing your intelligence. And that is why I'm obsessed with this product because it's everything that I love and preach about.
Blush & Bloom Cheek + Lip Duo - Amelie
Packed with a powerful blend of jojoba seed, rosehip and squalane oils, in addition to shea butter and vitamin E, this multi-use makeup stick will help you achieve the perfect natural glow. One side features the 'Be Bold' cheek and lip duo and the other end offers the 'Be Strong' clear highlighter. 
Watch:
Amelie Zilber Encourages Fans to "Stand Up and Use Their Voice"
E!: Going back to Women's History Month, are you going to be celebrating in any way?
AZ: I took a class against street harassment. For me and for so many. If you've ever been catcalled, we don't really know what to do in situations or when getting harassed on the street. I took a class on street harassment defense, and it was phenomenal and I learned exactly how to fight back in situations. You know with actual fighting not like violence because that is never the answer, and how to protect other women when they are being harassed on the street. So, I celebrated by kind of like making myself a stronger, more resilient woman!
E!: Who are your inspirations as a woman?
AZ: I look up to so many different women, I mean we can just take a look at what happened with the Oprah and Meghan Markle interview and seeing how strong Meghan is and how strong she has been not backing down and not being silent, even though she has been silenced. Yara Shahidi is someone that I look up to so much because she is an activist, and she's also so beautiful. She empowers women and empowers people to use her voice.
My mom has taught me for so long that the only way that I will succeed in life is by cultivating my mind and I can't lead with my beauty. I have to lead with my mind and be passionate about something, and she inspires me every single day because she's so hard working, and she's drop dead gorgeous. But when people get to know her, they're like "wow she's so much more than just for beauty" and that's something that I really preach about all the time is that you are so much more than your beauty, be beautiful, be so incredibly powerful, be a changemaker and be a trailblazer.
Amelie's Jouer Cosmetics collaboration is now available to shop on JouerCosmetics.com as well as Sephora, BeautyBay, Douglas and Mecca.