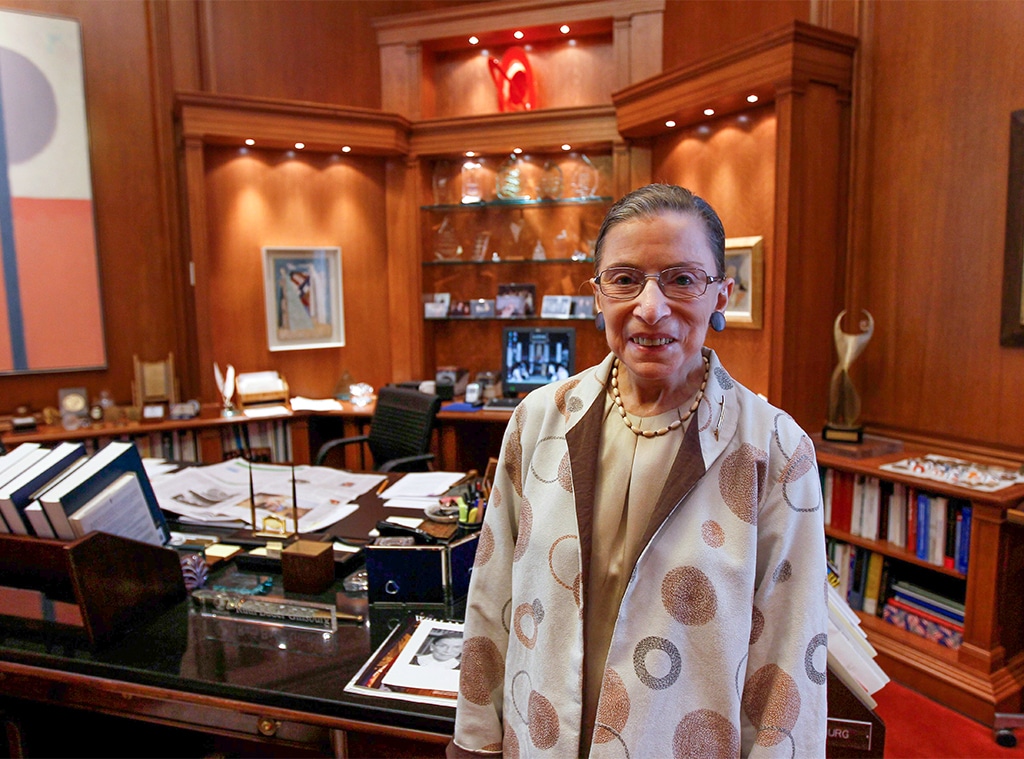 Alex Brandon/AP/Shutterstock
The death of Ruth Bader Ginsburg last year was a devastating blow to the legion of fans the associate Supreme Court Justice had acquired, the 87-year-old champion of equal rights having spent her final decade as the unlikeliest of pop culture icons, icing on the cake for a career barrier-breaker who had already inspired so many in the legal world.
She had been in and out of the hospital battling various ailments for years, including a recurrence of cancer last spring, but legendarily never missed more than a few days of SCOTUS work, and up until the pandemic relegated everyone to their home offices, she was averaging a couple of public appearances a week.
So it should come as no surprise that she just kept at it.
"She was asking for work when she was in the hospital, this is the Ruth Bader Ginsburg who I knew," Amanda L. Tyler, UC Berkeley law professor and co-author with Ginsburg of the new book Justice, Justice Thou Shalt Pursue: A Life's Work Fighting for a More Perfect Union, told E! News in a recent interview. They worked on the project all throughout the summer, Tyler submitting the first draft of the manuscript three weeks before Ginsburg's death on Sept. 18.
"She had had cancer for the first time the year that I clerked for her," Tyler recalled, "and I remember when she was in the hospital, we sent her bundles of work every day and she would keep asking for more. And it was no different in the summer of 2020. She wanted to work, too. She wanted to keep going. This project was important to her, and I was only too happy to give her pages to edit and mark up."
Their relationship dated back to when she was just out of Harvard Law School (where Ginsburg started, though she ultimately graduated from Columbia, husband Martin Ginsburg having landed a plum job at a New York law firm in 1958) and interviewed to clerk for only the second woman to ever sit on the Supreme Court.
 "I was in the middle of my final exams," Tyler remembered with a laugh, "which turned out to be a blessing because I was so fixated on my exams I didn't have time to get overly nervous for my interview with Justice Ginsburg. But I was still—let me be very clear—very nervous because I was meeting this icon, this idol of mine."
"Whether I got the job or not, just meeting her was going to be incredible," she added. "But of course I really wanted to get the job."
Watch:
Felicity Jones' Advice From Ruth Bader Ginsburg on Playing RBG
Ginsburg immediately put the 24-year-old—who had just flown into Washington, D.C., from Boston, wearing her lucky suit—immediately at ease. Tyler recalled, "My nerves just sort of went by the wayside, she was kind and welcoming and had read a lot about me, had read an article that I had published, and we sat down and we talked about that. Before I knew, she offered me the job. It was a great day."
Tyler spent a year clerking for Ginsburg, the usual term of service, and the experience was not only invaluable, it resulted in a lifelong bond. 
"I gave her draft opinions that came back completely re-written but she would then sit down with you and she would walk through every change she had made explaining why she had made it," the professor said. "And this was really important because she viewed her role as a teacher and as a mentor. And it was her way of paying it forward and training a group of young lawyers to go out and be very successful having learned from her—from the master, if you will."
But it wasn't all legal debate, all the time. Or at least not all in the office.
Ginsburg took Tyler and other clerks to the opera (one of her favorite pastimes), had them to her house for dinner and celebrated their birthdays "with these magnificent cakes that her amazing husband Marty made." (Marty, a tax attorney by trade, was famously the resident cook for Ruth and their two children, daughter Jane and son James.)
"It was a year that, as I've said, it changed my life, both professionally and personally because she taught me so much then and in the years later about how to live a good life," Tyler explained, "how to choose a true partner along the way, how to make the most of every day among so many other things."
Ed Bailey/AP/Shutterstock
Ginsburg's 56-year marriage to Marty was the stuff of whatever's better than a fairytale, because theirs was both real and a true partnership. He was her most stalwart supporter, and by all accounts he was the one who, through his various connections in Washington, made sure his wife—then a judge on the U.S. Court of Appeals for the D.C. Circuit—was in the conversation when President Bill Clinton was tasked with appointing a new Supreme Court justice in 1993. (Clinton was then promptly wowed by Ginsburg when they met to discuss the vaunted position.)
"When you asked her, 'What is the most important thing in your life?' she would always say, 'My marriage and my family,'" Tyler told E!. "And Marty was always in her heart. When we were working on this book in the final weeks of her life and she read a draft of the introduction, which had discussion of Marty, I will say, she said, 'There's not enough, there needs to be more Marty in here!'"
Tyler laughed. "And so I very happily obliged and added more. But that's the window and where her heart and her mind was in the final months of her life, she was thinking about Marty."
One story that stood out, that Ginsburg happily gave Tyler permission to tell, involved Marty slyly sticking a sign reading "her highness" on his wife's back during a reunion she hosted for her former law clerks at the Supreme Court, a move Ginsburg ultimately thought was hysterical.
"They love to give each other a hard time, but at the end of the day, what was so funny, was not just that 'the Notorious RBG' could take a joke in stride," Tyler said, "but that it was a window to the banter and the love that was at the heart of their partnership."
After her clerkship with Ginsburg, Tyler was an associate at the D.C. law firm of Sidley & Austin before moving into academia. The constitutional law, legal history and Supreme Court scholar was on the faculty of George Washington University Law School and a visiting professor at Harvard Law School, New York University School of Law, and the University of Virginia School of Law, and has now been teaching at Berkeley Law since 2012.
And she maintained a friendship with Ginsburg throughout. "She was always in my corner, she helped me land jobs, she was a source of great support during very difficult times," Tyler said. "She was something of a North Star in my life, and I think a lot of her law clerks would say that."
David Hume Kennerly/Getty Images
On Tyler's office wall is a framed signed copy of a Ginsburg opinion that cited some of Tyler's scholarly work. Other treasured keepsakes include a mug Ginsburg sent all of her clerks with her face on it and the words "Team RBG" and a framed letter that used to hang in Tyler's grandmother's house but which was passed on to her.
Because when Tyler landed her dream clerkship, her grandparents were proud but not really sure what such a position entailed (and her grandfather wasn't entirely convinced it was "a real lawyer job"). When she explained who Ginsburg was, though, her grandmother said she sounded amazing. When Tyler wrote to Ginsburg thanking her for the opportunity, she told her about the conversation and, when Ginsburg wrote back, she included a personal letter to Tyler's grandmother—which she kept on display for the rest of her life.
The seed for their book project was planted when Ginsburg visited Berkeley in 2019 and they did an interview event together, Tyler getting to ask the questions of her mentor this time.
Jeff Chiu/AP/Shutterstock
They decided to expand on their conversation about Ginsburg's life in a book that would also include "some special aspects of her life and career that complemented the story that had come before," Tyler explained. "So, pieces from her time as an advocate fighting for gender equality, her very favorite opinions that she wrote as a Supreme Court justice, her final speeches and what she [said] about her life and her family, and the role models that inspired her.
"And collectively, you get a vision for who she is. I consider it just one of the best parts of my life that I got to work on this project with her, and spend time talking with her at the end of her life, about how she hoped to be remembered and what had been so important to her in this life."
University of California Press
The last time they talked on the phone, Tyler said, Ginsburg asked how her kids were doing.
"She was worried about them and she wanted to know whether they would be going back to school in person or online, because of the pandemic," Tyler recalled. "And then she expressed concern for all children who were being so profoundly affected by the ongoing pandemic. And I just, I keep thinking back to that conversation because it really was a window into who Justice Ginsburg was. Here she was at the end of her life and she was thinking about others, she was thinking about other people and she was thinking about the future."
"She was always thinking about the future. And as people will see in the book, she was very hopeful for the future. She had seen so much progress made in the course of her life...and indeed the book is a resounding affirmance of the fact that she knew we still had so much work to do. But she always believed in the promise of America. As she calls it in the final piece of the book, 'the land of opportunity.' And she was ever hopeful that the work that had defined her life would continue and that we would get there."
But the other wisdom Ginsburg had already passed on to Tyler, the importance of living one's best life possible, was still in full effect as well.
Recalling how the wryly humorous justice had needled her ("she just loved to give you a little bit of a hard time") afterward when Tyler forgot to ask a question onstage at Berkeley that would have resulted in Ginsburg relaying one of her favorite funny anecdotes, Tyler said that Ginsburg loved to laugh—and Tyler loved making her laugh.
She told us, "I remember in that same final conversation that we had, I said, 'Oh, Justice, the kids, they want to stay up later and later.' And she said, 'Why?' or 'What's going on?' And I said, 'Gosh, I think we have two lawyers on our hands because when I yell up that it's time to go to bed, they yell down, 'But Mom, we're engaging and sibling bonding!'
"She laughed so hard and I was so pleased because I knew she was not well, and I just really wanted to bring some laughter and joy in her world at that time."
A life that, while charmed but by no accounts easy, brought so much joy to countless others.
Tyler admitted that she really wished Ginsburg had lived to see their book come out, that it would be "so much better" if she could take part in the ongoing celebration of her life.
"After she passed, I had to write an afterword," Tyler said, "and the first line of the afterword is, 'This part of the book wasn't supposed to exist.' I still feel that way today. It's very bittersweet to be celebrating this book without her. I'm so happy that people are talking about her and talking about her important legacy, and our hope with this book was that it would inspire people to keep up that work, to keep fighting for things about what she was so passionate."
Marcy Nighswander/AP/Shutterstock
And Ginsburg was "fundamentally an optimist," throughout all the obstacles she faced and the ones she knew would remain after she was gone, so Tyler hopes that's the takeaway from the book she was so honored to write with her mentor. 
"She talked a lot about how much progress she had seen in her life, on so many different planes," the author said. "When you think about, in her 87 years, the progress that was made with respect to race, and the progress that was made with respect to gender, it was dramatic. And that's not to say that there isn't still a huge amount of work to be done. She knew that, she wrote about that as a Supreme Court justice, she saw it in her life, but she believed in the promise of America. She believed in all that it could be.
"She did her part to work to make it better, accomplishing so much. And what she's left us with in this book is a roadmap of where to go from here, and it's now up to all of us to pick up and continue that work."