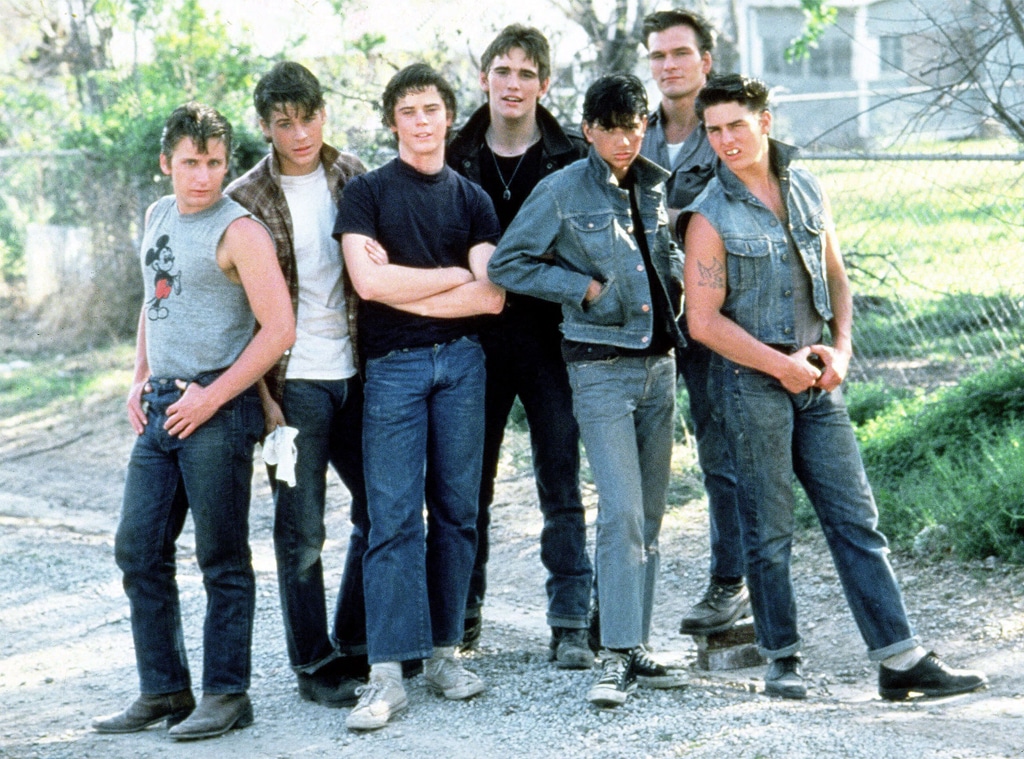 Warner Bros/Kobal/Shutterstock
Seemingly every young actor in Hollywood wanted to be in The Outsiders.
The auditions lasted for weeks as the decision-makers gauged the chemistry between different groups of guys, which at any given time over the course of the process reportedly included Sean Penn, Scott Baio, Nicolas Cage, Mickey Rourke, Val Kilmer and Dennis Quaid. None of whom made it (although Cage, being the director's nephew, showed up in the background in an uncredited bit role).
But it was all worth it for a shot to be a part of, let alone star in, the eagerly anticipated big-screen adaptation of S.E Hinton's 1967 coming-of-age bestseller—a project spearheaded by a group of California sixth graders and their school librarian, who wrote to Oscar-winning director Francis Ford Coppola to see if he'd be interested in making their dream a reality.
Rob Lowe has said on multiple occasions that it was going to be his last audition, that if he didn't get cast in the film he was going to quit acting.
As fate would have it, he and a few others who first auditioned in Los Angeles made it to the New York round to meet with Coppola, where teen idol Matt Dillon had also made it through multiple read-throughs.  
"Matt is in front of the camera reading the part of Dallas. And by reading, I mean reading," Lowe recalled in his 2011 memoir Stories I Only Tell My Friends. "He is holding the entire script, eyes locked on the text. After a while, however, he puts it down and begins paraphrasing. Soon he's ad-libbing completely and making up dialogue while the other actors try to keep up. I don't know if Francis asked him to freelance like this or not. If he did, then clearly Matt has got the part locked up. If he didn't, then Matt Dillon has dangling, clanking, scary-big elephant balls."
Who's to say?
What we know for sure now is that the line-up that Coppola ultimately assembled was a prescient mix of actors who had It, as the countless people who had the cast poster on their wall growing up (as Kelly Ripa did, a revelation she made when Emilio Estevez was a guest on Live in 2018) could have told you back in the 1980s. So on the occasion of The Outsiders' 38th anniversary, here's what became of that stellar ensemble: 
Judging by the various accounts of The Outsiders shoot, it sounds as if none of its stars would have been surprised by the arrival of a director's cut.
The unusual audition process, in which the actors took turns reading with each other as different characters, and everyone stayed in the room and watched each other's readings, "was nerve-wracking," Estevez admitted in his Hudson Union Society talk in 2012, "but also incredibly exciting." Moreover, Coppola filmed all of it, and then showed the results to the cast before they started shooting the actual movie.
Watch:
See Tom Cruise Back in 1992: E! News Rewind
Asked if he sensed at all when he was making the movie that so many of his co-stars would go on to have huge careers, Estevez said, "It's not something that you're really paying attention to at the time. You're just a bunch of guys—most of those guys you're competing against for a lot of the same roles."
And as they made the movie and the actors dug into the material, he added, "there was a sense that all these guys were gonna work, that we'd all see each other again. But there was no idea that a lot of these guys would go on to have these extraordinary careers, no."
Howell, who remained closest with Lowe and Macchio through the ensuing decades, told AV Club, "When you look back on films, it's so rare to have a cast like that, who start out so young and move on to be such a prevalent part of this town. I'm very, very proud to have come from that sort of… frathouse, really, and to have shared that with those guys. And I know each and every one of those guys, from reading different interviews and still staying in touch with them, they all feel the same thing."