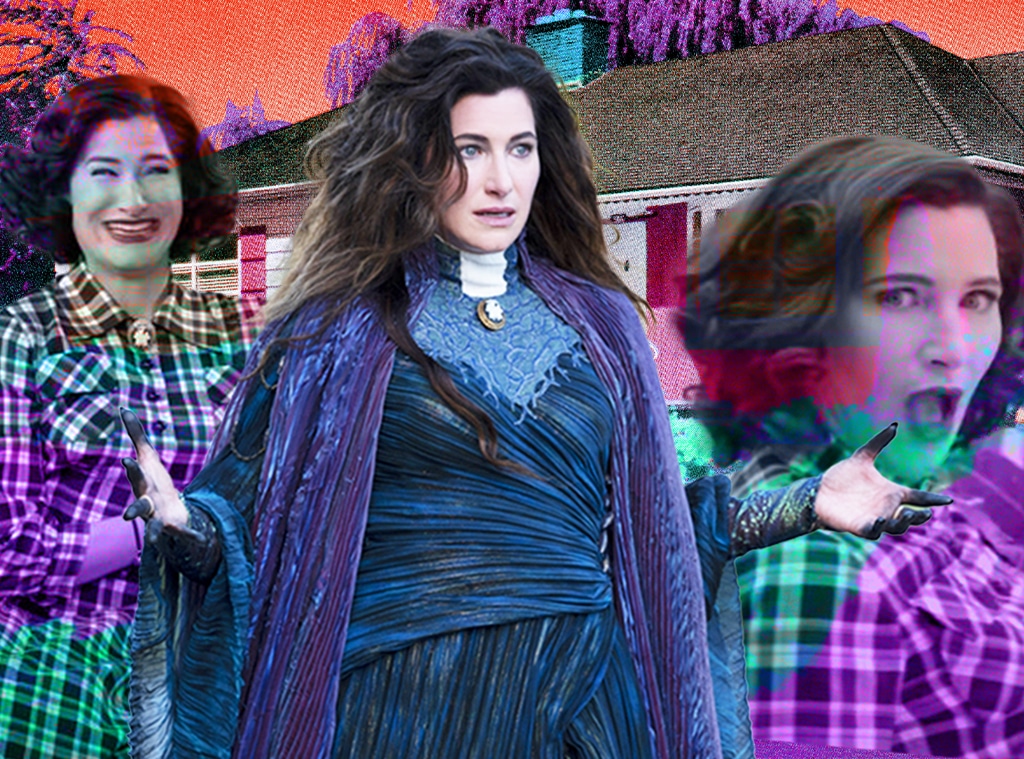 Getty Images, Disney+, Casey Hollister/E! Illustration
If you're already feeling nostalgic for WandaVision, you're not alone. Kathryn Hahn is, too. 
As every fan knows, it was "Agatha All Along," with Hahn's fan-favorite villain proving to be one of the most delicious and devious additions to the Marvel Cinematic Universe. And as much as we all delighted in watching the 47-year-old star stir up trouble for Wanda (Elizabeth Olsen) and still sing her catchy theme song, no one loved Agatha Harkness more than Hahn herself. 
"I am nostalgic for it because it was such fun, hard work," Hahn told E! News in a phone interview just one week after WandaVision's finale. "Of course, it was one of the hardest things I've ever done, but it was also one of the most meaningful."
Already known for her scene-stealing comedic turns in Step Brothers, Bad Moms and Parks and Recreation and her critically acclaimed performances in more dramatic fare like Mrs. Fletcher and I Know This Much Is True, Hahn found her breakout role in the centuries-old witch, sparking headlines and discussion of a Hahnaissance, nearly 20 years after her film debut in 2003's How to Lose a Guy in 10 Days.
While WandaVision's creative team didn't initially craft the role with Hahn in mind, once they discovered the Transparent star had just had a general meeting with Marvel, showrunner Jac Schaeffer told E! News it felt like fate.
"It was one of those things where you're like, how did we ever function without her?" Schaeffer said. "Like, how did like how do we ever like have the gall to think that that Agatha could exist without Kathryn Hahn? It was just so perfect."
So perfect, in fact, that Hahn's performance—or should we say dual performances, one as Agatha and one as nosy neighbor Agnes?—launched an iconic meme (we'll get to the wink later), a thousand theories and well over one million streams of a little theme song called "Agatha All Along."
"It just blew my mind," Schaeffer admitted of the tune's success, charting on iTunes and Billboard's charts. "And so I loved the song and I knew that would be great. I didn't know that it would be a bop and I didn't know that people would remix it. That was a shock, but then once Kathryn was legitimately charting, I'm like, well, yeah, it's Kathryn Hahn. She's gonna be, like, you know, above [Justin] Bieber on the charts, yes."
And so naturally we were thrilled to get the chart topper on the phone, spending some twenty minutes chatting with her about becoming the year's biggest meme and joining the Marvel Cinematic Universe. Warning: It is possible to love her even more, even if she did kill Sparky, too.
E! News: There's so much talk about the Hahnaissance, right? But when I brought up that I was speaking with you to everyone in my life, they all had a different reference point. So when you see the idea of the Hahnaissance, what is your reaction?
Kathryn Hahn: I mean, at first I immediately think of the McConaissance, which is the first 'aissance' I remember reading about. [Laughs.] That blowing my mind for him and that amazing gentleman and his amazing career. And then to hear it called the Hahnaissance and being on the inside of it and just feeling like I'm putting one step in front of the other as an actor, has been pretty trippy, for sure.
Watch:
"WandaVision" Cast Dishes on Becoming Sitcom Experts
E! Yeah, it's odd, because with my brother, he'd go, 'Oh, Parks and Rec!' My sister immediately thought of Bad Moms, while my mother said How to Lose a Guy in 10 Days. And then my best friend was obsessed with Mrs. Fletcher. So for me, it's like forget Agatha, Kathryn Hahn's been here all long! But is there a role, aside from WandaVision of course, that most people tend to connect you to the most?
KH: It changes, well, year-to-year or in the age group. I think it would mostly be for Step Brothers or Parks and Rec. And in my neighborhood, of Los Feliz and Silver Lake in California, it would be for Transparent. And Mrs. Fletcher.
E! So you've had this long career, with a lot of indies, and you had  voiced Doctor Octopus Spider-Man: Into the Spiderverse, but what are those initial conversations like when it comes to joining the MCU?
KH: It's always been a genre that I thought it would be a ball to be a part of, it just looked like so much fun. I always respected the amazing talent that it is attracted to Marvel and attracted to those parts and that [Marvel president] Kevin Feige attracts. I knew going into that meeting, I had zero expectations. I had no idea what the general meeting was for. I honestly always thought secretly that a villain would be the most fun. But I never in a gazillion years would've thought it would've been this part.
So when I came back two days later and they laid it out for me, I was like…I can't even tell you. First of all, I had never heard of Agatha Harkness, but when I saw her up on the big board, her images and the images of what they wanted to do with her with this series and then I heard that she was a witch, my heart was pounding out of my chest. I could not have imagined in my wildest dreams a more fabulous part in a live-action Marvel situation than this one. And to work with Lizzie [Olsen] and Paul [Bettany], like the whole thing...and then even to go through the decades and to be able to sit in different genres of comedy and costumes and the wigs...I feel like I can barely hold a sentence together talking about it, it was so fun.
E! I always compare the MCU for American actors to the Harry Potter series for British actors, where they can go and just completely chew the scenery, especially in the villain roles. So did you feel like you had the freedom to do that with Agnes and Agatha?
KH: Oh yeah, for sure. Especially because of the genres we were dealing with and because we, for the most part, all knew the whole arc going in, that I knew these genres were on top of something underneath. I knew that it was allowed and OK to play it kind of bigger than I had been playing in some of the smaller stuff I had been doing. and when I say smaller I just mean more natural work. I mean, she's such a blooming onion, so we were able to start there and then peel off or peak through certain lines and that became the dance of where and how do you peak through. And how much fun is Agnes—sorry, Agatha having underneath Agnes and I think she ended up having a lot more fun than she thought.
In interviews leading up to the big reveal, did you almost trip up in saying Agatha instead of Agnes? Because they are very similar so E!: I imagine it would've been extremely easy to slip up.
KH: I had to do a silent prayer basically every time before I turned my Zoom camera on. I said the word out loud just quietly to myself just to make sure I was saying 'Agnes.' I basically had it written in magic marker on the inside of my hand, even though I didn't, I mentally did. Because I was terrified. It was very close.
E!: There is a history of actors dropping spoilers in interviews in the MCU!
KH: A couple of times...in casual conversation, I could have just said it. That was a real fear.
E!: Well, do you have that fear working in the Marvel Universe of spoiling basically anything? How secretive do you have to be, even talking to people in your daily life?
KH: For me, no one expected anything weird to come out of my mouth. Like, I never have done anything like this. So no one was coming at me with questions and my kids were, like, 'What?' They couldn't compute. So for this one, it was not difficult. No one was really coming at me with questions until the train left the station and the show started. I should say when the first trailer dropped and then there was a lot of theories and suspicions, a lot of which were, of course, right on the money. But that's when I really had to tighten it up. I was definitely with some pals who were comic aficionados and every time I saw a glass of wine coming to me I was, like, 'No thank you!' Because I was afraid, I was very afraid!
E!: This is really your first project where you had people coming at you with theories and questions, trying to get any spoiler, even now, trying to figure out if you're going to pop back up? Is that fun or daunting to deal with?
KH: Oh, it's been nothing but fun! There are such few good surprises on the planet, so the fact that we were able to pull off a lot of it and a lot of it be a surprise is just great. And that people had fun was awesome and that it landed like this was awesome. And that Lizzie and Paul, the planet was just able to see them in all of their extraordinary glory was just awesome. They're just so phenomenal. And that we launched Monica Rambeau and that character and Teyonah [Parris] is just such an incredible performer. There's so many incredible things that happened with this show, so nothing felt daunting. It just was all good and all joy. Of course, it was one of the hardest things I've ever done, but it was also one of the most meaningful.
E!: The experience of watching it actually reminded me of "TGIF" growing up. My brother was like, 'We have to watch WandaVision together!' So all day on Friday we'd be texting each other and avoiding Twitter, so we could sit down to watch it together that night. 
KH: I love that! And yeah, it's hard to gather a multi-generational group of humans around the television one night a week to watch anything and I think the fact that it was doled out on a weekly basis and not bingeable, there really was something nostalgic about it, but also felt very fresh. It allows for a real online community feeling, which also felt very dear and special and something to gather around that felt blessed instead of in the midst of so much other mishegoss, to say it very mildly. And my family, for sure, I haven't had the opportunity to watch anything with my kids on a regular basis and so I really was sad when it was over. 
E!: Speaking of that online community experience, are you fully aware that you are now an iconic meme, with the wink?
KH: Yes, I am. And it's hilarious from how many different facets of my life I have gotten the memes from. Like, there's so many different people. It's hilarious. I'm like, just look at that big mouth. Oh my lord.
E!: Looking back at everything you did as Agnes and Agatha throughout the episodes, are you surprised that that was the one that became the biggest meme? 
KH: I'm just like, who would've thought this was in my future? The whole thing is so bananas. I'm still trying to figure out where the word 'meme' even comes from! The whole thing is bonkers to me. It's really cute though and it's clearly usable for a lot of different purposes. 
E!: Filming that "Agatha All Along" sequence, was that all mapped out or were you guys also coming up with fun ideas on the fly?
KH: I mean, you'll have to ask Matt Shakman, the director, what happened with that wink, but I'm sure that me just being a cheeseball and he just decided to use it.  And lo and behold! It's amazing that it's turned into a meme. When that started off, I think I was like, 'What?!'
E!: Well, you've checked becoming an iconic meme off the list and you can also check off topping the iTunes chart with Agatha's theme song, "Agatha All Along." Who needs an EGOT, really, when you have that?!
KH: Also just complete bananas! If someone were to have read my cards when I was in my twenties and they had been like, 'And I see you topping the Billboard charts because of this little ditty for a Marvel show,' like, that is something I never would've seen. The whole thing is just bananas. 
E!: When you signed on for the role, did you know you would be recording your own theme song or was that a pleasant surprise? 
KH: I knew that as part of the initial pitch, when they were telling me the arc of the show, I think they said, 'You will be singing and you have a theme song.' And I was like, 'Great' And then I think at a certain point they were like, 'Do you feel comfortable recording it yourself? Are you OK with singing it?' I was like, 'Yes,' and then I heard it and there was a lot of discussion of if I needed to have a vocal coach or not. They offered one, but I was like, 'I think I got it.' Those beautiful male vocals were already in place and I knew I just needed to come in with the refrain. It was half-an-hour maybe and it was over Zoom and I was so nervous to meet them [composers Kristen Anderson-Lopez and Robert Lopez] because they're such musical theater gods and they're brilliant and they're married and they're just so goddamn cute. They're just so awesome and just how they work together so well, I don't know how they do it. I could not work that well with my husband! [Laughs.] We just had a blast, I just remember Kristen throwing out different karaoke versions of it, so we would try it different karaoke ways and we landed on that one. 
E!: Did it become as much of an earworm for you even before it came out just from singing it while recording? I find myself randomly singing it out of nowhere. 
KH: Yes. It did! It did, it was very hard to get that jaunty step out of my mind.
 
E!: It sounds like it was such a fun set and you also said it was really meaningful for you. What were your expectations going into it and joining such a big production like the MCU and how did it compare to once you were in the process?
KH: I know a bunch of guys that have been in the MCU. I know [Paul] Rudd, I know Mark Ruffalo, I had just worked with him and I know that their experiences have been so good, like they loved their time. So I knew that the vibe was going to be just great. But I definitely thought it was going to feel more effects-driven, that it was going to feel less performance-based. I just felt like I was constantly going to be on a green screen. Even though I knew they attracted such incredible actors, I thought that was partially because so much of their work would have to be using so much deep imagination.
What I didn't anticipate was that this experience felt very opposite to me in a surprising way. It felt very small and intimate in the middle of this giant circus that was putting together this show, especially in the later episodes. I know it's because of our amazing director Matt Shakman, who comes from the theater, and the writer Jac Schaeffer, who just wrote such a gorgeous and emotionally true script, and the freedom that Kevin gave this whole production to just go towards the emotional truth. I think the biggest surprise would be that it felt much more collaborative than I had anticipated. I had a lot of say in the costume, I had a lot of say in parts of her arc, just so many little tiny things. There was an open discussion, it didn't feel cut and dry. 
E!: Finally, with Agatha's fate at the end of the finale, it's obviously very open-ended. She's still around yet not around. You obviously can't say anything, but are you open to returning and is there an actor in the MCU you haven't worked with yet that you would like to?
KH: Oh, I am of course open to working in this world again. Of course. You know, as well as I do, they run a very tight ship and I have heard zilch. So who knows? It could be a million years down the road. 
And there's so many, that group of performers is bonkers. But this is what I've learned: If I say one name, the Internet is going to freak out. [Laughs. Over the implications of what character that is. So who knows? But any of them, they are all delicious. Obviously they hire good eggs so any human being would be a pleasure. But, of course, I have a soft spot for Elizabeth Olsen. 
WandaVision is streaming on Disney+.
—additional reporting by Lauren Piester
For everything you should be watching right now, don't miss BingE! Club hosted by Erin Lim on Snapchat!