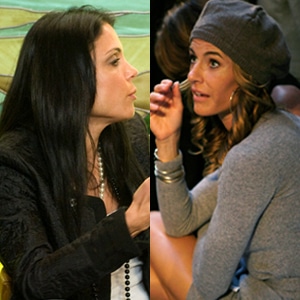 Bravo Photo: David Giesbrecht, Bravo Photo: Giovanni Rufino
Another round of Dancing With the Stars has come to an end, but it's never too soon to start planning for next season.
So who's up for waltzing in the fall? How about some reality show veterans!
With The Real Housewives of New York City and The Apprentice under her belt, Bethenny Frankel wants a third shot at reality TV.
"I'd be the triple-crown reality loser," Frankel says. "But it looks like a good challenge, so yes—yes, I would definitely do it."
And she's not the only one...
Perhaps Bethenny and her Housewives nemesis Kelly Bensimon could settle things with a dance-off. "I love to dance and I think it would be so amazing," Kelly says. "It's out of the box for me, but I think it would be really fun."
If former Bachelor Andrew Firestone starts waltzing, we suspect his mom will be hanging around rehearsals. "My mother was a professional ballerina, so I don't know if the genetics of being a dancer would help me or hurt me, but I can do a lot of wiggling," Andrew says.
Reality-TV matriarch Sharon Osbourne is also interested in hitting the ballroom, but next season could be too soon. "I would absolutely love to be on the show," she says. "But I'm much too busy now. There's no time."
Former Danity Kane singer Aubrey O'Day is probably already making room in her home for the much-coveted disco ball trophy. "I hope they ask me to do it [because] I'll win it if I do it," she boasts.
And although she's already been there and done that, ex-Beatles wife Heather Mills says, "I would do it all over again in a heartbeat."
One TV personality who isn't about to bust out the Paso Doble anytime soon? Khloé Kardashian. "I don't think I would do the show," the E! reality star says. "Kim already did that, so I'm going to leave that with her."
—Reporting by Dahvi Shira 
________
Follow Marc on Twitter @marcmalkin and get our free iPhone app