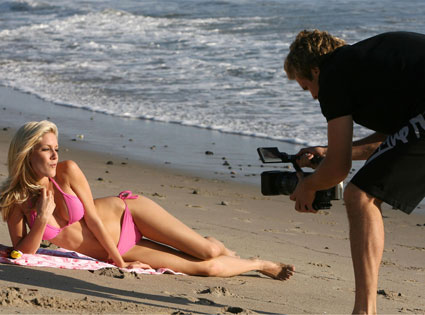 James Breeden PacificCoastNews.com
Heidi Montag is adding swimsuit designer to her resumé.
The Hills' plastic-surgeried starlet has announced she's working on a bikini line with designer Ashley Paige.
"I love bathing suits," Heidi says. "I feel like I wear them more than anyone so it makes sense for me. I did a fashion show for Ashley Paige a year ago in Miami and I've been such a big fan of hers."
And naturally, Heidi will be getting her line some free promotion when she debuts the bathing suits during her upcoming stint on the reality show I'm a Celebrity, Get Me Out of Here.
"That's the only bathing suits I will be wearing on the show," Heidi tells E! News of the three-week shooting schedule in Costa Rica. "I'll be living in them. That's all I'll be wearing."
But she says the bikinis won't just be for those with the camera-ready beach bods in our summer heatwave gallery...
"They're for every size, all body types," says Heidi. "They're for little women and bigger women."
Heidi says she's ramped up her own workout regimen with help from her hubby, Spencer Pratt.
 "Spencer and I work out together. We kind of do a couple's workout, so I really push myself because I'm always trying to keep up with Spencer," she says of her routine, which includes 60- to 90-minute sessions, five days a week, with a coach.
If you're dying to get one of Heidi's suits for summer, you've gotta wait. The bathing suits won't be available to the public until they're shown at Miami Fashion Week in July.
For more fashion finds for summer, click here for our summer fashion guide.
______
Follow us on Twitter @eonline and get our free iPhone app