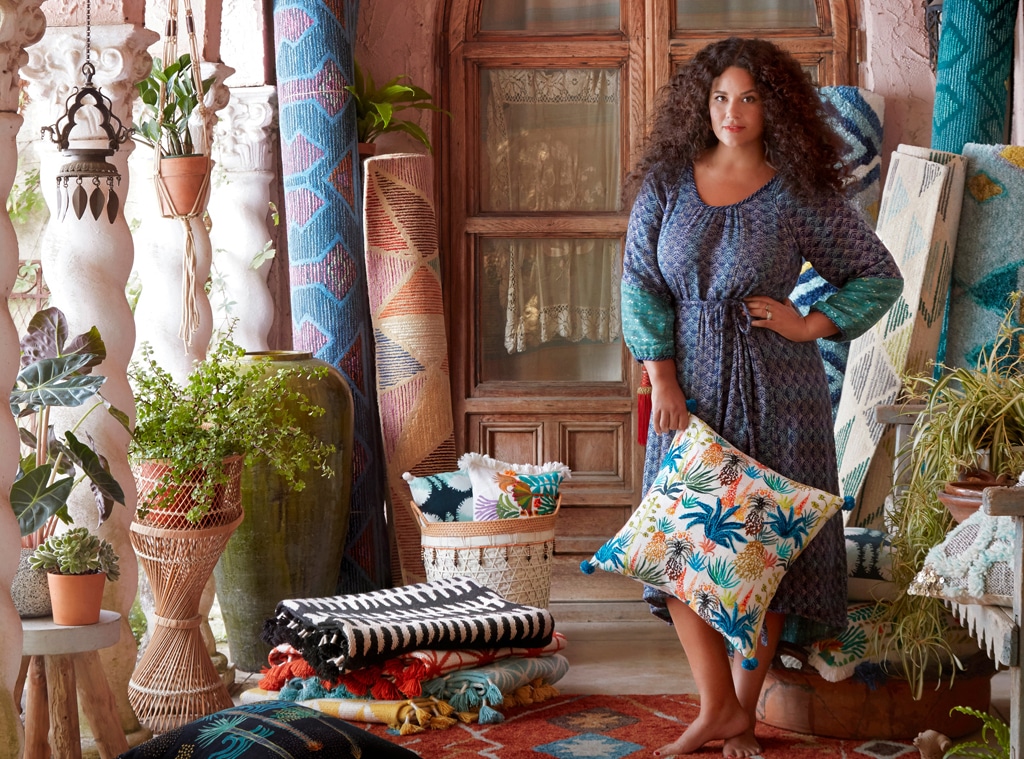 We interviewed this celebrity because we think you'll like their picks. Some of the products shown are from the celebrity's own product line. E! has affiliate relationships, so we may get a commission if you purchase something through our links. Items are sold by the retailer, not E!.
Are you ready for some feel-good décor to warm up you home? Then you need to get turned on to Justina Blakeney, founder of the design brand Jungalow.
Blakeney has been hailed as "one of the most prominent figures in the contemporary design world" by Domino magazine, and it's easy to see why. Her laid-back and accessible approach to design is a boho-chic dream. Plus, she's just so dang cool.
Following the smash success of her New York Times bestseller The New Bohemians: Cool and Collected Homes, Justina's new book, Jungalow: Decorate Wild, comes out April 6 and is available for preorder now.
We chatted with Justina about her new book and decorating to make your space feel authentically you. She shares some of her shopping must-haves, and we've highlighted some must-haves from her brand to give your space that Jungalow glow.
Jungalow: Decorate Wild by Justina Blakeney
In her third book, Justina is sharing what fans what to know. From working with light to embracing nature to experimenting with paint colors and laying textiles, you'll find inspo and advice to create your own Jungalow.
E!: What inspired your new book, Jungalow: Decorate Wild?
Justina Blakeney: I really wanted to create a book that empowers and inspires people to find their Jungalow. What this is for me is me digging into my roots, and travels to different countries, and my love for color, my passion for pattern.
I sort of discovered all of that through blogging and my design work over the past decade, and I want to share all of that in hopes it helps other people kind of tack it to their own roots and experiences hoping they find their own styles. That is really my hope for the book.
Also giving people permission to be a little more wild and free at home and have fun with design and art and home décor. I think the design world can be so unapproachable and stuff and feels like there is such a high barrier to entry. Like, "Oh, you don't understand this."
My hope people can read this book and understand my journey how I got to where I am, and simultaneously start looking at their own journey, and bringing that into their homes and expressing that in their homes, and finding permission to try something totally wild and different.
Painting something bold and seeing how you like it. I really believe everyone is truly creative, and I think that is one of my North Stars, helping people tap into their own creativity. I think all humans are creative, and so helping people have that and helping people explore that, and then helping them translate into what that means, creating a home where they can grow and thrive.
The New Bohemians: Cool and Collected Homes by Justina Blakeney
In Justina's bestseller The New Bohemians, you'll get decor inspo from the dreamy homes featured and practical tips on how to make your own space just as cool.
The New Bohemians Handbook: Come Home to Good Vibes by Justina Blakeney
The New Bohemian Handbook is packed with hundreds of ideas for bringing positive energy to your home, as well as exercises and activities for thinking about rooms in new ways.
E!: Nesting has become what we all pretty much do now. Do you see folks turning away from minimalist décor to embrace a warmer, lived-in look?
J.B.: Yes, definitely. I think it has been on the horizon for a minute, but with the pandemic and being in our homes all the time in so many different ways, it is adverse to being minimal. If you have to use your home as a gym, as a school, an office, a restaurant, all sorts of things, it's hard to be pared-down.
It's also fun to have material and culture around you, and I think people are starting to finally embrace that. After so many years of more minimal vibe-y being the center of the design world, I think we're kind of where people are embracing quirk, people are embracing fun things that are bringing joy.
The idea that the home doesn't have to be a static place, that your home can grow and change with you and you can switch things up. I see it like fashion, where sometimes you might be in the mood to wear a fun funky outfit and sometimes you may want to wear a sweatsuit and sometimes you way want to dress up and feel super fancy. I feel the same way about my home décor.
There are easy things you can do with throw pillows or drapes or sometimes a completely different color into your home, get a new plant or bring light into a secluded corner in your house—there are so many little things you can do in your house to get a change if that is what you crave. I think because we're spending so much time in our homes right now, it's fun to give yourself permission to switch things up.
Justina Blakeney Hamsa Hook Throw Pillow
The hamsa is a sign of protection represents blessings, power and strength. Who doesn't want all of that wrapped up in a gorgeous pillow?
Justina Blakeney Jardin Duvet Set
Bring the outdoors in with this fresh and fab print that Justina painted at the Huntington Botanical Garden in Pasadena, Calif.
Justina Blakeney Hypnotic Throw Blanket
Cuddle up with the cosmos with this boho-chic throw. The tassels are totally on-trend and the neutral colorway works in any room.
E!: What advice do you have for someone who wants to embrace authentic and layered décor but doesn't know where to start?
J.B.: One of the things I talk a lot about in the book is roots. I talk about my own roots and I talk about it in two different ways. One is my literal roots, ancestry, what are things that have been handed down to me that I want to incorporate in my home? What are things that are meaningful to me forever? I like to start out with those items, because that is sort of the item you want to keep around and it tells a story of who you are and of your roots.
There are other types if roots we talk about in the book. Those are the adventitious roots; those are the roots that when we talk about plant life. They reach out far and high, looking for different places. For me, that is a metaphor for traveling, and it doesn't have to be across the world. It could be at a different area in your city that you've never traveled to before and gleaning inspiration from and ideas from those things. Maybe it's an art exhibit, maybe its going over to a friend's house, standing in their closet and finding inspiration that way, but I think it's really about your own ancestry, your own roots, starting there about what is meaningful to you. What do you want to have on display?
I have a set of chairs from my grandparents. I grew up sitting on those and eating ruby red grapefruits with sugar sprinkled on them, and when I sit on those chairs, I think back on those memories with them and those times. So, starting there with your own roots and heritage is a beautiful place to start thinking about how to create an authentic space.
E!: What are your five must-have items?
E!: What advice do you have for women who are thinking of launching their own businesses?
J.B.: I do a lot of mentoring with women who are trying to find their way. I think so much of what people kind of imagine, they're not thinking of what their day-to-day will entail. They're more thinking about like, if you want to be an interior designer, you're thinking of shopping and picking things and putting mood boards together and that creative part. But if you are starting any business, your main job is being an entrepreneur, your main job is sort of the business stuff.
Just know what you are getting yourself into. The way I recommend doing that is by maybe getting an entry level position for a few quarters somewhere or an internship just to see the day-to-day of what the job entails. Oftentimes it is super unclear.
So understanding comprehensively what you're getting into, and to have an enormous amount of passion. I like to say passion is the fertilizer. It is difficult to be an entrepreneur who isn't passionate about what you're doing. You kind of have to love and breathe it.
I also think it is important to be flexible, follow your successes. I think that is something that has been a huge help to my business. I am planting seeds and not all of them sprout.