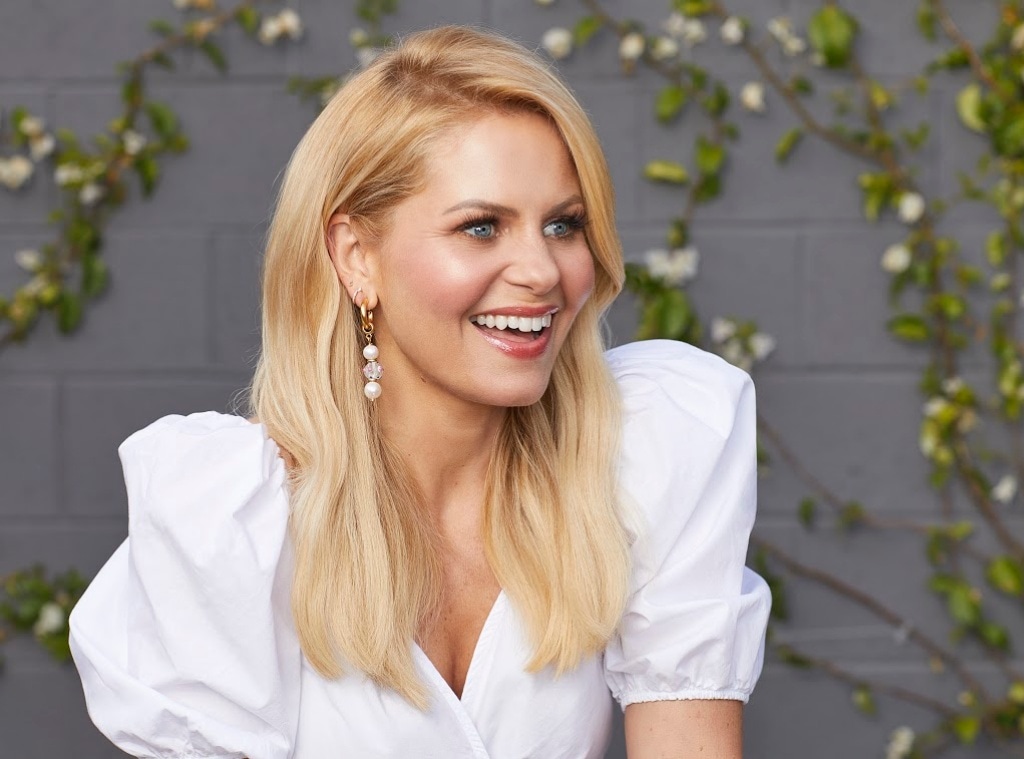 DaySpring
We independently selected these products because we love them, and we hope you do too. Shop with E! has affiliate relationships, so we may get a commission if you purchase something through our links. Items are sold by the retailer, not E!.
This spring, Candace Cameron Bure wants to spread love.
While many may know the actress for her roles in Fuller House and countless Hallmark Christmas movies, Candace has also developed a loyal following thanks to her DaySpring collections.
In addition to creating memorable holiday items, the self-proclaimed "Queen of Christmas" set a brand promise to deliver inspiration you can trust.
"In a world filled with aspiration, I wanted to bring inspiration. I want women to know that they can! They can when they rely on the strength of God," Candace shared with E! News. "As for all the Candace Cameron Bure products, they are inspirational, faith driven, relatable, useful, contemporary and stylish. My intention is to put beautiful, fun and energizing tools in your life to motivate you and give you the daily encouragement and inspiration you need to refresh your soul."
With the Easter season upon us, we're taking a closer look into why so many people have fallen for Candace's DaySpring collection. From welcoming doormats and ceramic mugs to inspiring t-shirts and devotionals, there's a lot to shop for below.  
"At the end of the day, there are all kinds of lifestyle brands out there," Candace shared. "But this is really a mindstyle brand." 
Love Over All—Relaxed Fit T-Shirt
One of Candace's best-selling t-shirts serves as an encouraging reminder to choose love over all in any circumstance. Customers can also pick from multiple colors including navy and heather gray. 
Kind People Are Our Kind of People Doormat
Made from coconut fiber, this rug is excellent at absorbing and trapping dirt while also keeping your home clean. And yes, it's an inviting accessory for your next guest. 
Grateful—Relaxed Fit T-Shirt
No matter what curveballs come your way during the day, this t-shirt will serve as an encouraging reminder to yourself and others that it's important to be grateful at all times. 
Love Over All Ceramic Mug
In addition to holding 14 oz. of your favorite beverage, this ceramic mug serves as a reminder to choose love above all. 
Love And Thanks—40 Note Cards
Never underestimate the power of a thank you note. Use this stationary to kick off spring and send a personal letter to your friend, teacher, coach, mentor or family member.
Jesus Every Day: Love Over All Devotional Guide
This beautifully designed reflection guide series by Candace aims to remove the intimidation of Bible study while helping one reflect on the Bible's life-changing principles.
Grow Candace Grow Book
She can act, TikTok, design clothes and write children's books. In Grow Candace Grow, little Candace decides to give her classroom garden a little help so it can quickly grow the flowers of her dreams. She soon discovers patience is the best plan after all.
Lift Others Up—Women's Fit Tank
Wear your faith out loud with a comfortable women's tank that may just spark an inspiring conversation. 
Joyful + Confident—Set of 2 Candles with Gift Boxes
Ready-to-gift with elegant, gift box packaging and enclosure cards, these inspirational candles are a perfect way to gift a special someone in your life.
Prayers to Share: 100 Pass-Along Notes to Share the Love
$10 will result in 100 opportunities to encourage, comfort and inspire others with God's unfailing love. Each note includes a prayer, corresponding Scripture and inspirational quote. 
One Step Closer—NLT Bible
"More than any, I love hearing about their experiences with the products, particularly reading and discovering the One Step Closer Bible," Candace shared with E! News. "I love hearing about their journey with God. The good, the bad and the ugly and how these products help them grow or renew their faith. I boo-hoo cry every time someone tells me the Candace Cameron Bure brand is helping them move One Step Closer to Jesus." 
Pineapple of My Eye—Ruffle Bib Apron
This all cotton, peach and blue ruffle bib apron keeps splatters and spills from clothing, and a hidden anthem reminds the hostess she is the "Queen of Hospitality."