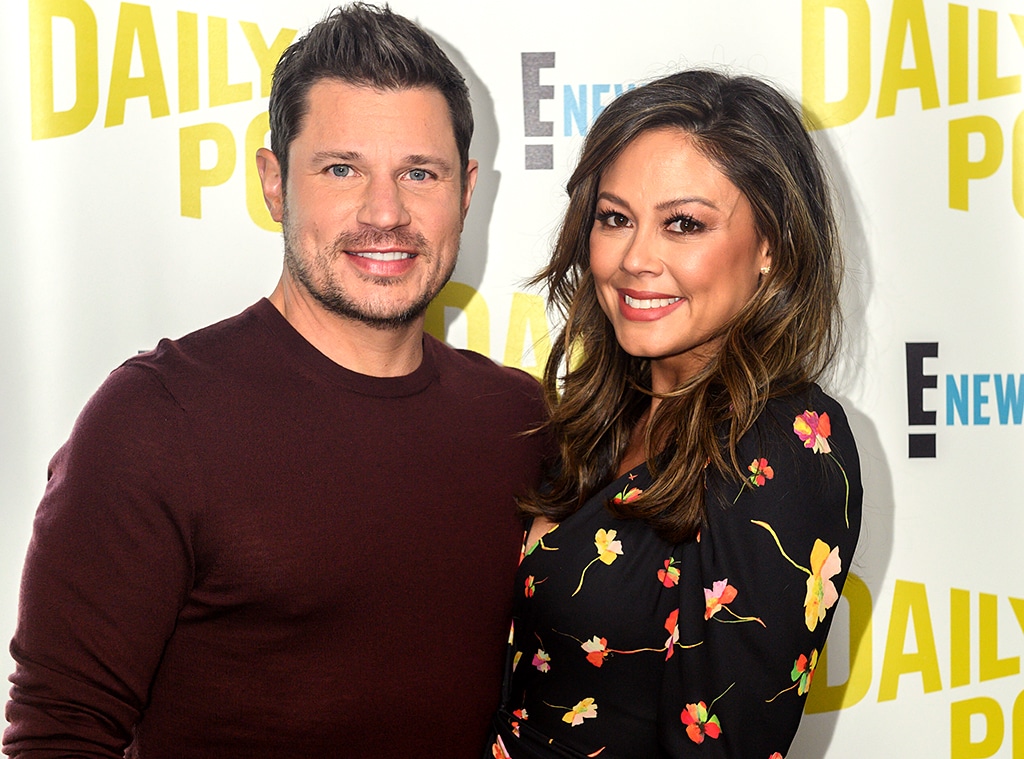 Nick Agro/E! Entertainment/NBCU Photo Bank via Getty Images
Nick and Vanessa Lachey guessed they'd make a good hosting team for the length of an entire series.
But they weren't 100 percent sure.
"We're both Scorpios, we're both hosts, we're both in front of cameras. It could be not a good thing," Vanessa said in a new interview with E! News, recalling any qualms she and Nick (who actually shares her Nov. 9 birthday) may have had about teaming up together. But after a couple of successful outings as co-hosts of the live Miss USA and Miss Universe pageants, it became obvious that "we enjoy each other, and we realize we're there to lift each other up, not to one-up each other."
So when they were offered the very accurately titled dating show Love Is Blind back in 2018, they at least knew that they'd enjoy spending all that time together. And, it turned out, the concept really resonated with the couple, who've been together for the better part of 15 years and will be celebrating their 10th wedding anniversary July 15.
"It kind of is the way that we courted, in the sense that for a full year before we really got intimate, we were just emotionally getting to know each other," Vanessa explained, remembering those long-distance days when Nick was based in Los Angeles and she was in New York hosting MTV's Total Request Live.
Now, she added, "through all this quarantine, he's seen me at my worst, physically. My hair up, whatever, haven't brushed my teeth since noon because we're trying to get the kids through school or whatever it is—but I know he loves me, and vice versa. He'll take his hat off, like, 'I haven't done my hair,' I'm like '[pfft] I don't care. I love you, I don't love coiffed you—although you're sexy coiffed—I love you.'"
More on these alleged looking-less-than-gorgeous moments later.
But yes, their intuition served them well, and Love Is Blind was easily one of the most talked-about series of last year, the concept bonkers (10 days of getting to know each other, then a proposal, then four weeks later "I do!"), the words exchanged dramatic and the outcomes heartening enough to capture millions of people's attention in a sea of romantic reality shows. Little did Nick and Vanessa know, though, that the show would debut just weeks before so many people had nothing but time on their hands to binge-watch shows like theirs.
"It's like the cliché that everyone's been saying, that it's forced us to all slow down as a family," Vanessa said of the coronavirus pandemic, which shut down life as everyone knew it a year ago, meaning in their house no school for the kids and no film and TV shoots for mom or live shows for dad.
She didn't work again until June, when the industry slowly started to inch back with masks, daily COVID-19 tests and other strict protocol in place—"a bubble of safety," Vanessa called it—allowing her to film several episodes of the Fox sitcom Call Me Kat with Mayim Bialik, a new pilot, and the Christmas-themed Once Upon a Main Street, holiday movies having become another one of her annual traditions in recent years.
But, Vanessa shared, "my husband's last performance was February 29th of 2020 in Florida. [Nick said,] 'It's over a year since I've seen a crowd and performed for people,' and not that he needed a reminder but he's like, 'I do really, really, really love music. While I love my children and family, it doesn't take away from that, but I love performing, I miss the guys...I miss getting on an airplane and just sitting there watching a movie, and being in a hotel.' All the little things."
And while they're always hands-on parents to their three children, sons Camden, 8, and Phoenix, 4, and daughter Brooklyn, 6, quarantine has basically been all kids, all the time. 
Watch:
Giannina & Damian After "Love Is Blind" Wedding Disaster: "The Rundown"
"Our grind is all about them," Vanessa said, describing an average day. "We wake up, shot out of a cannon, to them. 'What do you need? What do you want for breakfast? Let's change you, what do you want for snack? Let's entertain you. What do you want for lunch?' The afternoon: 'Let's entertain you. Dinner, bath, entertain you, bed.' And then we're like…"
Like a balloon with the air whooshing out of it, basically, though they did schedule weekly guys' nights, girls' nights and couples' nights on Zoom to make sure they were interacting with fellow adults.
Early on in the pandemic, Vanessa recalled, "my 4-year-old came to a point where he broke down and he's like, 'I just want to get out!' So I just ended up driving him around and I remember being nervous driving, keeping the windows up. We weren't allowed to go to parks, they weren't allowed to go to the beach. They weren't allowed to ride a bike out. It was, 'stay indoors.' And that was hard for little children who thrive on being outside."
So at the end of the day (and a very, very long year), Vanessa—who as host of the upcoming Total Wireless Awards is helping recognize some stellar people of all ages who've been connecting with their communities in creative ways during the pandemic—feels pretty damn lucky that she has a partner who took it all on with her.
Not that that means it's all been easy since staying at home became a way of life. (And for the record, a family vacation is No. 1 on the post-pandemic to-do list.)
"It's definitely challenged us in good and bad ways," Vanessa said of the quarantine life, "definitely held a magnifying glass to things, and it's made us stronger in the end. We are forced to communicate. There's no leaving for a show, or leaving for a job and then being away going, 'Hey, I'm sorry, I miss you, I'm coming back.' It's having to deal with it in person, [Nick] saying 'I messed up,' or [me saying] 'I messed up,' or 'I want to communicate better.'"
She continued, "And that's been something that I will never, never take for granted and I love that this year has brought us closer than ever—whether it's the challenge of being home with the kids that are virtual learning [or the two of us] not working. There have been a lot of changes for families across the globe and we've all coped in different ways, and I'm just grateful that I have a partner that wanted to nurture it in a way that would come out positively on the other end. We both wanted to be better people and parents in this time and not end up worse."
However, she assures, do not mistake their home life for one of those picture-perfect Instagram feeds.
"Some people are just eating right and working out the whole time—that hasn't happened!" Vanessa quipped, adding with a smile, "We are eating bad and not working out, but emotionally and mentally we are stronger and more stable than I think we've ever been."
And while she still craves alone time with her husband—"We do enjoy time together and we do talk to each other, we like each other"—she does love a steamy shower to unwind and enjoy a few moments to herself, blissfully not thinking about all the stuff she wrote down in her notebook expressly so that she wouldn't have to keep trying to remember it.
"I've got this eucalyptus spray," she shared. "The water's really relaxing to me. I'm a water sign, but whatever [the reason], I love it. A long, relaxing bath with candles is not happening. So a nice shower in the middle of the day."
About her collaboration with Total Wireless, "we're all taking it day by day," Vanessa said, so convenient, affordable virtual connection has become more important than ever. Starting March 16, you can enter their sweepstakes by going to Total Wireless' Instagram and voting on your favorite story from each Do Amazing category, such as Virtual Parenting and Starting a Business.
"This is a great way to spotlight them and hopefully inspire, or spark something in people to do things for their community or for their family—or even just call an old friend," Vanessa said, knowing that reaching out, even if only through screens right now, can make such a difference.