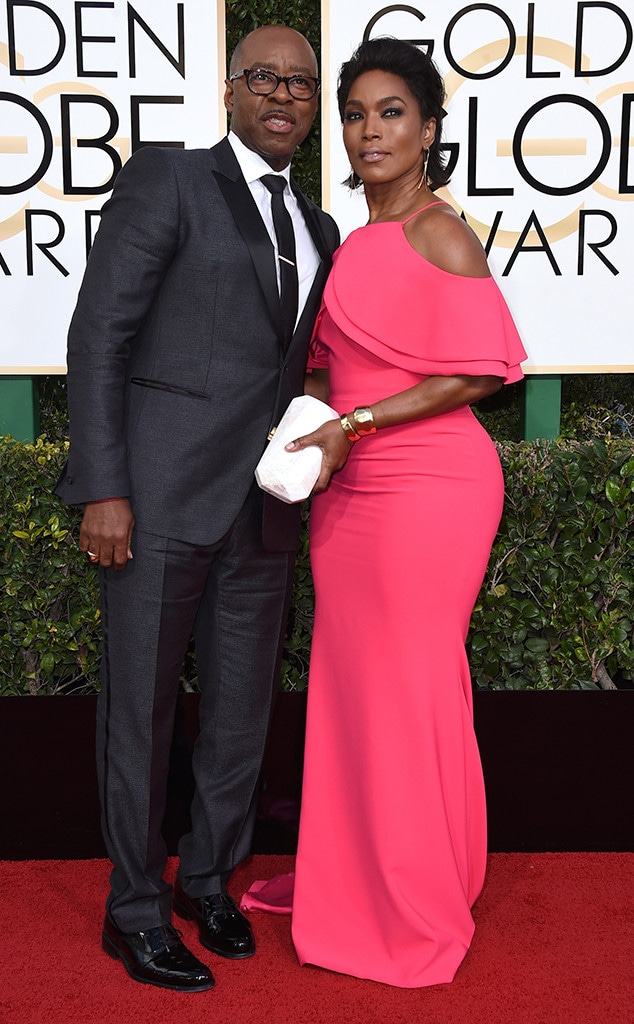 Jordan Strauss/Invision/AP
A lot of stuff out there in the world looks appealing but doesn't live up to expectations, like an influencer's Instagram feed or a "suite" on a cruise ship. But some things, such as hot showers, hot fudge sundaes and Angela Bassett and Courtney B. Vance's hot relationship, are as good as they look.
The actors celebrated 23 years of marriage in October and, instead of resting on their old-married-couple laurels, they still put in the work to keep the communication flowing, the support uplifting and the spark alive. (And, needless to say, they couldn't less resemble an old married couple on the outside.)  
"Find a nice person," Bassett advised in a recent chat with Extra. "Someone who's in it to fight, in it to win with you and who supports you. And on top of it, they're really a nice person."
Expanding on just how kind her husband is, the Oscar-nominated actress recalled to People in 2018 how Vance stepped up when, while planning their 1997 wedding and shooting How Stella Got Her Groove Back at the same time, she started to feel overwhelmed.
"It was like, 'I'm trying to do this and I'm also trying to be Stella,'" Bassett said. "'OK, it's a lot going on here and I need you to step in and help me out with this.' He was like, 'What [do you need]?' That's all you have to do, is tell him to step in and he shows up for you. Not just for me, but for any of his friends, whoever he loves or whatever mentee may reach out to him. He steps up and steps in for you."
After adding twins to the mix, daughter Bronwyn and son Slater, now 15, and maintaining impossibly busy careers over the years, it sounds as though Vance's willingness to step up—and in—hasn't changed a bit.
Watch:
Angela Bassett & Courtney B. Vance Couple Up at 2019 Oscars
"It's not like 'I expect this, I expect that from you,' dinner on the table every day, or this, that and the other," Bassett explained. "I have to go sometimes. I can't be there sometimes, and he steps in there. He's right there."
True story. As Vance told Us Weekly in 2019, "It's, 'Yes, dear. How can I help? What do you need me to do?'"
But the funny thing is, she wasn't always super into that sort of thing.
The Ivy League alums, Bassett having graduated from Yale and Vance getting his BA from Harvard, first crossed paths in the early 1980s at Yale Drama School. And that was it.
No, really, that was all.
"He had a beautiful, beautiful girlfriend at the time, who was also in drama school with us," Bassett told People. Meanwhile, when they both sat down for The Oprah Winfrey Show in 2007, Vance admitted, "I don't remember her at all, really." Shaking his head and chuckling, he added, "I don't have a clue."
A smiling Bassett described drama student Vance to Oprah Winfrey as "tall-ish [he's 5-foot-9 to her petite 5-foot-4], dark, skinny, and just...alluring." But Vance continued to insist that he was oblivious then to her charms, including when she shared the stage with his girlfriend in a theater production.
His memory improved over the years, though.
"She was leaving as I was coming in," Vance, who's turning 61 on March 12, explained to Wendy Williams on her talk show in 2016. "She was helping me, showing me around, and she was with somebody at the time and I was with somebody at the time. We were friends and for 13 years we were on the August Wilson circuit, doing his plays."
But, as he said, they were with other people.
Moviestore Collection/Shutterstock
After getting her master's degree in 1983, Bassett worked steadily, mainly in TV until she played the mother of Cuba Gooding Jr.'s teen character in John Singleton's seminal drama Boyz in the Hood, which came out in 1991. The following year came her supporting turn as Betty Shabazz in Spike Lee's Malcolm X opposite Denzel Washington. But it was her powerful, Oscar-nominated, Golden Globe-winning performance as Tina Turner in What's Love Got to Do With It that vaulted her into the ranks of Hollywood's sought-after stars, a perch from which she never descended.
Vance was nominated for Tony Awards for Wilson's Fences in 1987 and John Guare's Six Degrees of Separation in 1991. He made his film debut in the 1987 war drama Hamburger Hill and parts in The Hunt for Red October, The Adventures of Huck Finn and Dangerous Minds, as well as tons of TV, followed.
And after graduate school, he and Bassett wouldn't try being anything more than friends until 1994.
"So maybe about 14 years later, our paths crossed here in Los Angeles," Bassett told People. "And I was single, he was single. And I had such an appreciation for him over those years—of his consistency, how he treated other people, of what a supporter he is, what a connector of people and ideas he is, how passionate he is."
So imagine her surprise when she found their first date to be a bit of a snooze. "Dare I say, it wasn't memorable?" she told Winfrey. Vance explained, "I think that was because it was not a good date."
Bassett continued, "He just seemed like a really, really nice guy. Which translated: 'kinda boring.'" After another good laugh, she added, "That was it. Wasn't gonna give him a second thought."
Apparently "nice"—a quality she obviously adores about him now—hadn't made it to the top of her list yet.
Ron Galella Collection via Getty Images
"I think so," Bassett said, agreeing with Winfrey that sometimes you have to grow up before you can truly appreciate a no-drama situation. "Maybe me being an actress, all that drama, maybe that had something to do with it," she said.
"It was tricky," Vance described that no-go of a date to Wendy Williams. "That's all I'm gonna say, it was tricky."
As fate would have it—truly, they both believe—she did deign to meet up with him again, and they went golfing. They've been a pair ever since, even collaborating (with writer Hilary Beard) on the 2006 book Friends: A Love Story, about their upbringings and eventual coupling.
Asked when he realized he was falling in love, Vance cited that second date, telling Winfrey, "I just started playing golf and I love it." Bassett didn't play, but he urged her to come along anyway. "'Even better, I can stand behind you, show you how to putt,'" she cracked, suggesting what may have been on his mind at the time. "So we went to the driving range," Vance continued, "and we had a great time, it was a great date...And I said [to myself], 'I like her.' Something was happening."
Bassett noted, "It was just easy, not putting anything on it...Not trying to impress." Though that was easy for her to say.
Soon after, Vance sat down to write her a little note, to divulge how he really felt. 
"After about a hundred" attempts, he went with the tried-and-true grade school approach: "I like you, you like me? Check 'yes' or 'no.'"
Reader, she checked "yes."
"I saw his heart in the note," Bassett said, "and we had spent that time together, that week together, and I think I began to see the heart of the man, and it was intriguing."
And though the move was pure elementary school, their first kiss made Bassett feel "like a teenager," as she reminisced in their book. "I got pinpricks and chills up the back of my thighs and across my butt, up my neck and across my scalp."
After that electric encounter, Bassett had to fly to Milan to attend a fashion show and, as she recalled, she couldn't sleep on the plane or, really, the whole time she was there, she was too excited, replaying the kiss in her mind.
As was Vance, who had headed straight to his hometown of Detroit for his mother Leslie's retirement party. He planned to tell her that he'd found the one. "It was a very exciting time," he said.
Despite his grad school amnesia, when he and Bassett finally did get together, he told People, it was "like old friends who all of a sudden looked up and said, 'Hmmm...' Gradually it dawned on us that we like each other."
They got married Oct. 12, 1997, having spent the 12 months leading up their big day being celibate. That's right, celibate.
"Because we knew this relationship was so special we decided to abstain from sex until after we were married," Vance told Winfrey, to which Bassett added, "That was my brilliant idea, but it wasn't easy. Actually, one night, I did beg Courtney to give in."
One plan they made, however, wasn't meant to be—at least not quite as they originally thought. When they started trying to have children, "it was not happening," Bassett, who went through multiple rounds of unsuccessful IVF, summed it up to Winfrey. "Or it would happen and then it would...go away. So it was really rough."
They opted for surrogacy and welcomed their twins on Jan. 27, 2006.
"Just standing there together, holding each other," Bassett remembered their birth, "with the realization that this is the moment that we've been working toward, praying for, and here he comes, here comes Slater. Here comes Bronwyn. He's cool, and she's 'whaaaa.'" She laughed. "That's right, girl, that's the way you go into the world."
Noel Vasquez/Getty Images
Having kids "continues to let me know that it's about her," Vance said, pointing at Bassett. "When we first got married, her sister sat us down in her living room and told us, 'My husband comes first.'" But that mantra wasn't for him.
"And so that stuck in my mind that, throughout all the problems that we go through in terms of having children, she's first," Vance said. "And I wanted her to know, it's not about the babies for me, it's about her. Because when the babies come, it just means we've got to be more clear in terms of what we're about, and the decisions that we have to make."
If you'd like to take a moment to swoon, go right ahead.
Happily (and no small thing when it comes to celebrity marriages), both of their acting careers proved built for the long haul, which has made for both a comfortable life and countless stylish red carpet moments over the years along with the need to balance two packed schedules.
"Our focus is on our children and what we need to do as a family," Vance told Us Weekly in 2019 at the Avengers: Endgame premiere, where he was supporting his wife's second turn as Ramonda, Queen Mother of Wakanda. "Careers and things follow that."
Of course, reaching that likely conclusion took some work.
"I don't think I have a great ego that just gobbles everything in sight," Bassett told Winfrey when asked how they handled the sometimes tricky business of sharing (or alternating turns in) the spotlight. "I'm proud of the accolades that he receives. And that is something we had to navigate early on."
Vance, who wrote in their book about his nurturing mother and present but emotionally undemonstrative father, added, "The larger issue for me is that I had to acknowledge that she's first. I had to learn, because I didn't know...I thought I was ready when we first got married, but through counsel I started to understand, once I allow in my mind for her to be first, all the other things—about the business [and other decisions]—I said, 'Well, wait a minute, we've got to decide what we want first.' And then, that calmed me down."
After his dad died, "I had to go back and start to reclaim myself, and start to remember things, and then," Vance recalled, "I had to kind of put my career on hold for a little bit and start to refocus on myself—and consequently, get ready for her."
Not that this equally swoon-worthy recollection meant that his evolution from closed-off guy to emotionally generous partner was entirely seamless. But when he and Bassett tied the knot, he had no intention of letting that bond unravel.
"I'm putting two feet in with this one," the actor also said. "We're not going to be doing shows and movies together. We need to close the doors and figure out our marriage. We had to make a commitment to each other that divorce is not an option and to take it off the table."
Added Bassett, "He said that we would have to fight through it to get to the other end of it. It was really wonderful."
Touching upon his time spent with a trainer who was also a marriage counselor, Vance said on Rachael Ray in 2007, "So everyday I was being counseled, and he asked me what it cost when she asked me—if we were in a car—'Which way do we go?' to say, 'Which way do you want to go?' I want peace in my home. I want that smile every day. What I had to realize was that she's first and when the queen is happy, the land is happy."
Joel Warren/NBCU Photo Bank
They've still only acted together twice, on stage in Minneapolis costarring in a 2005 production of His Girl Friday, and playing husband and wife on ER in its 15th and final season in 2008, when Bassett scrubbed in as chief of emergency medicine Dr. Catherine Bancroft. Lately they've both triumphed in the Ryan Murphy universe, Vance winning an Emmy for his portrayal of Johnnie Cochran on American Crime Story: The People v O.J. Simpson and Bassett appearing on several seasons of American Horror Story and starring on the Fox hit 9-1-1 (which she's also now executive-producing).
She also, no big deal, has enjoyed some big-screen franchise gigs, playing Black Panther's regal mother in the Marvel Cinematic Universe and CIA director Erika Sloane in the most recent and upcoming Mission: Impossible movies.
Vance starred on the HBO historical-horror series Lovecraft Country and now he's playing Aretha Franklin's father, C.L. Franklin, on the newest season of National Geographic Channel's anthology series Genius, premiering March 21. He's also, incidentally, halfway to an EGOT, having won a Tony Award in 2013, Best Featured Actor in a Play for Lucky Guy. In 2019 he was nominated for a Grammy, Best Spoken Word Album for his reading of Neil deGrasse Tyson's book Accessory to War, so these opportunities are there.
And while Vance wins all the awards for putting his wife first, the support river does run both ways. Bassett actually turned down a role to star with Cicely Tyson in A Trip to Bountiful on Broadway because Vance was already doing Lucky Guy and, having just finished shooting the film Black Nativity, she needed to take time to be available for her family.
Photo by Steve Granitz/WireImage
"We have twins with the nanny and his mother is 78, so I had to let that go," Bassett explained to WENN in 2013. "I came back to the New York stage two years ago and did The Mountaintop and the twins were 5 then, almost 6, so they could sort of get it. The timing was they weren't in first grade so I could bring them to New York for three weeks and they could stay over Thanksgiving and Christmas.
"This year, with Courtney being here, they got the weekend and he got Monday [off]. I will probably return to the stage when he comes home from the stage, or my twins get a little bit older." (She hasn't yet, but only because she's been working nonstop in TV and film ever since.)
"I want what I want, he wants what he wants and sometimes they're not the same," Bassett said in a 2018 interview, "but we've learned how to negotiate to make each other happy and fulfill our dreams and desires. He makes me a better person. He lets me be me and do me. He is a great support person for anyone."
When he won his Emmy in 2016, he built up to a grand finish in his speech, thanking their children and then concluding, to much applause, "And last but not least, to the woman that rocks my chain! Angela Evelyn Bassett, this one is for you, girl!"
David Crotty/Patrick McMullan via Getty Images
As for their kids, they haven't really been bitten by the acting bug, Bassett relayed to Extra in February. 
"You would think, with two parents that are in the industry and applying their craft for so many years, that maybe a little bit of that would rub off on these teenagers," she said, "but I don't think they've really done any acting since Charlotte's Web in third grade. Even then, they didn't want to take any of my directorial advice."
They both love music, though, Slater a rap aficionado who's been writing his own lyrics, while Bronwyn "loves to compose, and she's more of a folksy vibe," the proud mom said. "I'm glad that early on we were able to afford to get them lessons in piano."
Bassett told Extra a year ago that while she wouldn't be running headlong into danger anytime soon like badass cop Athena Grant, her character on 9-1-1 who lets her "live my kick-butt dreams," she 100 percent identifies with Athena "loving her kids, loving her husband, family."
And compromise continues to win the day.
"Negotiation and just being easy" are the keys to happiness in their castle after all these years, she said. "Harder on yourself, easy on the other person, I think. You know, you want to be happy and some days you got to let some stuff go. Just let it slide!"