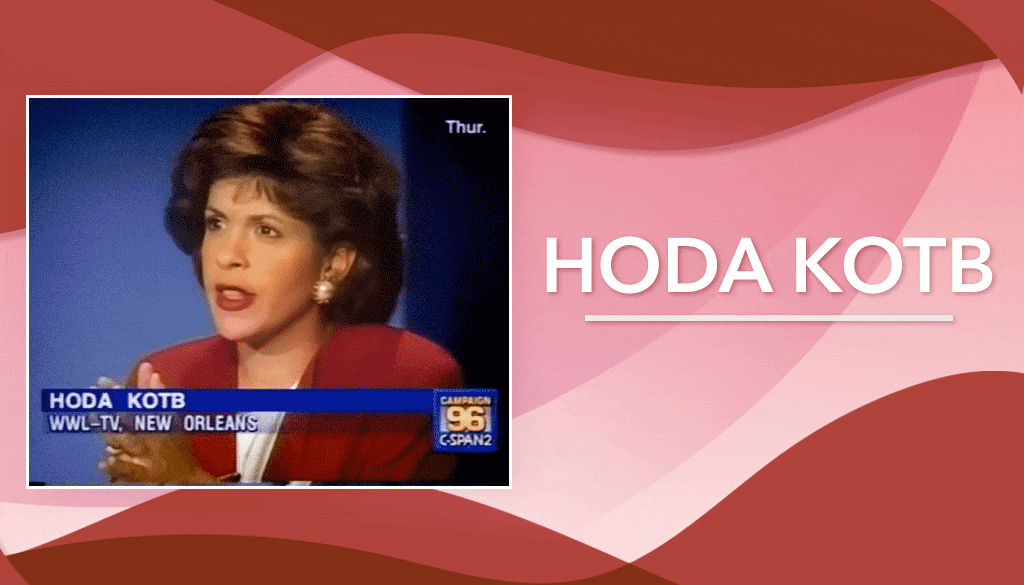 C-Span; NBC; Shutterstock / E! Illustration
Welcome to E!'s Tales From the Top, our series on women who are leaders in their fields and masters of their craft. Spanning industries and experiences, these powerhouse women answer all the questions you've ever had about how they got to where they are today—and what they overcame to get there. Read along as they bring their resumés to life. 
The next time you're rejected, think of Hoda Kotb. 
When the clock strikes 7 a.m. in New York City and cameras zoom in on Hoda and her Today co-anchor Savannah Guthrie, it's hard to imagine there was a time Hoda was turned away from a job. But, yes, it did happen...repeatedly. In fact, someone once tried to steer Hoda—now a Daytime Emmy winner, author and one of Time's 100 most influential people of 2018—away from a career in journalism altogether. 
"I actually had a college professor who basically said, 'Look, it's a very competitive field and I'm just gonna try to save you some heartache. There's a lot of people there and I just don't know that you'd be one of the people who would make it in that industry,'" she recalled to E! News in an exclusive interview. "I remember it so vividly because it was like a knife in my heart."
But as anyone who's watched her on NBC for more than a decade can deduce, that negativity did not stop the persistent future star. "I used to play high school basketball, so I believed until the buzzer hit that you could win. I believed that with everything in me," Hoda explained. "I didn't really think of the odds. I just went into that same weird mode that a lot of people go into because either you're stubborn or you're stupid. I just thought to myself, 'I really like this and I want to try it and there are a lot of people who are going to say no, so it's like you either trust your inside voice or all the outside voices.'"
Stubbornness proved to be an asset for the then-unemployed Virginia Tech graduate as she ended up spending more than a week driving from one news station to the next, beginning in Virginia and going all the way to the Florida Panhandle. She was turned down at every stop along the way until she came upon Stan Sandroni, then-news director of Mississippi's WXVT, who gave her the one yes she needed. Making matters even more fateful—and metaphorical—she came upon a sign for the Greenville station after getting, drum roll, lost. 
"I didn't have talent. I didn't have experience. I didn't really have the TV look. I had none of the things you need in our industry...I was zero for zero, but he must have just thought something," the Egyptian-American star recalled. "I still remember thinking, 'One cheerleader in life. That's it. Everybody else can say you're not good.' And I had enough people tell me I wasn't after all those rejections on the job search, and even after all that, he hired me. I'm still to this day stunned."
Once officially on the job, Hoda never squandered an opportunity to learn. "I was a real student of my fellow reporters because I knew that everybody was better, so anyone was your teacher," she said. "I would watch and learn...When I felt like I had learned a lot or enough, I thought, 'Well, maybe now is a good time to look for something new and different.'"
At stations in Mississippi, Illinois, Florida and ultimately New Orleans, she mastered her craft as a reporter, and eventually anchor, without setting arbitrary career deadlines for herself.
Then, in 1998, her career as she knew it forever changed when she became a correspondent for NBC's Dateline, putting her officially in the national spotlight. While it proved to be the opportunity of a lifetime, the same couldn't be said for her salary. "I took a pay cut to come to NBC," she said. "I took less because I thought, 'Wow, could I do this job? Do I have what it takes? Or am I going to end up going back to New Orleans and basically asking politely for my job back if I could?' So I think I took that job to come here and work at Dateline kind of for the adventure of it."
Money aside, Hoda likened the decision to taking a great leap off of a cliff. "You know what's going to happen if you stay safely. If you jump, you're not sure. It may be amazing and it may be horrifying, but you don't know," she said. "When I was standing on the edge when that job came at NBC, it was like ripping my heart out. But I knew that if I didn't do it, I would wake up every single morning and think, 'I wonder if I had taken that Dateline job...' And I couldn't wake up like that every day, so I took it and I took the pay cut."
In fact, if there's a lesson that sticks out the most from hearing Hoda tell her story, it's her take on salary. "I never did anything or took a job for the money," she declared. "I always thought if you take a job for the money, whatever your job is, you're only going to be happy every other Thursday on payday and then you go back to a job you don't really love that much.  I didn't choose the profession for that reason and I think if you do, you're probably making a mistake because you'll probably be dissatisfied ultimately." 
"You just realize in your life, you have to do something because you love it," she noted, "And if the money comes, great. And if it doesn't and you can still pay your bills, you still get to be happy, so I never moved for the money."
While money has not been a motivator for Hoda, that's not to say it doesn't matter. In fact, it took her a long time to get the paycheck she deserved. "I think I spent most of my career being paid less than my male counterpart, without question," she said. "And then later, you start to say, 'Well, wait a minute. I think I actually deserve this, or I can ask for this.' And it took a lot. I wish I didn't waste so many years either not paying attention—and remember, I'm the kind of person, if I can pay my bills, then I don't want more. I don't have that thing. So, it didn't bother me that way. But, I think you should get paid what you're worth. Simple as that."
Does she feel like she's at that point now? "I feel like it took a long time," she told E!, "but I feel like, yeah, definitely."
Virginia Sherwood/NBCU Photo Bank/NBCUniversal via Getty Images via Getty Images
If any of Hoda's words strike you as faucet of motivational quotes you've been thirsting for, there's a reason. As someone who survived breast cancer, became a mother after she was unable to conceive and rose up to a level few in her field reach, it's no surprise she's a font of wisdom. And it was because of the challenges she overcame that she eventually had the courage to ask for what she wanted. As the story goes, Hoda was at NBC filling in on the third hour of Today when a supportive producer told her people thought she was boring on-air. While she was so busy making sure she didn't miss a mark as an interviewer, "When I was done," Hoda said, "it was perfect and perfectly boring." 
Armed with a sense of fearlessness that facing cancer had given her, she marched into then-top NBCUniversal executive Jeff Zucker's office to pitch herself for what would ultimately become Kathie Lee & Hoda. "I was actually doing something I never do. I was going and asking for a job," she said. "I'm always the one who just works and wants to be noticed. 'I wonder why they didn't pick me.' Maybe because you didn't raise your hand."
In the years since, Hoda has certainly not gone unnoticed. For someone who might have started out "perfectly boring," she's become synonymous with Today's fun, wine-filled fourth hour, first next to Kathie Lee Gifford for 11 years and now with Jenna Bush Hager. Then, after filling in alongside Savannah following Matt Lauer's firing, 2018 began with some historic news when she was officially named a co-anchor of Today, marking the first time the show ever had two main female hosts. "This has to be," Guthrie quipped on the air at the time, "the most popular decision NBC News has ever made." 
Nathan Congleton/NBCU Photo Bank/NBCUniversal via Getty Images via Getty Images
Just as fans have been kicking off their own morning routines with Hoda for the last three years, she can't start her own day without two essential steps. "I have to write my kids a note," she said, referring to her daughters Haley, 4, who she adopted in 2017, and Hope, 23 months, who joined their family in 2019. "I put stickers on it and I draw a picture. I'm terrible at drawing. The other thing I have to do is I have to scribble in my journal for a little bit and to stick to grateful things."
"Then, when you walk out the door," she said, "your brain is on fire. You feel good."
Listening to her life story, it's clear Hoda is not one to take even the smallest good moment for granted. And, while she's experienced plenty of them—and given perhaps just as many to the people who tune in every day—she has one more goal in mind to keep paying it forward.  
Watch:
Hoda Kotb Opens Up About "Today" Co-Anchor Transition
"I want to open a summer camp for underserved kids. And I can see it so clearly in my mind," she described, noting it would be used for women empowerment seminars and the like in the off-season. "I don't know where or what or when, but that summer camp is something I can already picture my girls working there. I want them to be of service. I want them to know what it feels like to spend their life helping people. A summer camp can change a kid's life. And especially kids who don't have plenty of opportunities."
"Come work there," she offered. "It'll be fun. We'll all live happily ever after."
(E! and NBC are both part of the NBCUniversal family.)