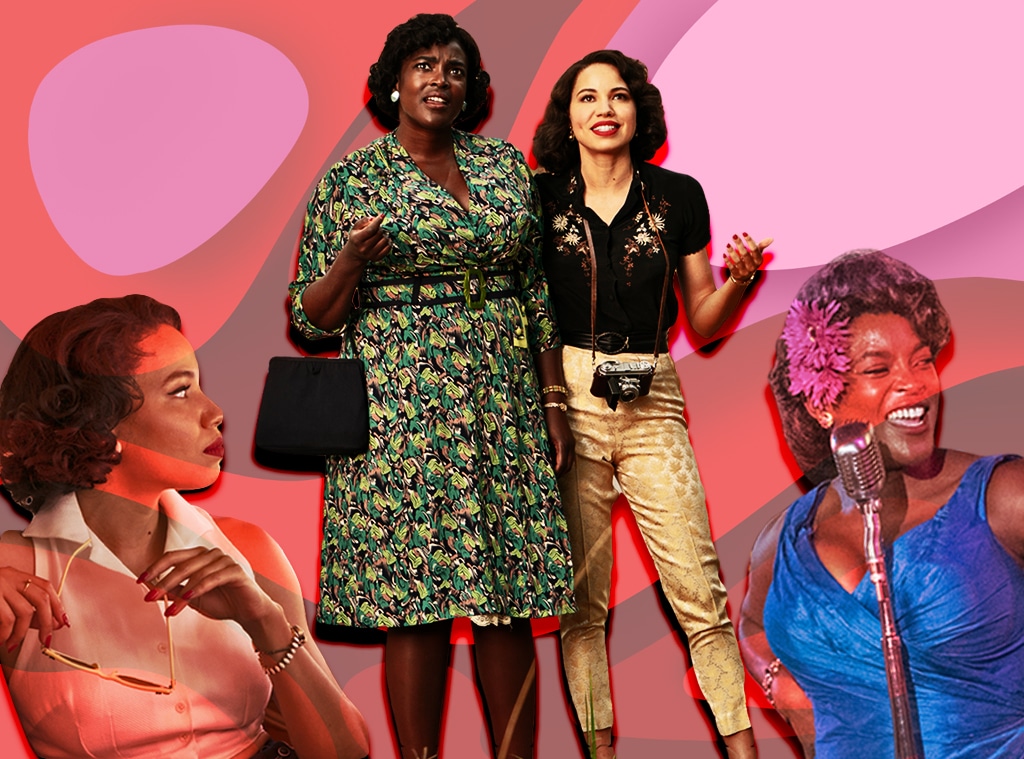 Elizabeth Morris/HBO, Casey Hollister/E! Illustration
HBO has admitted that a makeup artist on the set of Lovecraft Country "should not have" darkened an extra's skin for a scene. 
One background actress, Kelli Amirah, claimed on social media in recent weeks that the makeup team was "putting me in blackface" by making her face and her hands look darker to match another actress' skin tone.
She shared two TikTok videos in February alleging she was on set getting her hair and makeup done when the artists started talking about how her skin was lighter than that of another star.
"I notice my foundation is getting darker and darker," she recalled in a Feb. 19 video. "I was so uncomfortable. I had no idea they were going to do this to me. And if I knew beforehand, I would not have accepted the job." The 23 year old added, "Who thought that this was a good idea?"
She noted that she didn't feel she had any power to speak up at the time. "I have no clout, no pull, no nothing. This job is the first time I've ever had my own lil trailer on set," Kelli said. "I'm getting special treatment, sitting in between the big leagues." 
On TikTok, she said she got her hair and makeup done with Lovecraft Country stars Courtney B. Vance and Jurnee Smollett.
In a follow-up video, she confirmed she was talking about her time on Lovecraft Country, which premiered in August 2020 on HBO. Kelli appeared as a young version of the character Osberta (Carol Sutton) in an old photo of her wedding day. As Kelli described, the scene in episode seven was about Atticus "Tic" Sampson Freeman trying to find out more info about his family.
On Monday, March 8, HBO responded to her experience. "We were very disappointed to learn of Ms. Amirah's experience," a spokesperson for HBO told E! News. "This should not have happened, and we are taking steps to ensure this doesn't occur again in the future."
Lovecraft Country follows Tic (Jonathan Majors) on a cross-country road trip in the Jim Crow era of the 1950s. Among the executive producers are Jordan Peele, J.J. Abrams and creator Misha Green.
The network issued its statement after Kelli addressed the incident further on Twitter over the weekend, elaborating on why she felt so uncomfortable.
On Saturday, March 6, she wrote in a thread, "I've been getting a lot of very valid critiques for my complacency in allowing Lovecraft Country to darken my skin as a photo double for some set photography briefly featured in an episode. It's uncomfortable but it's not wrong. I was weak and complacent in that moment." 
The Howard University alum continued, "I always thought that ethically I would never be the type of light skinned actress stealing roles better suited for darker women."  
She explained that she doesn't submit herself for roles that she knows aren't "a fit" for her. Kelli said she applied online for a role described as an African American woman aged 20 to 25. "There was no mention of me being too light when I was caster [sic] nor when I went in for my fitting days before. And it wasn't until I was in the chair that I overheard the [makeup artists] discussing it," she wrote. 
While she was on set, Kelli kept thinking the makeup team was going to make her "just a couple shades" darker, but eventually realized they kept going darker, she said. "So here I am, in the makeup trailer of a major network production with the lead stars of the show, and they're putting me in blackface," the actress recalled.
Kelli admitted she had many "conflicting" thoughts in her head at the time, writing, "This is wrong. Why did they hire me. I should say something. What would I say? What would happen? If I hold up this production how much money goes down the drain. What will be my repercussions?" 
But in past experience as an extra, she would normally "shut up, keep to myself, and do as I'm told when I'm told." She added, "Extras are like bottom of the barrel in the entertainment food chain so I feel like I normally move through sets as such. Like I'm not s--t."
That's part of the reason why, as she put it, "I was selfish and more concerned with the repercussions of my own career instead of doing what's right and not participating in something that I KNEW was wrong." 
Kelli continued by admitting she was "terrified" to speak out but felt "awful" because she knew it was "wrong."
"I didn't want to cosplay the experience for a moment longer than I had to which is dumb because I still did it for the job. I felt like a fraud and imposter which I was," she wrote on Twitter. "I'd have much rather I never stepped foot on set to be put in that position in the first place if the casting team had worked a little harder to find a darker actress that still matched the features of the actress as they claimed I did."