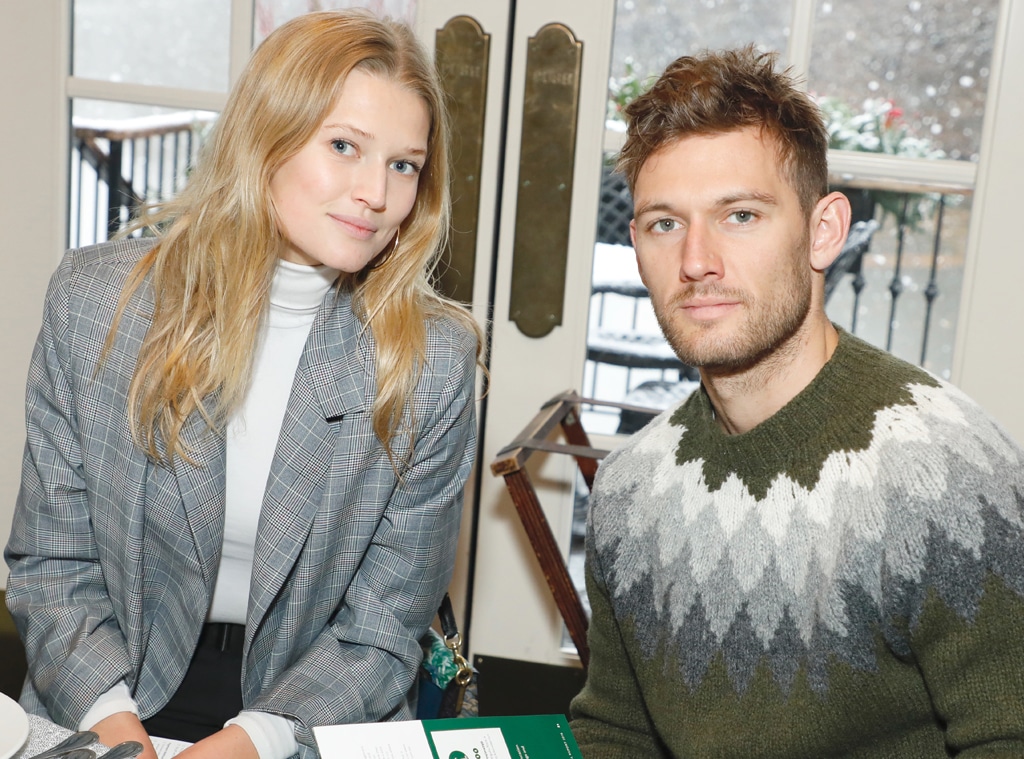 Gregory Pace/Shutterstock
Toni Garrn is going to be a mom. 
The 28-year-old model took to Instagram on Friday, March 5 to announce she's expecting her first child with her 30-year-old husband actor Alex Pettyfer. Toni shared the news by posting a video from her Vogue Germany shoot.
"I've been keeping this secret for.. pretty much 6 months exactly," she captioned the footage, which showed her cradling her baby bump. "FINALLY I can share my biggest news with you all Let the journey beginn @voguegermany."
In the clip, Toni revealed her first reaction to finding out she's pregnant. "I think the first word that came to me was 'finally,'" she recalled. "I was very, very very excited."
She also discussed what her journey has been like so far. "The best thing about being pregnant is definitely waking up every morning and knowing I'm pregnant," Toni added. "It's the most beautiful, happy feeling. I touch my belly right away and I'm just super excited to have my little one inside me."
In addition, she reflected on the timing of this next chapter. "I think my whole life already changed, but it's the perfect year for me to have a baby because everything already slowed down so much," Toni said. "My body finally has the patience and the time, and my brain has the patience and the time just to be very fulfilled and just present with just being a parent, which I'd love to be."
All in all, the mother-to-be can't wait for the little one's arrival. "I just dream of the way her or his face is going to look, the way it's going to be, the way it's going to smell," she said. "I just can't wait to meet my baby."
Of course, the Magic Mike alum couldn't wait to celebrate the news, too—re-sharing his wife's post and writing, "DADDY."
Before making the announcement, Toni shared a video to Instagram Stories. "Do you guys have any idea how hard it is, when, you know, you settle, and you get married, and it's COVID, and you start to cook, and you start to love food more and more and more, and you really just start to relax in your body, and you, you know, you gain a few pounds—gain a lot of pounds—and then you just, you know, wear different clothes because you got a little bigger but you feel quite good in your body, and, you know, your husband keeps telling you you look great so you just keep eating, and then you f--king get paparazzied on the street and they think you're pregnant?" she said. "And now everyone congratulates me."
She then said she's "obviously kidding" and linked to the Vogue video. "I definitely gained a lot of weight, but it is not due to not going to the gym," she said. "I'm sorry if you hate me now. My friends thought this was funny—blame my friends. Maybe I'll take it down later. But anyway, swipe up to see the truth."
She also wrote, "Sorry, the press messed with my head the last couple of weeks…"
Watch:
Necessary Realness: It's a Celebrity Baby Boom!
The baby news comes less than a year after Toni and Alex tied the knot. According to a source, the couple wed at the Berner Schloss palace in Hamburg, Germany with "just a few friends and family members" in attendance in October 2020.