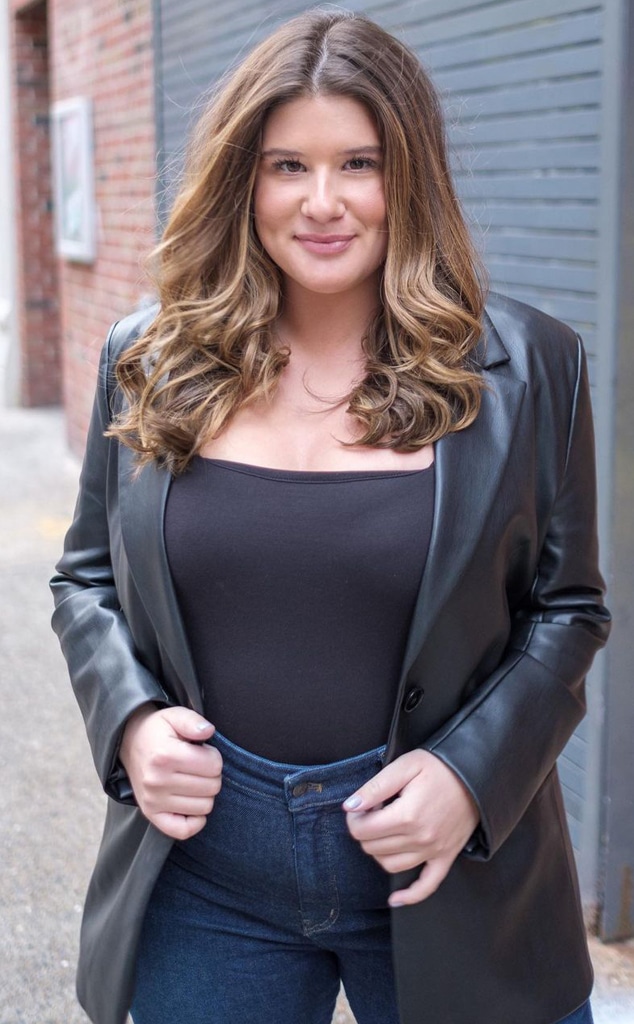 Instagram
In case you've been off the Internet this year, meet Remi Bader. She's an NYC-based curve model and TikTok creator who has gone viral for posting realistic clothing hauls, trying on her purchases for the camera and giving her unfiltered thoughts on how designs—from Zara, Aritzia, Target and more—really fit. Her videos are hilarious but also pretty damn relatable.
And even if the clothing doesn't fit right—we've all been there—Remi has found a way to laugh it off, promoting body positivity to her nearly 1 million TikTok followers. "Clothing should never make you feel discouraged or upset," the 25-year-old exclusively tells E! News. "It's no one's fault, it's just the way that the fashion industry is."
Although Remi never planned on anyone besides her close friends seeing her videos, she has found a way to embrace her overnight success, expanding her platform to discuss brand inclusivity, confidence and mental health.
Because, let's face it, like the rest of us Remi has her low moments—and she doesn't shy away from letting her fans know that. "I think I need to keep telling myself that I need to give myself some time for me, but I'm also happy," she says. "I'm totally fine being in the public eye and I want to keep sharing myself with the world."
Read on for more about her journey from corporate worker to Internet sensation. 
E! News: How did you get started on TikTok?
Remi Bader: I was let go from my job at Tidal in July. There weren't a lot of jobs in entertainment at the time so my dad gave me the idea of looking into modeling agencies to be a curve or plus size model. So, I sent in photos to a bunch of different agencies. I signed with one of them in August. Although I was super excited, it's still been very slow. So I was still trying to find something to fill my time, and I started TikTok.
E!: How did your realistic clothing hauls come to be?
RB: At first, I was making videos knowing people wouldn't really see it. I started doing ones like "this celebrity is a size 16" and I would copy their outfit and do my version of it. Then I got a package from either Pretty Little Thing or Nasty Gal and I ordered a haul, and literally every single item fit me so tiny—and it was supposedly my size.
So I was taking pictures of myself and Snapchatting to my friends about how insane I looked, laughing about it. I ended up making a video on TikTok and it pretty much went viral and I was shocked. People were really just like, "Thank you for bringing this up. This happens to me too, but I never usually laugh at it." And then I started continuing it from there and branded it more like realistic hauls because I've never seen them.
E!: Are you still in shock you now have celeb followers, like Ashley Graham?
RB: She actually just messaged on TikTok personally, so it's pretty crazy. I do have those moments where it's becoming normal when people reach out to me, but at the same time, I have those moments where it's like, holy s--t. I just look at this person and would never in my life think they would ever acknowledge or know who I am. Meghan Trainor is a really big fan of mine, which is crazy to say. Meghan is also in the whole body positivity movement. She's another one that's been super exciting.
E!: Do you feel pressure to remain confident for your followers even when you aren't feeling your best?
RB: I definitely feel like I owe everyone something in a way and I really feel like my job now is to be there for everyone. I think that's why people love the videos, like me being as authentic as me. But, of course, there are going to be times when I don't feel as good: I'm tired, I just need to give myself time to relax.
Everyone always asks me is "How are you so confident?" and I really like to tell people I'm not as confident as you think. I lost a lot of my confidence in the past few years. I think it's a really big process to gain that confidence back, but I'm in the process with everyone else.
E!: You've been really open about your struggles with overeating and mental health. How has TikTok has brought you closer to a community you might not have originally connected with?
RB: I could pay to see a million different therapists and dietitians and I think TikTok has helped me more than all that stuff. Although, it's important when you have a real issue to seek help, too. TikTok is this amazing community of people. My whole community is just people hyping each other up and making each other feel good about things, giving each other advice, commenting on each other's comments, trying to help each other.
E!: How do you handle any haters?
RB: I think, on my content, compared to other people's, I don't have as many trolls. When I have trolls I just am very quick to block, I don't need them on my feed. I really don't get offended, like most of the stuff is so childish and silly and I'm just like "OK bye, you don't need to see my content then."
E!: What are three items everyone should have in their closest to feel confident?
RB: I really love blazers, which I talk about a lot because it really makes me feel empowered. I just feel like a different person when I throw a blazer on a casual outfit. I think it's like a really great piece, whether you have an oversized one or a crop one, especially for a curvier woman. I also am a big body suit person. Wearing a bodysuit, no matter what size you are, that just makes me feel really good. And I love a good midi skirt. I love that you don't have to wear mini-skirts like you used to. It's not the only option anymore.
E!: Is there a brand that has surprised you the most when it comes to how their clothing fits?
RB: Abercrombie. A lot of people comment on my videos when I post being like, "I won't even give them a chance because of how I felt when I was a child." And I get that, I felt that way. But any brands that are going to make the effort to be somewhat inclusive, I'm going to give them a chance. They actually sent me a lot of clothes and so many of them fit really, really well. They do have a pretty wide range of sizes now and I was pretty surprised and happy with that.
E!: What are your favorite brands for plus size clothing?
RB: American Eagle and Aerie really got into the space of being inclusive pretty early on and I just love everything I get from them. Also, Good American. It's definitely pricier, but I think if you find some good pieces it's really worth it. And then, Reformation. They're definitely pricier, as well, but I'm really into how they extended their size range. They're definitely more of a higher end brand, and I haven't seen a lot of brands like that.
E!: Where do you want to go from here? What's next?
RB: A month ago, I finally decided, at least for now, to give up on the nine to five life. I finally accepted that this is like what should be happening. I would love to write a book. I would love to have a clothing line. I think that it would be a passion of mine and because I also just love fashion. I would love to be on a talk show, host a talk show.
I feel almost like the world is my oyster right now and I don't want to jump in to 10 things too quickly. I want to really take the time and think about what is it I really want. But whatever it is, the goal should be to continue helping people and make the fashion industry easier for curvy women.
This Thanksgiving weekend, you can catch Remi hosting Bravo's Impulse Try, a three-day event where she'll be helping you shop in real time with some special Bravo guests! Each episode will begin at 3 p.m. ET/12 p.m. PT on the E! News and BravoTV Instagram handles. Additionally, you can tune in at 4 p.m. ET/1 p.m. PT on Bravo's Facebook Page and Xfinity X1 & Flex. Episodes can be streamed on Peacock and the NBC app the next day!
(This interview has been edited for length and clarity.)