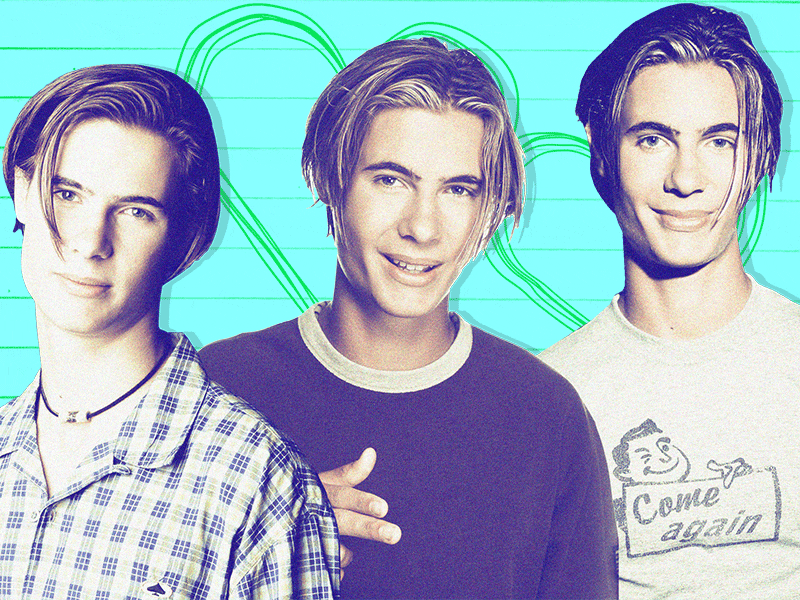 Alex Alonzo/E! Illustration
Before there was Zac Efron and Harry Styles—hell, before the Internet boyfriend was even part of our accepted lexicon—there was Erik von Detten.
He was the epitome of a Disney dreamboat: The baby blue eyes, the smoldering gaze, the somehow always perfectly gelled back blonde hair. Teens everywhere had his poster plastered over the walls of their bedrooms. Erik von Detten was your first crush, a Tiger Beat editor's dream come true and "the sexual awakening for a whole generation of girls, gays and theys," as one Twitter user so aptly put it.
From the mid-90s to the early 2000s, he captured hearts in Escape to Witch Mountain, Brink! and The Princess Diaries. (He gave Mia Thermopolis her first freakin' foot pop. OK, almost.) In between, he voiced Sid in Toy Story, Flynt in Tarzan and Lawson on Recess.
He was Hollywood's it guy. Until, suddenly, he wasn't. After a string of unremarkable guest roles from 2003 to 2008—Charmed, 8 Simple Rules, Malcolm in the Middle and Bones—he just kind of…disappeared. His last acting credit was a voiceover in 2010's Toy Story 3.
So what the heck happened? The 38-year-old—married to real estate guru Angela von Detten and expecting baby no. 2 this month—sat down with E! for a rare look into his life then and now.
E! News: Erik von Detten, I'm very excited to talk to you.
Erik von Detten: Really? I was talking to my wife and I was like, "I don't know why all these people still want to interview me." I haven't done anything for, like, 20 years.
E!: Well, the Internet is still obsessed with you. A tweet went viral recently that had a picture from Brink! and read, "The havoc this man wrecked on early aughts girlies…unforgivable."
EVD: It's crazy. My wife is a residential real estate agent and she'll get quite a bit of activity on her social media that's attributed partially toward me. It's all very positive. I think it helps business—and she gets a kick out of it.
E!: Let's go back to the beginning. You were 10 when you started on Days of Our Lives. Why was acting something you wanted to pursue?
EVD: I fell into it through my older sister, actually. She wanted to get into acting and I was just tagging along with her—and agents thought I was a cute kid. When my mother proposed it to me, if I wanted to do it, one of the key selling points was the fact that I wouldn't have to go to school—and I just detested school. I found out I would go from seven hours a day down to just three hours with my own tutor and I was like, "I'm sold."
E!: That would sell just about any kid on acting.
EVD: Right? Then, all of a sudden, the hotel rooms and the first class tickets and the limousines start popping into the picture. I guess I was hungry to act for superficial reasons. When the limousines would pick me up to go to the airport and the neighborhood kids would see it pulling up, I'd be like, "Peace!"
E!: Did all that go to your head—or did you stay relatively grounded? 
EVD: My mother was very good at making sure I had a perfect balance. I socialized with kids and kids in the entertainment industry. When I got into my teens, she gave me my freedom to go to premieres, but she definitely made sure I stayed close and didn't get into the partying scene too much. There are situations when drugs are offered at parties or whatever and I always had the moral compass to know that's just a one-way street. So, probably just a combination of upbringing and moral compass. So yeah, I survived. 
E!: The Princess Diaries was your first major movie role. Did you have any idea it was going to be such a huge deal?
EVD: I knew going into it that it was going to be a proper film with director Garry Marshall, Julie Andrews and Anne Hathaway, et cetera. But when I went to the premiere and actually saw the finished product, I was like, "Wow, this is a really solid film. This is going to be timeless."
E!: What's your favorite memory from filming? 
EVD: I actually turned 18 when we first started shooting and I had a birthday party on the beach in Malibu. The whole cast came, which was pretty fun. It was kind of reminiscent of the beach party scene in Princess Diaries, come to think of it. The whole cast went in together and got me a surfboard.
E!: Josh Bryant is the epitome of the '00s heartthrob—and douchebag. Afterwards, did you have a hard time distancing yourself from that character? Did people just assume you were him?
EVD: You would think that it would enhance my dating game to have that on my resume, but no. Girls would definitely want to wait a few extra dates just to make sure I wasn't really that guy. It did not work out in my favor.
Walt Disney Pictures/Entertainment Pictures/ZUMAPRESS.com
E!: Do you keep in touch with anyone today?
EVD: Oh yeah, we all have a group text going. Myself, Mandy [Moore], Anne.
E!: Excuse me?
EVD: I'm kidding [laughs]. Unfortunately, I'm not the best person at staying in touch. If I was, I'm sure I would definitely stay in touch with all of them. But, maybe there will be a little reunion. I'm in touch with Patrick Levis, actually. He was Peter in Brink!, the other soul skater with the black curly hair. And we did another show for Disney Channel called So Weird.
E!: After Princess Diaries, your resume starts to slow down, with you essentially just taking on guest roles. What happened? Why did you step away from Hollywood?
EVD: At that time, we didn't have Netflix and all these expanded options with thousands and thousands of roles. I would literally go for a length of time without any roles that I fit the bill for. I mean, you're either in the very top half a percent doing very well or, well...it's just very competitive.
Since I was a kid, I wanted to have a large family. And, in Los Angeles, that requires a consistent, realistic income. So, the fickle nature of employment as an actor just wasn't consistent enough for me. Luckily, simultaneously when things started to slow down in acting in my early 20s, another opportunity presented itself for me with a company that I started working with at age 25. And I've been with that company ever since. It's a sales position with a company working in finance. I've grown into a management position and it's worked out really well.
E!: Do you miss acting though? Do you ever look at Anne Hathaway now and think, I wish that was me?
EVD: Absolutely. There is definitely a tinge of that, but, at the same time, it's met with other benefits such as being able to lead a life in public. I mean, when you have that level of notoriety your life just takes on a whole new course. So, on the one hand, yeah, it would be great if my career followed a similar path as someone like Anne Hathaway and I was put into that caliber. But, at the same time, I'm fortunate in that my alternative career worked out really well.
Courtesy of Angela von Detten
E!: What was the peak of your fame like?
EVD: When Princess Diaries was released, it was a lot of exposure. There were time periods where I might've been recognized very consistently, but it never was to the point where there was a stampede of fans or anything like that happening. I kind of managed during my whole acting career to stay below that level.
E!: Did your wife know who you were when you met?
EVD: I think she did. My colleague played matchmaker—and she didn't give either one of us last names, only first names. She knew we would try to Google away. So, when we first set eyes on each other in the restaurant, she said something along the lines of, "Oh my gosh, no way. That's you."
E!: Be honest, has she asked you to make her foot pop?
EVD: She might've dropped that line once or twice over the last few years... [laughs]
Courtesy of Angela von Detten
E!: And in the end, you did become a family man. How are you feeling about baby no. 2?
EVD: So excited! To have your first child be one gender and then the second child be the opposite gender, I think is just such a gift. Not to say that I'd be disappointed if I got another girl, but at the same time, I think it's going to be a phenomenal experience. 
My wife is just a baby making machine. We literally just have to hold hands. Thank God she was born to have babies and she does great during the whole pregnancy. She doesn't get sick at all. Our first birth with our daughter, we got to the hospital at, like, 10 p.m. They gave her the epidural and then we went to sleep and she woke up and had the baby an hour later. It was the smoothest pregnancy.
Watch:
TV Stars Who Ruled the '90s - Ranked
E!: When your kids grow up, will you show them your movies?
EVD: Are you kidding me? It's going to be like mandatory watching [laughs]! Every evening before they go to bed they're going to have to watch one of the old flicks.

E!: Anything off limits? 
EVD: Yeah, there was this one Hallmark movie I did and I played the high school jock who gave the main character an STD or something. Terrible. I definitely cringe. But aside from that, most of the roles I've played, I've really enjoyed.
E!: So, would you ever consider a return to acting?
EVD: Absolutely. Someone wrote a cameo for me for a Netflix pilot, like, a year ago. It was just one day of shooting and it was fun. So, if there's a script with a role that doesn't require an arduous audition process, I'm definitely open. It's just not a consistent career...
So there you have it. Erik von Detten became a regular guy.
(This interview has been edited and condensed for clarity.)