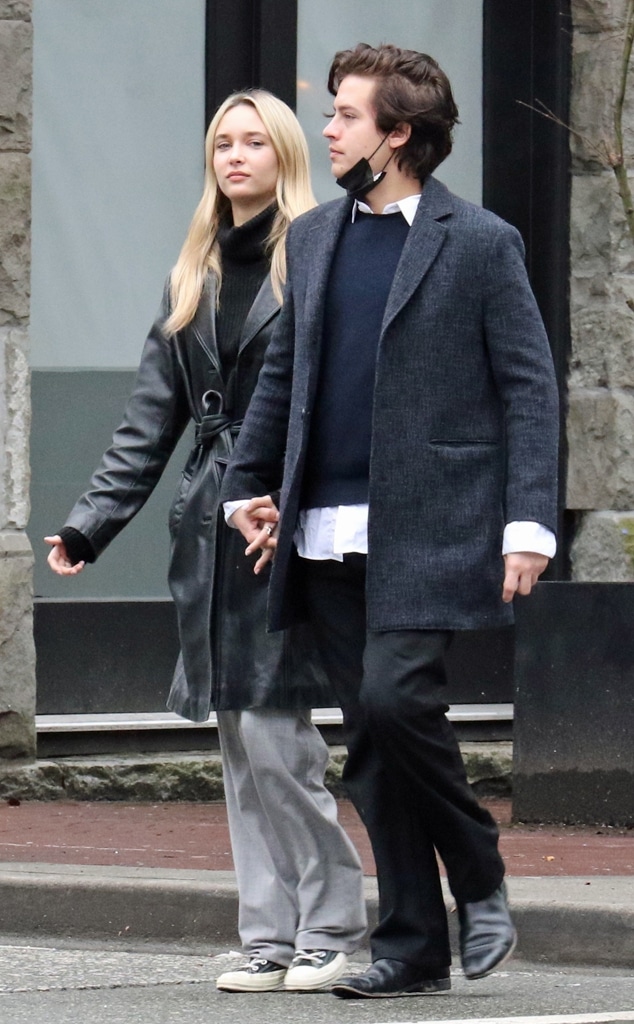 KRed / BACKGRID
Fans are buzzing over Cole Sprouse and Ari Fournier.
On Feb. 28, the 28-year-old actor was photographed holding hands with the 22-year-old model in Vancouver. The two enjoyed brunch at a Gastown restaurant, where Fournier allegedly played with Sprouse's hair while they sat at the bar. After their meal, they headed out on a walking tour to see the sights.
Sprouse sported a gray coat over a navy sweater, white shirt and dark pants for the outing. Meanwhile, Fournier donned a black leather trench coat over a black turtleneck and gray pants. Both also wore face masks amid the ongoing coronavirus pandemic.
This isn't the first time a Sprouse sighting has led to dating speculation. Back in October, he was spotted hanging out with Reiña Silva. An eyewitness told E! News at the time The Suite Life alum and the model, also 22, were seen holding hands as they headed out to dinner in Vancouver.
Sprouse was previously in a relationship with Lili Reinhart. Reports of the Riverdale co-stars' romance first spread in 2017, and they made their red carpet debut as a couple in 2018. However, they kept details of their love story private.    
"At first, I didn't want things private," the 24-year-old actress explained to W magazine in 2019. "Now that I'm X amount of years in, I do appreciate the privacy we have, that he's encouraged me to take. No one knows how long we've been together, and no one will until we're ready to say it. No one knows how we fell in love, except for our close friends and us. It's really special."
Watch:
Cole Sprouse & Lili Reinhart and More 2020 Celebrity Breakups
They also played coy when it came to their reported breakups. But in August 2020, Sprouse set the record straight, noting they'd officially called it quits earlier that year.
"Lili and I initially separated in January of this year, deciding to more permanently split in March," he wrote at the time. "What an incredible experience I had, I'll always feel lucky and cherish that I had the chance to fall in love. I wish her nothing but the utmost love and happiness moving forward."