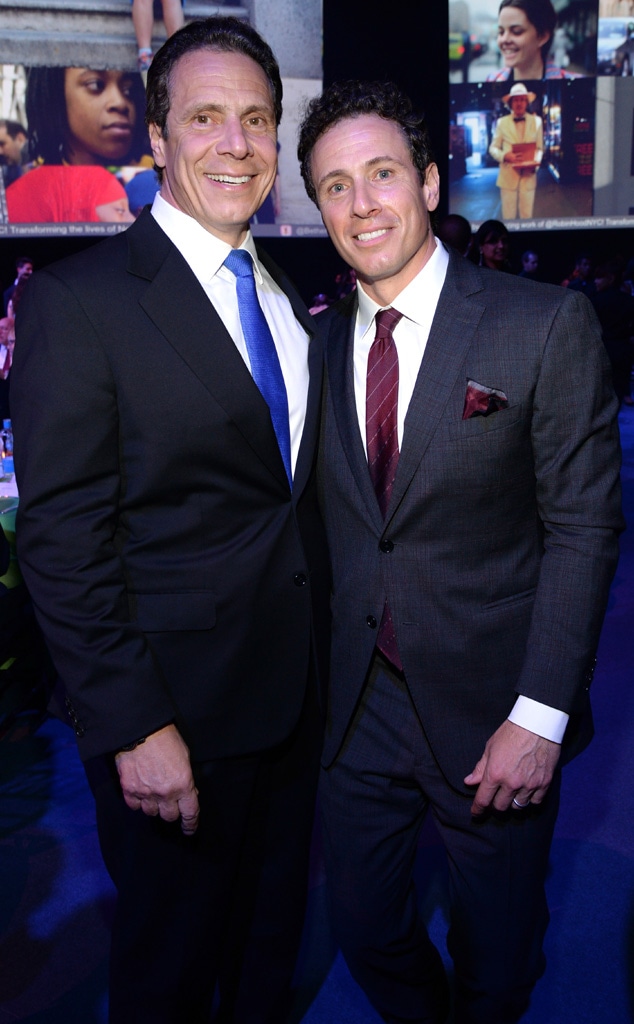 Kevin Mazur/Getty Images
Chris Cuomo has addressed the sexual harassment allegations raised against his older brother Andrew Cuomo without really addressing them at all. 
On Monday, March 1, the host of CNN's Cuomo Prime Time kicked off his eponymous show with a statement in regard to his sibling, the 63-year-old governor of New York, who has been accused by three women in recent months of sexual harassment. 
"Before we start tonight, let me say something that I'm sure is very obvious to you who watch my show," Chris began. "And thank you for that. You're straight with me. I'll be straight with you."
"Obviously," he continued, "I'm aware of what's going on with my brother. And, obviously, I cannot cover it because he is my brother. Now, of course CNN has to cover it. They have covered it extensively and they will continue to do so."
As he ended his brief statement, Chris noted he has "always cared very deeply about these issues and profoundly so."
"I just wanted to tell you that," the anchor concluded. "There's a lot of news going on that matters also, so let's get after that."
In December 2020, Lindsey Boylan, a former economic development official and advisor to the governor, went public with her allegation. "Yes, @NYGovCuomo sexually harassed me for years. Many saw it, and watched," she tweeted. "I could never anticipate what to expect: would I be grilled on my work (which was very good) or harassed about my looks. Or would it be both in the same conversation? This was the way for years."
Boylan later published an essay elaborating on her accusations, including that the governor allegedly kissed her in his New York City office. She also claimed his "pervasive harassment extended beyond just me." 
In February, Charlotte Bennett, a former executive assistant and health policy adviser in the Cuomo administration, according to The New York Times, also came forward with a sexual harassment allegations against him. In interviews with the Times, she recalled a June encounter during which he allegedly asked her personal questions. He also allegedly mentioned he was open to relationships with twentysomething women. In response, the governor told the newspaper he "never made advances toward Ms. Bennett, nor did I ever intend to act in any way that was inappropriate." He also said he believed he had been acting as a mentor. 
On March 1, The New York Times published further allegations from Anna Ruch, who met him at a wedding in September 2019. She alleged to the newspaper that the governor put his hand on her lower back. After she removed his hand, he allegedly put his hands on her cheeks and asked to kiss her, to which she turned her head away. The New York Times also published a photo of the governor with his hands held up to Ruch's face.  
The governor issued a statement on Sunday, Feb. 28, which read, "Questions have been raised about some of my past interactions with people in the office. I never intended to offend anyone or cause any harm. I spend most of my life at work and colleagues are often also personal friends. At work sometimes I think I am being playful and make jokes that I think are funny. I do, on occasion, tease people in what I think is a good natured way. I do it in public and in private. You have seen me do it at briefings hundreds of times. I have teased people about their personal lives, their relationships, about getting married or not getting married. I mean no offense and only attempt to add some levity and banter to what is a very serious business."
He continued, "I now understand that my interactions may have been insensitive or too personal and that some of my comments, given my position, made others feel in ways I never intended. I acknowledge some of the things I have said have been misinterpreted as an unwanted flirtation. To the extent anyone felt that way, I am truly sorry about that. To be clear I never inappropriately touched anybody and I never propositioned anybody and I never intended to make anyone feel uncomfortable, but these are allegations that New Yorkers deserve answers to."
He concluded his statement by noting his request for an "outside, independent review" into the allegations. "Separately, my office has heard anecdotally that some people have reached out to Ms. Bennett to express displeasure about her coming forward," the governor said. "My message to anyone doing that is you have misjudged what matters to me and my administration and you should stop now—period."
As for the brothers, Andrew and Chris made headlines throughout the spring of 2020 for frequently exchanging barbs as brothers during the governor's appearances on the CNN show amid the coronavirus pandemic.