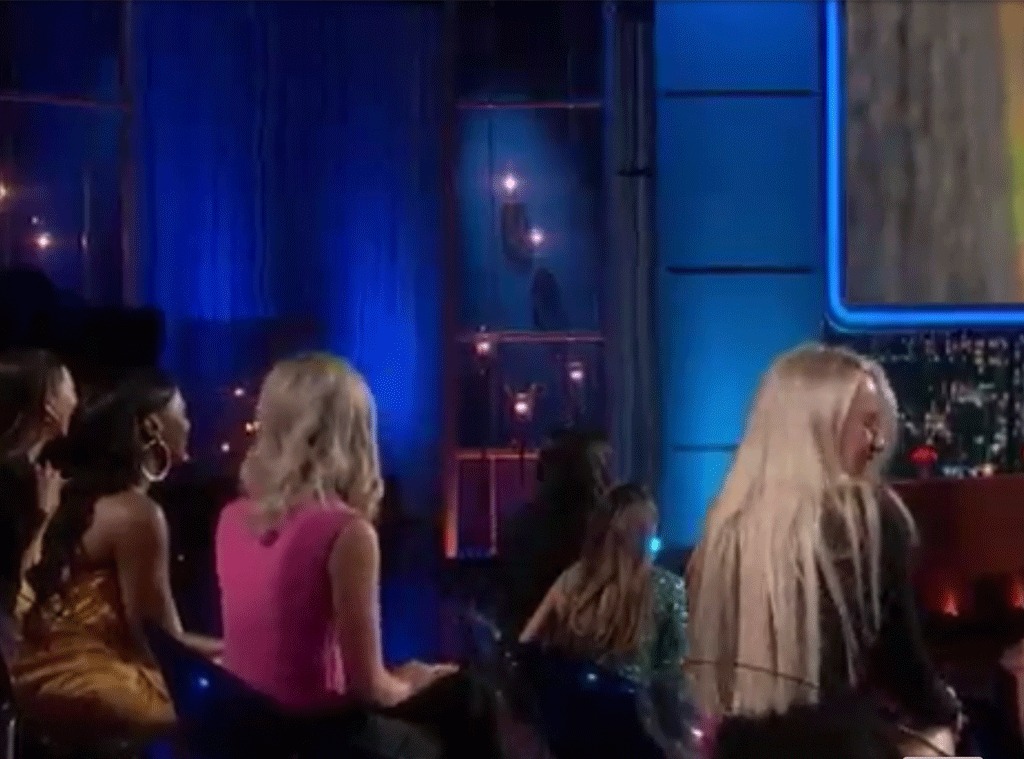 ABC
Heather Martin, is that you?
While fans didn't hear her say a word during the Mar. 1 episode of The Bachelor: The Women Tell All, eagled-eyed viewers were convinced the season 25 contestant was still at the taping.
As social media sleuths pointed out, Heather appeared to be sitting in the back row next to Kit Keenan. But because there wasn't a close-up of Heather or an aired interview with her, many members of Bachelor Nation didn't even know she was there. Some Twitter users even accused ABC of cutting her out of the episode.
"@BachelorABC why are you acting like we can't see Heather sitting back there next to Kit?!?!" one follower asked. "Why was she invited and then WHY was she cut?!"
Tweeted another, "Did ABC really think they could sneak Heather in without us noticing?"
While the answer remains a mystery, it's possible Heather joined the women for only part of the episode. After all, her time on this season was brief.
As fans will recall, Heather pulled up in her minivan in the middle of the season to see if she could meet Bachelor Matt James and have a chance at love. However, the ladies weren't too happy about her crashing their cocktail party, and Matt ultimately sent her home before the rose ceremony, telling her he was already "deep into this process" with the other women.
Watch:
Matt James Addresses Recent Bachelor Nation Controversies
Chris Harrison hosted The Women Tell All as it was taped before he announced he was "stepping aside" from the show. The move came after his Extra interview with Rachel Lindsay in which he defended contestant Rachael Kirkconnell amid a series of social media accusations, including that she was pictured attending a 2018 fraternity formal that has been described as an "antebellum plantation themed ball."
After receiving backlash, Chris issued an apology for "speaking in a manner that perpetuates racism." Rachael also said she is "sorry to the communities and individuals" her "actions harmed and offended."
"By excusing historical racism, I defended it," Chris later wrote in a separate post. "I invoked the term 'woke police,' which is unacceptable. I am ashamed over how uninformed I was. I was so wrong."
While Chris didn't specify how long he'd be stepping aside from The Bachelor—only noting it would be for "a period of time"—he did say he wouldn't take part in the After the Final Rose special. Last week, it was announced that Emmanuel Acho will be hosting the episode.