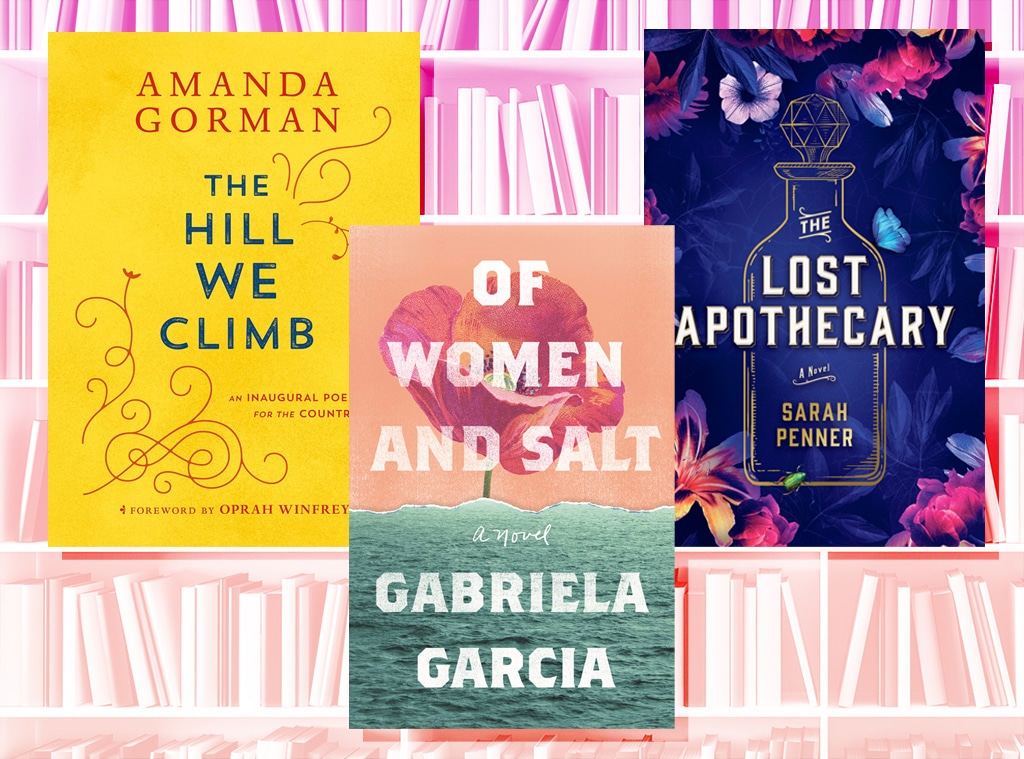 We love these products, and we hope you do too. E! has affiliate relationships, so we may get a small share of the revenue from your purchases. Items are sold by the retailer, not E!
If March comes in like a lion then we are heading into this month lying down with a book in hand. And with the latest batch of new releases, there's no shortage of options to keep you entertained as we eagerly await spring's arrival.
Whether you like a thriller filled with twists and turns, find a sweet love story irresistible or are in need of some inspirational words from the most popular poet in the world, there truly is something for everyone in this latest batch.
So go on, make yourself a cup of coffee or tea while you get lost in the pages of your next read after shopping physical copies of our picks, pulling them up on Kindle Unlimited or through a free trial of Audible, because technology.
Here are 15 books to add to your reading list ASAP this month...
Who Is Maud Dixon? by Alexandra Andrews
This sleek and stylish psychological thriller is one of the most buzzed-about debuts of the year. Universal Pictures has already snagged the rights to adapt the book, which is about Florence, an aspiring novelist who lands a job as an assistant to the reclusive "Maud Dixon," a distinguished writer whose real identity is a secret. Florence develops an obsession with her boss and when she up and vanishes on a trip to Morocco, her life and lauded career is up for grabs. (March 2) 
Infinite Country by Patricia Engel
Engel's third novel is another highly anticipated release that tracks three generations of a Colombian family in a sweeping tale that balances the characters' difficult choices with the harsh reality of the ever-changing immigration policies in the United States. (March 2)
Every Last Fear by Alex Finlay
When a family made famous by a hit true crime documentary on Netflix is found dead, the surviving son sets out to figure out what happened to them, as well unravel the original mystery of that night his imprisoned older brother's teen girlfriend was murdered. This delicious debut is a must-read for those who mainline true crime podcasts and can't resist an episode of Dateline. (March 2)
The Lost Apothecary by Sarah Penner
Before a fatal mistake lead to its seeming demise, a secret apothecary in London helped women poison the oppressive men in their lives in the 18th century. Two hundred years later, an aspiring historian stumbles upon a clue about the still-unsolved murders. But will she make it out of the investigation alive? Warning: You may find this debut intoxicating. (March 2)
Good Girl, Bad Blood by Holly Jackson
In the highly anticipated sequel to 2019's A Good Girl's Guide to Murder, fans pick up with Pip fresh off the release of her true-crime podcast about the murder case she solved in the first book. (Everyone really does have a podcast these days, right?) While she's tried to put her life as a detective behind her, she finds herself once again launching an investigation when someone close to her goes missing. (March 2)
The Fourth Child by Jessica Winter
Following her stunning debut Break in Case of Emergency, Winter returns with a family saga about Jane, who falls in with a pro-life group and adopts a detached little girl from Eastern Europe after her three children are almost grown. But when her oldest child Lauren begins to feel estranged and explores her own identity and sexuality, Jane is thrown into an emotional crisis as she attempts to keep both of her daughters safe. (March 9)
Moments Like This by Anna Gomez and Kris Polaha
The first book in the From Kona with Love series, Wonder Woman 1984 actor and Hallmark Channel leading man Polaha teams up with Gomez to tell this Hawaii-set love story. Andie is working at her friend's struggling coffee shop having chosen her career over a marriage proposal...just before losing the promotion she worked so hard for. But she doesn't expect to find herself enjoying the break from her real life quite so much. And of course, she just so happens to meet the mysterious Warren Yates on Christmas Eve. Hallmark, feel free to adapt this one at any time. We know just the guy to play Warren...(March 9)
Everything After by Jillian Santopolo
Fifteen years after being torn between two loves and two choices, Emily now seemingly has a happy life as a psychologist at NYU and a doctor husband. But when she hears a song on the radio about the woman who got away, Emily's life is upturned as her past comes roaring into her present. (March 9)
The Performance by Claire Thomas
One night changes everything for three women who go to see the same Beckett play as brushfires burn in the hills outside of the theater. A successful professor on the brink of retirement, a philanthropist with a seemingly perfect life and a young usher—the intense passions of this trio may burn brighter than any natural disaster. (March 16)
Are We There Yet? by Kathleen West
A suburban mom's perfectly curated life falls apart when fake Instagram accounts, middle school bullying accusations and long-buried family secrets come to light in this exploration of modern motherhood from the author of Minor Dramas and Other Catastrophes. (March 16)
A Million Reasons Why by Jessica Strawser
Two strangers are unexpectedly forced to navigate the tricky world of sisterhood when a mail-in DNA test reveals they are half-siblings. While it is an unanswered prayer for one of the women, the revelation might just dismantle everything the other knew to be true in this compelling story about the true bonds of family. (March 23)
Of Women and Salt by Gabriela Garci
From 19th-century cigar factories to present-day detention centers, stretching from Cuba to Mexico, Garci's epic debut is a haunting story about three Cuban women who must come to terms with a range of perceived betrayals, both personal, political, self-inflicted and treachery committed by others. (March 30) 
The Hill We Climb: An Inaugural Poem for the Country by Amanda Gorman
If you, like us, have been worshipping at the altar of the 22-year-old Gorman since her powerful performance of her poem, "The Hill We Climb," at the 2021 Presidential Inauguration, consider this your new bible. (March 30)