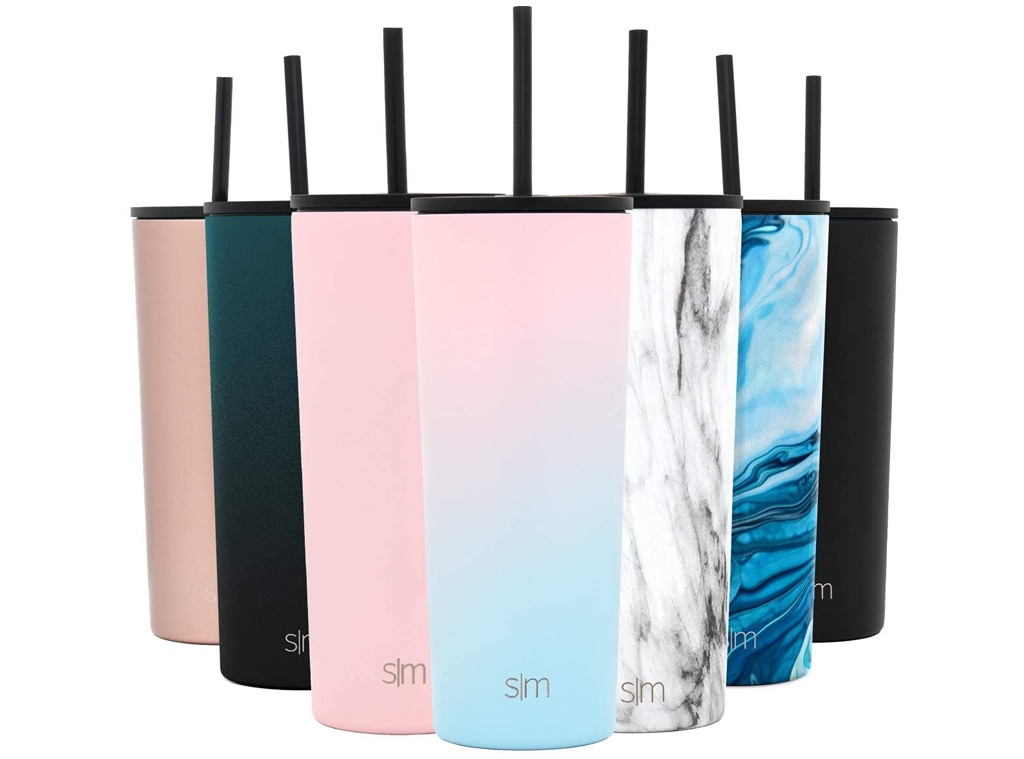 We independently selected these products because we love them, and we hope you do too. Shop with E! has affiliate relationships, so we may get a commission if you purchase something through our links. Items are sold by the retailer, not E!.
We are passionate about a lot of things, but this Simple Modern tumbler holds a special place in our hearts! After seeing it all over Instagram and TikTok, we had to give this $23 tumbler a try. And let's just say it didn't take long for us buy a second!
Depending on the size, this insulated tumbler will keep your cold drinks cold for up to 20 hours and hot drinks warm up to 5 hours. Aside from the incredible temperature retention capabilities, this cup includes a straw lid and flip lid, so you can sip on your drinks with ease. Plus, you get two matching straws! Not to mention, each cup is double-walled and vacuum insulated, so whatever is in there is not coming out. But don't take our word for it, just look up one of the 40,597 five-star reviews on Amazon singing its praises!
Simple Modern 24 Oz Classic Insulated Tumbler with Straw
With 6 sizes and 22 colorways to choose from, you're bound to find a version of the tumbler that speaks to your personal style. We suggest buying the straw and flip lid combo so you can enjoy both your coffee and cold drinks with ease. 
Here's what reviewers are saying:
"Love!!! This is exactly what we wanted-- a cup that truly keeps cold drinks cold, with ice. It lasts 24 hours+. We have tried, at friends recommendations, Tervis, Yeti, & generic store brands & they--even Yeti!!!--were fails compared to this Simple Modern. The description states it has a copper lining. The copper must be the extra-special insulation that the others lack."
"This is the best cup I have ever purchased...seriously! And no, I am not being paid to write this. I was looking for a travel cup for hot coffee and have literally purchased 5, all to no avail. Until this one...omg, this cup is amazing, it kept my coffee hot for a good 6 hours & then, warm for another 3, that's 9 hours folks. So then I get home & put my iced coffee in and it kept it cold with ice cubes still in tact, for 13 hours, no lie. One very happy customer!"
"I am totally in love with my new cup. I accidentally left it in my car today, while the weather was 100 degrees outside for 3 hours, and when I came back there was still all my ice in the cup! Definitely impressed. I bought my husband one, and have one on order for my 2 kids as well. I would definitely recommend these to anyone. And the color is so beautiful and vibrant. I really love that it came with a hot lid and a cold lid."
"I bought the all black version and it's beautiful. Not only that, but the interchangeable tops and 2 plastic straws!!! I'm so excited to be saving the whales and looking amazing in the process. I should ask for commission on the sales of this because all of my coworkers want one now. Another great part that I don't think the description mentions, there's no condensation at all."
—Originally published on Monday, March 1, 2021 at 3:00 a.m. PST.