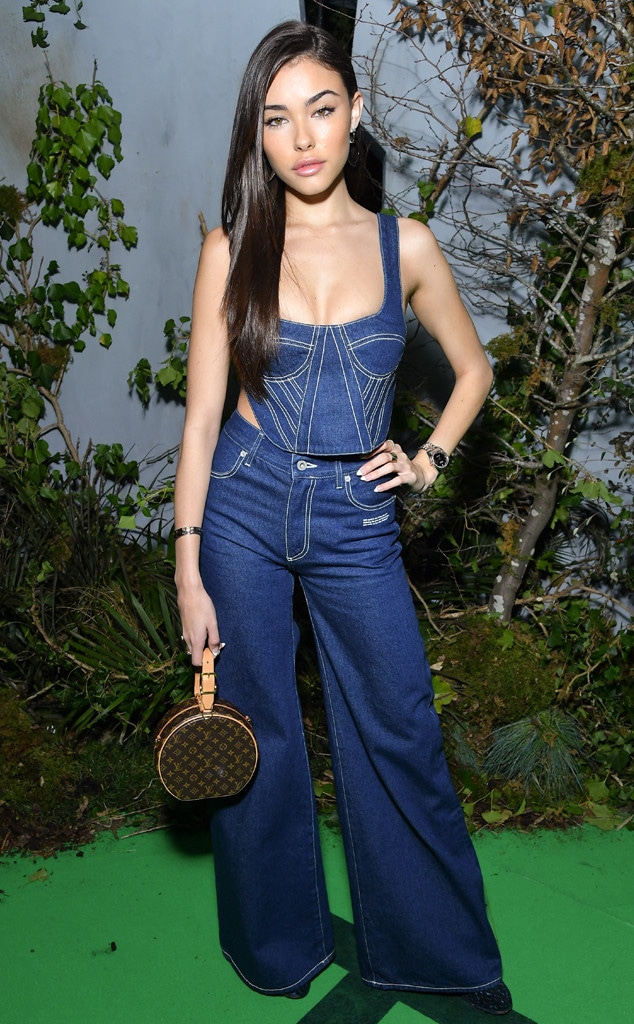 Stephane Cardinale - Corbis/Corbis via Getty Images
Madison Beer has 22.7 million fans on Instagram and 13.8 million followers on TikTok, but she's so much more than a social media star.
In a new interview with NME, the 21-year-old celebrity opened up about her time in the music industry and why she hopes her debut album, Life Support, will help people see her as a true artist. 
"For a long time, I've been trying to prove my intelligence and artistry and the fact that I'm someone who should be taken seriously," she told the outlet for a feature published Feb. 26.  "That does get a bit exhausting because I shouldn't have to be constantly proving that to people."
When it comes to Beer's music, her recent singles, including her 2020 hit "Selfish," might be the first songs that come to fans' minds. But in actuality, her career started almost a decade ago.
In 2012, when Beer was just entering her teenage years, she uploaded a video of herself belting out Etta James' "At Last." The cover caught the attention of Justin Bieber, who tweeted out the video to his millions of followers and catapulted Beer to a new level of fame. According to NME, she signed with his record label The Island Def Jam Music Group and was managed by Scooter Braun. Beer claimed they attempted to turn her into a "very pop, very Disney queen" and was eventually dropped. She now works with First Access Entertainment and Epic Records.
At one point in the interview, Beer recalled fighting for her voice to be heard in the biz. "When I was younger, I felt silenced in almost every room I would step into," she said without listing any names or organizations. "Everyone was like, 'Oh sweetheart, we know better than you–you don't know what you're talking about.' And that didn't feel good at all."
However, she told NME she's learned how to "stand her ground" when speaking with record executives. "But I've also learned how to pick my battles," she later added. "You can't always stand up and say: 'I need to be heard now.' Because there are certain times when they probably do know better than me. I'm at a point now where I'm almost 10 years into this game, and I have a voice that I think deserves to be heard. But for a very long time, I felt very silenced by older men in the industry who actually didn't know what they were talking about and steered me in all the wrong directions."
Watch:
Drink Up This Madison Beer Makeover--Face Forward: Master Class
In addition to talking about music, Beer spoke out about her online presence. While the singer has at times received criticism for her social media actions—noting she's seen #MadisonBeerIsOverParty trending on Twitter "probably five or six times over the course of the past few years"—she's also said there have been occasions when she's felt "bullied" online.
"If there's ever been a time where someone has said, 'Hey, I'm actually really disappointed in you and hurt by this,' it makes me sad," she said, "because that's never my intention."
Furthermore, she talked about her mental health. According to NME, Beer was diagnosed with borderline personality disorder in 2019. And while she suggested it's important for her to have these important conversations with her fans, she also acknowledged her need to set boundaries, noting, "I only want to talk about things when I know I'm ready to."
By the end of the interview, Beer suggested she just hopes people can get to know her a little better. "I'd like people to think of me as an artist who stays true to herself," she said. "And as a mental health advocate, because that's a really honorable thing that I would really be flattered to take on. I'd also like people to realize that I'm someone who's been put through the wringer by the industry. It's been a very long journey for me, and not an easy one, but I've come through the other side stronger. I'm definitely a fighter."