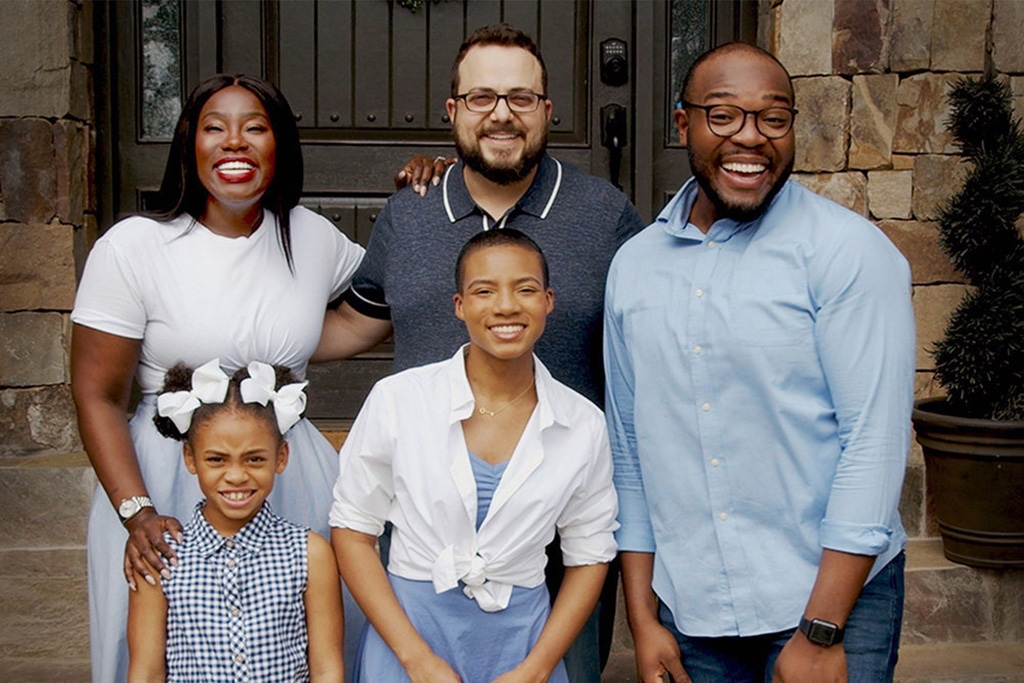 Quantrell Colbert/USA Network
The Walters are about to become your new favorite reality TV family!
Entrepreneur Nicole Walters and her family are starring on USA's newest docu-series She's the Boss. The businesswoman turned small screen personality is opening up about her uniquely blended family and their decision to put their lives out there for your viewing pleasure.
"The biggest thing that made us want to do it is we think we're exactly what America needs right now. Something light-hearted and fun but also a family that doesn't necessarily follow traditional social constructs," Walters told E! News exclusively ahead of tonight's series premiere. "We are made in a different way, we're representative of every part of America and we're totally relatable."
Walters' family includes her "stay at home lawyer" husband Josh Waters and their three adopted daughters, Daya, Krissy and Ally, who were brought into their lives by fate six years ago.
"We actually got all three girls at one time," she shared. "What I think makes our journey a little bit different from most was it wasn't through an agency or organization. We met our girls on the side of the road in Baltimore and struck up a relationship with their mother and she needed help."
"And we found out she was going to be incarcerated in a month so we offered to take the girls in so they wouldn't go into the system. We wanted to bypass that process and that trauma for them. So they were ages 3, 11 and 14 at the time and this was now six years ago," Walters explained. "Obviously when their mother was released, we all kind of collectively decided that we would become a family and that's what happened. So we ended up becoming mom and dad to these three wonderful girls and we still have a wonderful relationship with their biological mother. So it's unconventional but again, when you watch our family I think that people are really going to say to themselves, 'Gosh, you're still really just like us. Families really are made in a lot of different ways.'"
Quantrell Colbert/USA Network
The Walters family was rocked several years ago when teenager Krissy was diagnosed with cancer.
"In 2019, she was diagnosed with stage four Hodgkin's Lymphoma and we did chemo, we did the whole process and thankfully she's not just in remission, she's actually classified as survivorship with no potential for reoccurrence in the future," Walters revealed. "We're like super grateful, super blessed that happened just days before her 17th birthday."
"She was such a champion, she's my hero," Walter gushed of Krissy, who is now in her first year of college. "She faced it, literally the day she was diagnosed she was like, 'Well, I'm not going to die from this. Let's do it.' Like that was her energy. She's such a badass, I love that girl."
As for why you'll only see their two youngest daughters on She's the Boss, Walters explained with a laugh, "Our eldest daughter is not on the show. She's in her 20s and she definitely doesn't want that playing out...She's just a little shier and we wanted to respect her process as an adult to be able to figure out what she's doing and build a life of her own without the scrutiny of a million eyeballs on her."
She's the Boss premieres tonight, Feb. 25 at 10:30 p.m. on USA.
(E! and USA are both part of the NBCUniversal family)