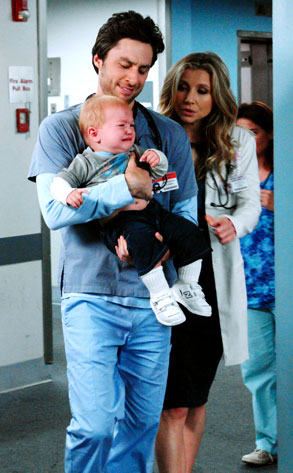 RICHARD CARTWRIGHT/ABC
Is ABC prepping for more Scrubs? That seems to be the case amid word that Zach Braff and Sarah Chalke have each signed six-episode deals.
If Scrubs is in fact renewed for a ninth season, Braff's John Dorian and Chalke's Elliot Reid would return for limited engagements to set up new storylines centering on the younger doctors, according to the Hollywood Reporter. (Of note: Scrubs creator Bill Lawrence has posted favorable comments online about a certain growly, unsentimental young doctor, saying, "I did respond to Eliza Coupe's portrayal of Denise.")
ABC isn't commenting yet, but if Scrubs does in fact get a new season, three other original characters, John C. McGinley's Cox, Donald Faison's Turk and Neil Flynn's Janitor, are locked in to return full-time, assuming their various pilots don't go to series on other networks.
If Scrubs does come back in some form, will you still be watching?