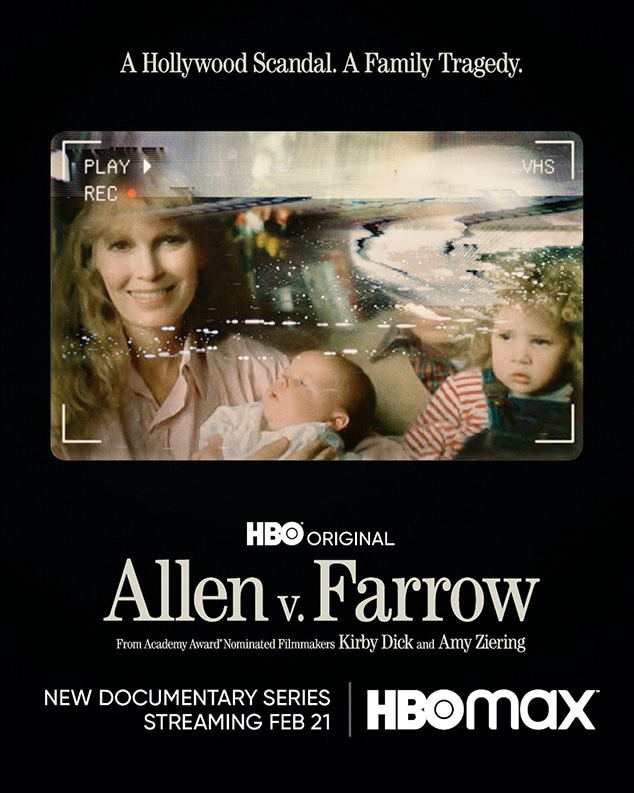 Courtesy of HBO
The question of what Woody Allen did or didn't do was first posed almost 30 years ago. It was just a question that almost no one wanted to think too much about.
Since being accused in 1992 of sexually abusing his adopted daughter Dylan Farrow, he has directed 26 movies, all packed with major stars, and in 2012 he won an Oscar for Best Original Screenplay (his third career win in that category). He was honored with the Cecil B. DeMille Award for lifetime achievement at the Golden Globes in 2014.
A few weeks later, an essay by Dylan was published by New York Times columnist Nicholas Kristof on his Times blog. She described the stomach-churning account of the allegations against Woody from when she was 7 years old—and questioned why his career chugged along almost entirely unfettered while her life had been derailed. 
Woody responded with his own New York Times op-Ed, in which he denied ever harming Dylan and again put the blame for the implosion of their relationship squarely on his ex-partner and onetime muse Mia Farrow. He has accused Mia of turning Dylan against him as revenge for falling in love with the actress' adopted daughter Soon-Yi Previn. That shocking affair with the young woman 36 years his junior, whom he married in 1997, dominated the headlines and remained a punchline for decades, easily overshadowing the more egregious allegations against him in the collective consciousness.
Dylan is now a writer, married and the mother of a daughter. Her new novel, Hush, came out in October and she's working on a sequel. She has said that she doesn't want this one tragic episode of her life to define her (she actually uses a different name in her personal life, but Dylan Farrow remains her public moniker), telling Elle in a recent interview, "believe it or not, the stuff that I wrote about in that essay does not encompass the entirety of my existence. It's a small part of 35 years of living."
The new four-part HBO documentary series Allen v. Farrow, directed by Kirby Dick and Amy Ziering and produced by Amy Herdy (the team behind the Oscar-nominated documentary The Hunting Ground, about sexual assault on college campuses) set out to show—with Dylan's participation—that the rest of the world doesn't even know the half of it.
The resolution, or lack thereof, of the allegations against Allen never sat well with some ("my heroes," Dylan referred to those "precious few" in Hollywood who took a stand), and it was called into question after the publication of her essay, which marked the first time that many people had even heard about the case. Meanwhile, Woody's staunchest defenders, men and women, never wavered, citing the report that cleared him and the lack of criminal charges. A-listers continued to line up to work with him. Cate Blanchett, star of Allen's film Blue Jasmine, won all the major awards, including the Oscar for Best Actress, amid the renewed interest into what happened in 2014.
Or didn't happen, as Allen has always insisted.
In a statement released Feb. 21 when the HBO series premiered, Woody and Soon-Yi said: "These documentarians had no interest in the truth. Instead, they spent years surreptitiously collaborating with the Farrows and their enablers to put together a hatchet job riddled with falsehoods. Woody and Soon-Yi were approached less than two months ago and given only a matter of days 'to respond.' Of course, they declined to do so.
"As has been known for decades, these allegations are categorically false. Multiple agencies investigated them at the time and found that, whatever Dylan Farrow may have been led to believe, absolutely no abuse had ever taken place. It is sadly unsurprising that the network to air this is HBO—which has a standing production deal and business relationship with Ronan Farrow. While this shoddy hit piece may gain attention, it does not change the facts."
Allen v Farrow examines not just the allegations and the explosive custody battle between Woody and Mia, but also what sort of media narrative sprung up around the scandal and how all of it only ended up being so much of a blip on Woody's prolific career up until barely two years ago. No matter what you thought before or what you think now, or whether any of it urges your beliefs in either direction, the tragedy of a family undone is palpable. 
Here are the most memorable revelations from the four-episode series:
Blaming Herself
Dylan, paging through an album full of family photos (not all the ones that were once there, while others were "strategically cropped," she notes) at her former home in Connecticut, explains why she's putting herself through this process of, not just remembering, but once again relaying her experience.
"I think in a lot of ways I've come to understand my feelings better as an adult than I did as a child," she says. "What I was really feeling was that I had let down the little girl that I was before when I couldn't speak about it. I wish that I had been stronger, that I hadn't crumpled so much under the pressure. And I needed in a way to prove to myself that I can face it. Which is probably why I feel so strongly about coming forward now."
Getty Images for ELLE Magazine
An "Idyllic" Childhood
Home videos juxtapose the normalcy—birthday parties, swimming, running around in their backyard, toys scattered all over the place—with the decidedly not-so-normal but familiar aspects of her childhood, such as traveling on private planes, being in her mother's arms on the set of New York Stories and family vacations with her seven siblings, including Soon-Yi. (Mia had seven children already when she met Allen, three biological with her second husband, composer André Previn, as well as four adopted. She adopted Dylan during her relationship with Woody, then he adopted Dylan and Mia's son Moses after he and Mia had Ronan together.)
Allen's there, swimming in the pool, hugging and playing with Dylan. "This is somebody that I love, more than anybody else," she recalls. "And it's taken me a long time to sort of reconcile that you can love somebody and be afraid of them."
A Mother's Regrets
Mia has lived in the same sprawling Connecticut farmhouse for 40 years (Dylan and her family live nearby), a home she still considers "a place of happiness and love" despite everything alleged to have occurred there. She made 13 movies with Allen released between 1982 and 1992, starting with A Midsummer Night's Sex Comedy. She adopted Dylan in 1985.
"I haven't spoken publicly about this for decades, but that's the great regret of my life, that I wasn't perceptive enough," she says. "It's my fault, I brought this guy into our family. There's nothing I can do to take that away. I get why people can't believe it, because who on earth could believe that of Woody Allen? You know? I couldn't believe it...I couldn't believe it. Everybody admired Woody so much, loved him. And I did, too."
MGM Home Entertainment; United Artists
The Cult of Woody Allen
A slew of film critics and culture reporters speak to just how much of a thing Woody Allen was, starting in the 1970s. The bard of New Yorkers' neuroses, he was hailed as a "Comedy Genius" on the cover of TIME and one of the few writer-directors creating great parts for women, even if the action was usually being filtered through the eyes of one of the various nebbishes he played in the majority of his films. He also wrote and directed so many movies (almost one a year since 1978, wildly varying in quality but all very identifiably his), there was a good chance that at least one of them would snare a person into becoming a lifelong fan, be it Bananas, Sleepers, Purple Rose of Cairo or 1978 Best Picture Oscar winner Annie Hall.
"I grew up feeling really close to Woody Allen. He was always to me, my whole life, extremely appealing," observes Claire Dederer of The Paris Review. "I felt that he represented me, which is a very weird way for a little girl to feel about a middle-aged filmmaker. He has a way of inhabiting something very human that's extremely relatable."
David Mcgough/DMI/The LIFE Picture Collection via Getty Images
The Early Days
Mia first met Woody at celebrity watering hole Elaine's in New York in 1979, and he invited her to his glittering New Year's Eve party. Not long after, his secretary called her up to invite her to "lunch with Mr. Allen," she went, and so their relationship began. Mia admits she didn't think anyone would want to date a woman with seven children, but there he was (though he "didn't want to meet them at all" at first). In the beginning they lived in apartments across from each other on either side of Central Park. They'd flicker their lights on and off as a way to say "I love you," Mia recalls. Sometimes she'd hang a red towel outside her window as another signal. "Everything about that time was romantic," she says.
He told her he had "zero interest" in kids, but she figured she could balance her family and having a private life, so she continued to see him. Eventually he met her brood and would frequently visit the Bridgeport house once she bought it, but he always maintained his own residence in the city.
Father Figure
Fletcher Previn, the youngest of Mia's three biological sons with André, says Woody was more of a "day-to-day" dad than his own father was at the time. Daisy Previn, who was adopted in 1976, recalls (in an audio-only interview) going to Woody's place with their mom for weekends in the city, the director having set up a room with bunkbeds for the kids.
He did not participate, so Allen v Farrow uses clips of Woody reading the audiobook of his 2020 memoir Apropos of Nothing to fill in his perspective. In the book, he recalls Soon-Yi being "sullen" when she was a kid, and he particularly bonded with Mia's adopted son Moses (now one of Woody's defenders). When Mia expressed interest in having another child, he morally supported her when she adopted Dylan in 1985, but didn't expect himself to be a hands-on dad. To his surprise, "I quickly found this tiny baby girl adorable. I found myself more and more holding her, playing with her and completely falling in love with her, delighted to be her father."
Mia says Woody was "enchanted" by Dylan, "and I was absolutely thrilled."
Brad Barket/Invision/AP/Shutterstock
Discriminating Dad
Woody endlessly doted on Dylan, as remembered by him in his book, as well as by Mia and family friends in new interviews. He would go to FAO Schwarz before it opened so he could privately shop for toys, and one time, as Fletcher told it, he had Dylan's teddy bear flown first class from one city to another when she left it behind on a vacation, so she wouldn't have to spend one night without it.
So when Mia got pregnant, Woody had no qualms about openly hoping the child would be a girl. When they found out they were having a boy, Woody was "disappointed," Mia recalls. When Satchel (who would one day choose to go by Ronan instead) was born, his mom recalls Woody taking Dylan away so that she could be alone with the newborn, though she wanted to be with both of the children. And Woody remembers in his book that Mia "monopolized [their son's] time, and short of me forcing the issue, he was rarely available."
He claimed Mia was so "delirious" with Satchel, she didn't have much time for the other children. Dylan recalls the feeling slowly starting to be impressed upon her that Mia was more her brother's parent, and Woody was more her parent. "I was Daddy's girl, you know," she says. "I was told that she didn't want me around or that she didn't have time for me, or that she was too busy."
However, home movies show Woody spending time with both kids, and in the series Ronan recalls having a normal father-son relationship with him as a child. "He was my dad, he was raising us," says the journalist, who has been a stalwart supporter of Dylan's since she came forward with her story. 
Something's Wrong
"I worshipped him," Dylan says. "He was so funny and he made me feel so special. That's where things get really, really complicated, because threaded throughout all of those good times, there was a lot more going on."
In addition to Mia and Dylan, family friends, including Mia's high school pal Casey Pascal and Priscilla Gilman, who dated Mia's son Matthew Previn, recall the "intense" bond between Woody and his daughter. "He followed Dylan wherever she went," Priscilla recalls. Dylan remembered playing with dolls at a friend's house once and looking around and wondering, Why isn't her dad here, like mine would be? "That was my entire frame of reference," she says. "I was always in his clutches. He was always... hunting me."
And then the memories turn to Dylan wanting to hide or just keep playing with Ronan whenever she heard her dad coming. "She started running away from him. She started locking herself in bathrooms," Mia says. "And he would say she was retreating from reality or something, but she wasn't like that when he wasn't there."
Ronan says, "Over time, Dylan went from being outgoing and effervescent and talkative to her having this sadness and this withdrawn quality. And I didn't know as a kid how to contextualize that, but now in retrospect I understand that that was a pattern of something very serious and alarming."
Heinous Memories
Dylan describes having haunted memories of different rooms in the country house and her dad's apartment. She says she remembers getting into bed with her father, both of them in their underwear, and "cuddling," adding, "He would just wrap his body around me, very intimately." Priscilla says she once spied Woody getting out of bed, wearing only his underwear, "and I just kind of turned around and walked the other way because I didn't want him to know that I had seen." 
Mia saw them in bed, too, and sometimes she'd see Woody rest his face in Dylan's lap. "I felt that if I felt weird about it, that was on me," Dylan says. Her aunt, Mia's sister Tisa Farrow, recalls a day at the beach, and Woody rubbing sunscreen on Dylan's back. She says he put his hand down the back of her suit and between the cheeks of her bottom—which Mia saw, then snatched the sunscreen away.
Dylan started going to therapy in March 1991, when she was 5. She told the therapist twice that she had "a secret," a revelation that the therapist didn't share with Mia.
Excuses
Mia says she started to feel like a policeman. On one occasion, she saw Woody slap Dylan's hand away from him and, when she asked why, he explained that Dylan had tried to grab for his penis. "So I was comforting her," Mia says, "and at the same time I was thinking, Why would a little girl do that? I tried to push it out of my mind, but what kind of thing is going on that involved private parts, at all? Maybe there were things that I didn't know that might be happening."
Dylan recalls one day at the country house, sitting on the porch with her dad, "and he was directing me on how to suck his thumb, telling me what to do with my tongue." Priscilla says she saw Dylan sucking Woody's thumb, and he told her that it was calming for the child.
When Mia would express concern to Woody over how he was handling Dylan, he'd get explosively angry at being accused of anything, which ended in her apologizing to him. He told her that she needed help. When a prominent psychiatrist who lived in their building in New York told Mia that she saw something off about the way Woody greeted Dylan, Mia thought her boyfriend would respect the doctor's opinion—and he did agree to see a therapist. The therapist told Mia that his conduct was "inappropriate" but not sexual, though it could be perceived as sexual. Woody was showing affection in the wrong way because he had no idea how to behave around children, the therapist explained. He gave her some coping tips and suggestions on how to talk to Woody about it.
"I felt it was under control," Mia says. "I thought things would get better and for a time it seemed that way."
Keith Butler/Shutterstock
Destroyed
Once Woody was in therapy, he told Mia he wanted to adopt Dylan and Moses, the latter of whom was "over the moon" at the prospect. The adoption was finalized Dec. 17, 1991. "I thought he was my life's partner and I believed in our future," the actress admits. "I thought we were going to go on and have a wonderful life."
On Jan. 13, 1992, Mia stopped by Woody's New York apartment with one of her sons and found a stack of Polaroids—all "pornographic pictures of a woman, a girl." They were of her daughter Soon-Yi, in her first year of college at the time. "They wouldn't put them in Playboy. They were like, I don't know, Hustler pictures or something. Really, really raunchy pictures." Mia remembers "struggling to breath" as she tried to button her son's coat. Shaking, she took the photos and went straight to her apartment across the park, where she found Soon-Yi and told her she had seen the pictures. The girl started to cry.
When Woody let himself into her apartment later with his key, Mia confronted him. He told her he only loved her, that he had made a mistake and "lost control," Mia recalls. She told him to get out. Dylan says she's not sure if she really understood anything that was happening. Dylan's therapist was the one who advised Mia on how to tell Dylan and Ronan what happened. Finding out her father had taken naked pictures of Soon-Yi, Dylan remembers thinking, "Oh, it's not just me."
She Wouldn't Do It His Way
This isn't news, but it bears repeating, as Mia does here, that her marriage to Frank Sinatra (he was 51, she was 21 when they tied the knot) irreparably fell apart because he wanted her to drop out of Rosemary's Baby and she refused. Based on Ira Levin's novel, the film about a woman unwittingly impregnated with Satan's spawn is an enduring classic and boasts Mia's most iconic role.
UNITED ARTISTS/Entertainment Pictures
Art v. Life
Woody would never confirm that the relationship his 42-year-old character has with a 17-year-old high school student played by Mariel Hemingway in his 1979 film Manhattan—considered by so many to be his masterpiece—was based on the romance he had in real life with model Christina Engelhardt.
But Christina says he told her that "of course" she was his muse. She maintains that they met when she was 16 but didn't date until she was 17 (the legal age of consent in New York) and their relationship lasted until she was 23. "I was in love with him, I thought he was magical," she says.
At the time she was busy modeling for Seventeen and Co-Ed magazines and doing advertising campaigns. "I felt I was the lucky one," she says of her romance with Woody. "That's where I was coming from at that time of my life...I had this sex appeal as a young girl and I had trauma. I had been raped four times around the age of 12 to 14 by people my family knew. So I start thinking, Who can I trust? And I trusted him. I'm not saying it's right or wrong or good but I had no one. I had just me. And there was an enchantment aspect of it."
In hindsight, to do it over again she would've focused more on herself and made different choices, Christina says. "I know it's taken a toll on me," she explains. "I know it's taken a toll on how I've been in relationships, trust in relationships. And it's made me a super-vigilant mother. I would not let my daughters go over to an older man's home, no matter what."
Ron Galella/Ron Galella Collection via Getty Images
More Where That Came From
As of Woody's oeuvre didn't feature enough May-December romances as is, there could've been more. Journalist Richard Morgan speaks of combing through Woody's papers, which are housed at Princeton University, and finding a collection of drafts for both the movies that got made, such as A Rainy Day in New York ("A female college student, 20 or 21… 18 … 18-years-old"), as well as ideas for projects that didn't get made featuring what Richard calls "almost an assembly line" of 16- to 21-year-olds involved with older men.
Power Couple

Mia, Priscilla, Casey and singer Carly Simon (Mia's close friend who lived in Woody's building and was a neighbor for years) recall how Woody's romance with Mia had devolved into an unbalanced relationship in which he held all the cards and she bent herself to his will. The actress remembers him telling her that she was lucky to be automatically in his films every year, that she could be replaced in two minutes. Mia no longer had her own agent—she had Woody's agent, and she bemusedly recalls thinking she probably wouldn't be able to get her own again "because I was old, I was in my 30s."
He Said, They Said
Woody maintains in his book that he was as surprised as anybody to find himself hitting it off with a teenage Soon-Yi, having hardly spent any time alone with her before taking her to a Knicks game at Mia's suggestion (which she confirms, saying she thought it would be good for her shy daughter to get out more). He insists that when he first kissed her, after screening Bergman's Seventh Seal for her at his apartment, she asked what had taken him so long to make a move. He thought they'd have a fling and then she'd meet a guy in college and move on to "a more conventional relationship" (a very similar scenario to how Isaac approaches his relationship with the young Tracy in Manhattan).
Meanwhile, Priscilla says it's now obvious that he was "grooming" Soon-Yi for longer than anyone realized before Mia found those photos. Mia says Soon-Yi would go to Woody's apartment after school, still wearing her uniform, the doorman would show her up and the maid would change the sheets afterward, a whole routine. (Woody has said they didn't start a relationship until Soon-Yi was in her first year of college, in December 1991. Mia insists the visits started when she was still a senior in high school and the doorman testified during the custody trial to that. The housekeeper testified that she found condom wrappers in the trash and would looked to her like semen stains on the sheet during that time period as well.)
Tri-Star/Kobal/Shutterstock
Dark Days
After finding the photos of Soon-Yi, seven months after she'd graduated high school, Mia was still in a place where she was entertaining Woody's apologies and assurances that he had made a mistake and wanted to try to make it work with her. And though she needed a couple of weeks off, she returned to the set of Husbands and Wives, which was first released in theaters Sept. 18, 1992. "I don't know how I did it, I could barely look at him," she says. "These pictures kept tearing through the membrane of the day...He was saying, 'We could burn those pictures and have a new start.'" He suggested a joint press conference to clear "the rumors" going around about them.
In a taped phone call between them from the summer of 1992, Mia asks him how he'll defend himself from the truth, that he had sex with her teenage daughter, and he replies, "Well, you'll find out." (Mia says that Woody was the one who first taped their calls, and that one of her kids advised her to also tape them and offered to set up the phone.) Woody says he won't say he had sex with Soon-Yi and says "certainly" when Mia asks if he's going to call it "an affair" instead. To which Mia replies that he's then "blaming Soon-Yi for half of it," and he says, "There's no blame to be had here." Mia counters, "There certainly is. There certainly is."
Mia arranged for Soon-Yi to be a counselor at a summer camp in Maine, but not long after she started, a car arrived and shuttled her back to New York. Mia was told she'd been spending all her time talking on the phone to a "Mr. Simon." In his book, Woody recalls Soon-Yi simply hating the camp and wanting to leave. She moved in with a friend in the city, he says, but before long they were "back together."
Aug. 4, 1992
According to Dylan, that is the day on which Woody showed up for a visit at the Connecticut house, took her up to the attic and sexually assaulted her. Mia and Casey had gone shopping, leaving their kids with Mia's sitter, Kristi Groteke; Casey's sitter, Alison Stickland; and Sophie Bergé, the French tutor Mia had hired for Ronan and Dylan that summer. They had been told that Woody shouldn't be left alone with Dylan.
Kristi later testified in court that, once they noticed Dylan was missing, they looked all over the house. The 7-year-old was gone for about 20 minutes, she recalled.
Mia recalls that Dylan ran up to give her a hug when she got home and the child was wearing a sundress and no underwear. Knowing that sometimes little kids run around without underpants, she just asked the sitter to get another pair. The next morning, however, Casey called and said Alison had described to her seeing Dylan the previous day, sitting on the couch in the TV room. Woody was on his knees next to her and had his face in Dylan's lap, Alison said, and the child was "staring off into space." Alison was "horrified to the core," Casey says.
Aug. 5, 1992
Dylan's therapist was away for the summer, Mia recalls, so she decided to videotape Dylan describing what happened as far as what happened in the TV room. The child is seen, over the course of two days of taping on and off, telling Mia that her dad had been "breathing on my leg" and "squeezed me too hard and I couldn't breathe."
Mia recalls being startled when Dylan then said that Woody had taken her into the attic. He asked her, the child says, "'How about some father-daughter time?'" To which Dylan says she replied, "'Well, okay'...Then he started telling me weird things...then he went behind me and touched my privates." Dylan recalls the encounter in the show and the tape shows her talking about it at 7 years old.
Evan Agostini/ImageDirect via Getty Images
Changing the Narrative
Two investigations were opened, one by social services in New York, where the Farrows' legal residence was, and the other by the Connecticut State Police, where the alleged crime occurred.
On Aug. 18, Woody held a press conference at the Plaza Hotel and called the allegations against him an "unconscionable and gruesomely damaging manipulation of innocent children for vindictive and self-serving purposes. In the end the one thing that I have been guilty of is falling in love with Ms. Farrow's adult daughter."
And with that, the headlines were all about Woody having an affair with Soon-Yi—which, as creepy as that was, was unarguably the more palatable of the offenses the director was accused of committing. The abuse allegations were duly reported on, but often with the caveat that Mia was a scorned woman who may have coached her child on what to say.
"Cries and Whispers: The Ugly Explosion of an Unconventional Family," reads an August 1992 TIME cover. Woody went on 60 Minutes, wryly telling Steve Kroft, "Let's be logical about this. I'm 57. Isn't it illogical that I'm going to pick this moment in my life to become a child molester? It's just incredible. If I wanted to be a child molester, I had many opportunities in the past."
Seriously, WTF Is Happening
Journalist Maureen Orth, who reported on the case for Vanity Fair in 1992 and whose profile on Mia in 2013 helped jog a lot of memories, recalls thinking there had to be another side to the scorned-Mia angle. The actress wasn't giving interviews, but talking to André Previn, the babysitters and numerous other sources, the writer was told that Mia "didn't want these allegations to be true because this was completely unraveling her entire life." Maureen recalls hearing that Mia had repeatedly asked Dylan if she was sure, telling her daughter that if it hadn't happened, she just needed to say so. But Dylan insisted, "'No, it happened and if he says it didn't happen, then he's lying.'"
The Report
Frank Maco, state's attorney for Connecticut at the time, oversaw the investigation. He recommended bringing in the Yale New Haven Child Sex Abuse Clinic to interview Dylan. Social workers Jennifer Sawyer and Dr. Julia Hamilton, overseen by the director of the program, Dr. Jonathan Leventhal, interviewed Dylan nine times—an excessive number, according to experts interviewed for this series and forensic psychiatrist Dr. Stephen Herman, who testified on Mia's behalf during the custody trial.
The child had to point out where she was touched, using an anatomical doll, "and I would repeat the story over and over and over again," Dylan says. "It was grueling, it was intense and I hated it."  
The Yale report, issued March 17, 1993, infamously concluded that Dylan's story had "inconsistencies," that she had "difficulty distinguishing fantasy from reality" and was "likely reinforced and encouraged by her mother who was enraged with Mr. Allen."
The clinic informed Woody and Mia of the results, and Woody immediately held a press conference on the steps of the hospital instead of waiting for the report to be processed by the state attorney's office. "Certainly I never, ever abused my daughter," he said. "There was no sexual abuse that ever took place. It was either an imagined thing or a concocted thing."
All Mia said was, " I will always stand by my children, and that's it."
Ron Galella/Ron Galella Collection via Getty Images
That's Show Business
The report cited Dylan's use of the term "magic hour"—an artistic term referring to when the light is best for photography or filmmaking—as an indicator that she had been coached. As in, it was something an actress would say, not a child.
"How was I supposed to know that constitutes magical thinking?" Dylan recalls.
Dueling Conclusions
Meanwhile, the New York City Child Welfare Administration was conducting its own investigation, headed up by caseworker Paul Williams. After two weeks, he found Dylan "quite credible" and concluded that there was enough evidence to open a criminal investigation.
His notes survive, however, and in them he wrote that he had been told that "with high profile cases, it is customary for the 'big wigs' to take over and 'we' CWA do nothing."
After insisting that there be an investigation in a document dated Sept. 24, 1993, Paul was fired for "insubordination," according to his attorney Bruce Baron, who alleges "this was a massive coverup and Paul was caught in the middle."
Paul later sued the city and was both reinstalled in his position and awarded back pay. He's still on the job, according to his lawyer, and declined to be interviewed. But, Bruce adds, "he was never able to complete the very job he was given" on the Farrow case.
Sheryl Harden, Paul's supervisor at the time, says in the show that she left the city agency about a year later, "because I could not continue to do what I did to those low-income families, those Black families, welfare families, and have them treated differently than if they'd been a Woody Allen."
Not How It Works
Paul's notes indicate that he was in communication with Jennifer Sawyer, from the Yale team, and she actually found Dylan credible. (She and Dr. Leventhal refused interview requests.)
But after the Yale report came out, all of the notes taken by the social workers were destroyed, which the clinic maintained was its usual way of doing things. So, no contemporaneous accounts of what the women thought or observed when they talked to Dylan exist.
"Notes are never destroyed during a forensic evaluation—never, ever," Dr. Herman insists.
Frank Maco adds, "We'd always ask for contemporaneous notes –bottom line, this was basically a runaway evaluation."
Sunny Hostin, a former federal prosecutor and a co-host on The View, also observes in the series, "It's up to a trained prosecutor to determine whether or not that child has been sexually abused, period. No one should hold up that report and say ''Woody Allen was exonerated.'"
Many of his defenders have continued to do just that to this day.
Allen v. Farrow
Woody then sued Mia for sole custody of Dylan, Moses (who was 15 at the time and had spoken out in defense of his mom) and Satchel. His petition alleged she was emotionally disturbed, heavily medicated and unable to adequately care for her nine children. (Mia had adopted two more by then, daughters Quincy and Minh.)
Cameras were barred from the courtroom, but a court sketch shows Woody surrounded by a team of seven lawyers at his table. (He addresses his sizable team in his book, saying he needed criminal attorneys at his side, as well as his child-custody counsel, because of the ongoing molestation investigation.)
The series includes lines from the court transcript, including Woody's testimony denying that he abused Dylan and saying he believed Mia had brainwashed her, as well as babysitter Alison recalling seeing him with his face in Dylan's lap. Mia's home videos of Dylan describing what happened were admitted into evidence.
Pier Marco Tacca/Getty Images
New York Times journalist William Grimes recalls of the trial, "There was no sense from him that the motivation for wanting sole custody was his deep love of his children, his concern for their welfare. I think you did get a sense of his anger at Mia Farrow."
State Supreme Court Judge Elliott Wilk concurred. After more than a month of deliberation, he awarded full custody of the three children to Mia, deeming her a "caring and loving mother" and finding no credible evidence to suggest she brainwashed Dylan. "It is unclear whether Mr. Allen will ever develop the insight and judgment necessary for him to relate to Dylan appropriately," the judge stated. He was barred from seeing the child at all for at least six months but could have supervised visits with Satchel. Moses, being older, could decide for himself if he wanted to see him.
Woody called it a "tragic decision" and thanked all the people who'd come up to him on the street and at Knicks games for support. (In his memoir, he writes that the judge "hated me from the minute he set eyes on me" and clung to his first impression, "despite all evidence to the contrary."
Two attempts to appeal failed, and ultimately Woody was ordered to pay Mia's legal fees, by then totaling more than $1 million.
Peter Marks, another Times journalist who admits to having "worshipped" Woody as a filmmaker, says he was never able to watch another one of his movies after the trial.
Dimitrios Kambouris/Getty Images)
That's It?
The investigation in Connecticut was still open, however, State's Attorney Frank Maco still considering whether to file criminal charges against Woody. Documents show that investigators recommended that he be charged with first and fourth-degree sexual abuse, as well as risk of injury to a minor.
But while Frank was "confident there was probable cause," he says of that time, "I have to prove my case beyond a reasonable doubt, and I can't with a child…Could this child be my first witness on the stand to say what had occurred? This case hinged on the testimony of a 7-year-old girl."
Fear
Despite the investigation determining that there was probable cause, Connecticut State's Attorney Frank Maco announced Sept. 24, 1993, that he wasn't going to prosecute and risk retraumatizing Dylan by calling her to testify in court.
And with that...Mia, Dylan and the rest of the kids were left trying to regain a semblance of normalcy.
"I just remember my family was turned upside down," Daisy Previn says. "We were all devastated. It was a sad time. I think most of us just kind of tried to get through with our lives."
Sister Quincy (on camera for the first time in episode four) recalls Dylan being "riddled with anxiety," with "obvious" signs of depression, while sister Minh (appearing for the first time, same as Quincy) notes that Dylan kept to herself, "always hidden away, writing her stories, drawing."
"The only reason I knew anything that had happened was the news and media, and that's it," Quincy says. "It was kind of like a Voldemort situation, he who must not be named. He was never brought up."
Inevitable Issues
Dylan recalls having one boyfriend throughout all of high school, a kid who she really liked but broke up with after three weeks when she realized that, at some point, he was going to want to get physical. "And that was terrifying," she says. 
She met her future husband, Sean, on a dating site hosted by The Onion. "I put this ultra, very honest profile up there saying, 'I'm a geek but you can take me out in public. I shower, I promise,'" he recalls. "The first day I got this really surprising message from this smoking hot girl with a burgundy bob and this cute little chin and it said, 'You didn't mention you were a cute geek.'"
Dylan calls that note the "first and last time I've ever flirted with someone." Sean tells her admiringly, "You knocked it out of the park, that's a win."
They truly hit it off, bonding instantly. But one night early on in their relationship, they were fooling around and Dylan—who had been lying on her stomach—froze "and then immediately started crying uncontrollably," Sean recalls, "and it turned out I had inadvertently triggered something."
Dylan explains, "I didn't think of myself as an incest survivor. I heard about, you know, like, rape in the news. It was just something that happened to other people. It was much worse than what I'd been through. I really had no right to complain about anything that happened to me Because it didn't fall neatly into any specific category."
And with that, anxiety starts to set in. "I'm, like, shaking talking about this," she says, sounding almost surprised. "Wow, that was weird."
Student Loan
Ronan alleges that Woody dangled the prospect of a lavishly funded life in front of him in exchange for loyalty and support. He "made funding my college education contingent on me speaking out in his support publicly," the now 33-year-old journalist says. "The offer always stood that if I were willing to publicly go against my mother and my sister, that he would offer financial support, support for my education, and perhaps a comfortable life with a powerful, influential guy."
Born Satchel in 1987, in high school a lot of people called him by the nickname "Seamus," but by the time he enrolled at Yale Law School, and having found out how often "Seamus" was mispronounced, he was mainly going by his middle name, Ronan. 
Scars of All Shapes
Mia says she did have romantic relationships after Woody, but was too scared to bring any new men home to meet her family. "I just didn't want to risk anybody falling for one of my beautiful children or grandchildren," she explains, noting "I would never take another risk with anybody else. I don't trust myself to know. How would you know? I don't know. So I never brought them home."
She also took every job she was offered—in Europe, because, as she says Woody had warned her would happen, she wasn't being offered roles in American movies. Eventually most of her time was taken up by activism, becoming a UNICEF ambassador and visiting Sudan, after which she was one of the first celebrities to draw attention to the refugee crisis in Darfur.
Lifetime Achievement
Dylan recalls her phone starting to blow up during the Cecil B. DeMille Award tribute to Woody at the 2014 Golden Globes—which she was not watching, so didn't at first realize why people were saying things like "you shouldn't have to go through this." Knowing she had Ronan's support by then (he's been open about how, for years, he had advised her to avoid talking about it because then her life would become all about that), she wrote an essay and sent it to the New York Times and Los Angeles Times. 
Both newspapers decided they couldn't publish it, but Ronan reached out to NY Times columnist and friend of the Farrow family Nicholas Kristof, who was deeply moved by Dylan's piece and went ahead and published "An Open Letter From Dylan Farrow" on his Times blog Feb. 1, 2014.
Dylan says the response from people in her life, including so many who relayed their own stories of abuse, was "reassuring but also devastating. Because now I know that so many people in my life were suffering silently the same way I was."
Woody responded with a piece published in the Times' op-Ed section Feb. 9, writing that he had never hurt Dylan but that he had no doubt she thought she's been abused. He reiterated his accusation that Mia had manipulated her into thinking so, to get back at him for Soon-Yi.
Father's Day
Moses Farrow has been a staunch defender of his father since Dylan's accusations resurfaced, the young man telling People in 2014 that Woody was innocent, Dylan had concocted her story and Mia was the physically abusive parent.
Ronan maintains that for most of his brother's adult life, Moses had supported Mia and Dylan (and he's seen telling a reporter outside their house as much as a teenager). The camera zooms in on a Mother's Day card to Mia from Moses, reportedly from 2007 when he was 29 and had a baby on the way with his then-wife Kim, in which he wrote how he was "forever grateful of the love you offered and shared. You are an extraordinary woman and I love you and love our family."
The Machine
As Dylan's story resurfaced in a new and impactful way, so reemerged Woody's scorned-Mia narrative, as the countless famous supporters he'd always had (and had acquired since the 1990s) basically said—if they said anything—that either they believed him to be innocent or that it wasn't their place to weigh in on what did or didn't happen.
#MeToo Makes a Difference
It really wasn't until after October 2017, when Ronan played a significant role as a journalist in blowing the barely fastened lid off of Harvey Weinstein's history of abuses against women—and then Tarana Burke's 2010 demand for accountability gave name to an entire movement—that Woody's armor started to tarnish. Dylan wrote another op-Ed, this time in the Los Angeles Times, inquiring why #MeToo had so far spared Woody Allen.
Eventually the chorus got louder, celebrities who had worked with him (Mira Sorvino, Greta Gerwig, Kate Winslet) expressing regret, and many who hadn't (Natalie Portman, Reese Witherspoon, Jessica Chastain) letting it be known that they believed Dylan. Selena Gomez, Rebecca Hall, Timothée Chalamet and Griffin Newman donated their salaries from A Rainy Day in New York to Time's Up, RAINN and other organizations for women and victims of sexual violence. The film was shot in 2017 but wasn't released in the U.S. until last year, Amazon Studios instead ending its four-picture deal with the director, first signed in 2016, in 2018. (Woody sued for breach of contract; they eventually settled.)
Face to Face
In the fall of 2020, Dylan sits down with Frank Maco at the house in Connecticut, their first time meeting since she was a child.
"When I made my decision [in 1993]," the former prosecutor, "I told your mom that if some point you wanted to find out what I did and why I did it, I would certainly meet with you." Dylan says that she was grateful that he spared her "the madness, and probably trauma" of a trial. But, she admits, "a part of me really really wishes that I could have done it, that I could've had my day in court."
He tells Dylan that, out of all the cases he'd tried, including murders and other charges of sexual abuse, her case—and his decision not to prosecute—was the one that would stay with him for the rest of his life.
"I wasn't exactly sure what I wanted to say," she says. "I guess I just needed to hear that. Thank you, for everything."
Dimitrios Kambouris/Getty Images for Time
Mia's Regrets
The actress admits in the show that she's still scared of the media power Woody wields and what he'd say or do when the documentary came out. "He'll do whatever he has to do to try to save himself, you know, from the truth, the mess he made," she says. "If I could take it all back I would, I wish I'd never met him, of course. That's my great regret of my life, to bring somebody like that—he should have never been in the family." (In a statement released after the show's Feb. 21 premiere, Woody and Soon-Yi slammed it as a vindictive fiction.)
Mother-Daughter Moment
Dylan also sits down with Mia (after an extremely relatable exchange about her mom never having cream for coffee in her otherwise packed fridge), and Mia asks Dylan if she was ever angry with her for "somehow letting this happen," for bringing Woody into their lives in the first place.
"You very easily could have chosen not to believe me, to take his word over mine," Dylan says, "and just, you know, I've talked to other survivors that say to me, 'The difference in our story is that my mom didn't believe me. My mom didn't protect me and my mom was not there for me, she was not willing to fight for me.'"...Whatever other mistakes you made, I just feel like you were there when it mattered."
Allen v. Farrow is streaming on HBO Max.
(Originally published Feb. 21, 2021, at 7 p.m. PT)