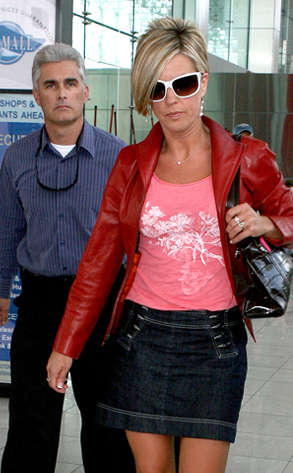 INFphoto.com
It's your daily "Jon & Kate Plus 8, plus whatever else is going on" update time. Are you sick of our plus jokes yet?
Today's update is a rather somber one because Kate Gosselin is sad. Not even her hot piece of silver-fox bodyguard can turn that frown upside down. So what's got the TLC reality star feeling so blue?
Media attention that is not specifically related to her hair. By the way, she really loves her hair, she tells EW : "It's my attitude! Everybody wants it...My hair stylist gets calls from all across the country."
But be warned: Not everyone is blessed with the ability to pull off such an awesome 'do. "I have very, very thick hair, so it's not going to work for everybody. I've seen people come through the book line with thin hair and it just won't work."
Obviously, living with the most enviable hair in the country isn't what's tough; rather it's all that stuff about the affairs.