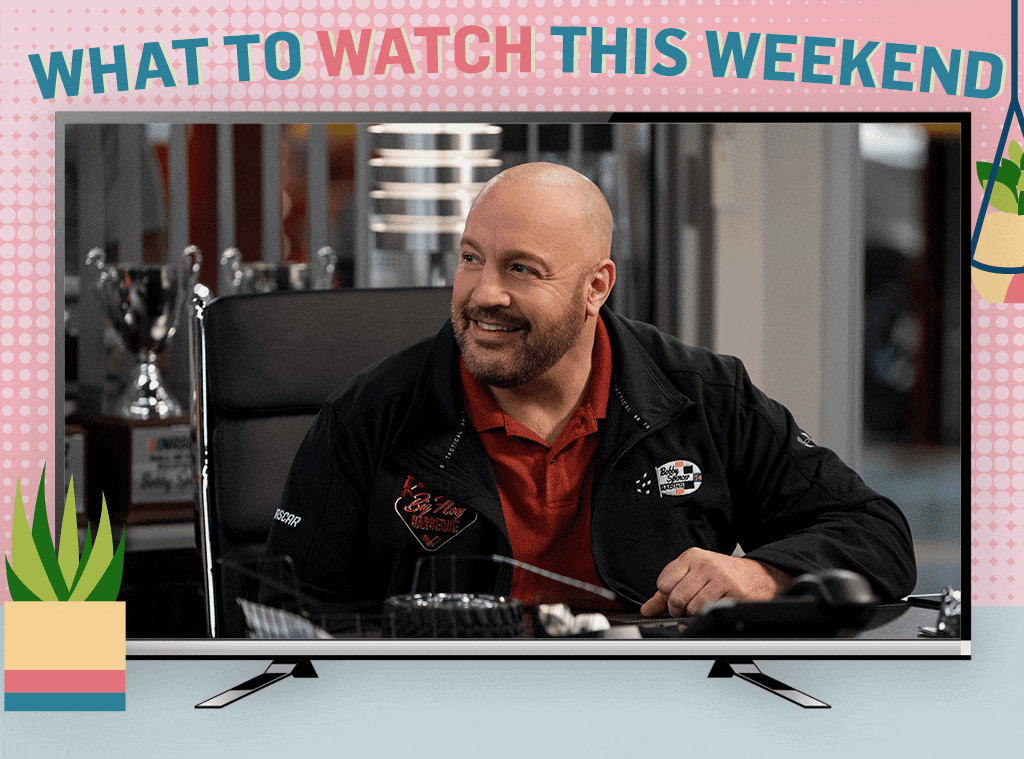 Netflix; HBO Max; Disney+/E! Illustration
Binge-watching is a buffet and this weekend is definitely serving a lot of options. 
Whether you are obsessed with true crime, in the mood for a thriller filled with more twists than a bag of pretzels or are in need of a family-friendly movie, we've got you covered. 
NBC is kicking off a three-night event that investigates a chilling crime you've probably never heard of, while one of Netflix's latest series delivers a polarizing ending that is likely going to to lead to some hot takes on social media. Plus, Kevin James is back with a sitcom that is sure to rev his fans' engines and a Saturday Night Live star is launching a show of his own. Oh, and did we mention the original run of The Muppets is finally on a streaming service? 
Like we said, it's a stacked lineup. Here's what to watch this Saturday and Sunday...
If You're Looking for Your Latest True Crime Fix: Maybe it's that we just spent yet another Valentine's Day single, but the true story behind The Widower—NBC's three-part docuseries from the producers of Dateline—is enough to make us swear off marriage forever: Meet Thomas Randolf, a man who has been married six times, with four of his wives dying under mysterious circumstances. The Widower has been more than a decade in the making as producer Dan Slepian was with Las Vegas police in 2008 when Randolf was arrested for the murder of one of his wives and he's been following the case ever since. (Where to Watch: NBC on Thursday (Part 1), Friday (Part 2) and Sunday (Part 3) at 9 p.m. on NBC, with the episodes then streaming on Peacock)
If You're Looking for A Family-Friendly Movie: Based on the children's novel of the same name by Kate DiCamillo, Flora & Ulysses stars newcomer Matilda Lawler as the titular young girl who adopts a squirrel that just so happens to possess superpowers. Fun fact: Ulysses, the super-pet, is voiced by John Kassir, who provided the vocals for the Crypt Keeper in HBO's Tales from the Crypt franchise. Another fun fact: Alyson Hannigan and Ben Schwartz co-star as Flora's parents. Yep, Willow and Jean-Ralphio are married! (Where to Watch: Disney+)
If You Want to Be Part of the Conversation on Social Media This Weekend: Prepare for six episodes of so many twists and turns that you might just get whiplash. Behind Her Eyes. Netflix's latest bingeworthy thriller, based on Sarah Pinbrough's novel, centers on a secretary who begins having an affair with her psychiatrist boss, only to then befriend his wife. Sound like a cliché love triangle? Think again because there are many layers behind these eyes and the series delivers an ending that will definitely be discussed on your social media feeds. (Where to Watch: Netflix)
If You Are Counting Down the Days Until Awards Season Kicks Off: Daniel Kaluuya and Lakeith Stanfield shine in Judas and the Black Messiah, the long overdue biopic about Black Panther Party official Fred Hampton, who was assassinated on Dec. 4, 1969. Kaluuya earned a Best Supporting Actor Golden Globe nomination for his powerful portrayal of Hampton, while Atlanta scene-stealer Stanfield takes on the part of William O'Neal Jr., a petty thief turned FBI informant who infiltrated Hampton's ranks seemingly at the behest of Bureau Director J. Edgar Hoover. An electrifying examination of racial injustice, Judas and the Black Messiah should be considered essential viewing. (Where to Watch: HBO Max)
If You Want to Light the Lights: It's time to put-on make-up and it's time to dress up right because The Muppet Show is finally streaming! Jim Henson's original series ran for five years, introducing the world to beloved characters like Kermit the Frog, Miss Piggy, Fonzi Bear, Gonzo and more before it ended in 1981. Prepare for 120 episodes of pure nostalgia. (Where to Watch: Disney+)
Mark Fellman/20th Century Fox/Kobal/Shutterstock
If You're Sick of Your Family. Always. Being Around: Maybe a double-feature of Cheaper By the Dozen and Cheaper by the Dozen 2, which just hit streaming, will make you feel slightly better about your living sitch? Plus, it'll help you get a refresher before the remake, starring Gabrielle Union and Zach Braff, comes out in 2022. (Where to Watch: Disney+)
If You're Out of Adam Sandler Movies to Watch on Netflix: Kevin James seems to be following in his famous friend and frequent collaborator's footsteps by heading over to Netflix. The King of Queens star fronts the streaming giant's latest sitcom The Crew as the chief of a struggling NASCAR racing crew. When his team's owner retires and his daughter takes over, life in the garage gets a lot more chaotic. (Where to Watch: Netflix)
If Your Biggest Issue With The Undoing Was You Needed About 10 Times More Lily Rabe: Like, what was the deal with Sylvia really? Anyway, if you were craving more Lily Rabe content after finishing the HBO drama, Tell Me Your Secrets is the perfect way to get your fix. The thriller series centers on three interconnected people: Emma (Rabe) is a woman who was once in love with a killer. That predator, played by Hamish Linklater, is seeking redemption, while Mary (Amy Brenneman) is a woman desperately searching for her missing daughter. As secrets emerge and the truth about their troubling pasts are revealed, the line between victim and perpetrator is blurred. (Amazon Prime Video)
If You're Craving Some of the Freshest Comedy on TV: Saturday Night Live's Kenan Thompson is finally the star of his own sitcom in Kenan, while Young Rock tells the incredible story of Dwayne "The Rock" Johnson's life. Both comedies premiered this week, offering feel-good and family-centric fun. (Where to Watch: Peacock)
If You Are Continuing to Do the Work: Will Smith hosts an informative, six-episode deep-dive into the 14th amendment—the 1868 addition to the constitution that promised to provide all citizens "equal protection of the laws" in the wake of the Civil War—in Amend: The Fight for America. To bring to life historical documents and the work and words of Frederick Douglass, Dr. Martin Luther King Jr. and Ruth Bader Ginsburg, Smith enlisted a whopping list of guest stars that could rival the Oscars: Mahershala Ali, Diane Lane, Samuel L. Jackson, Sterling K. Brown, Joseph Gordon-Levitt, Yara Shahidi, Joshua Jackson, Laverne Cox, Willow Smith, Pedro Pascal, Courtney B. Vance, Samira Wiley, Helen Hunt, Randall Park are just some of the stars who signed on to liven up this very necessary history lesson. (Where to Watch: Netflix)
(E! and Peacock are both part of the NBCUniversal family)
For everything you should be watching right now, don't miss BingE! Club hosted by Erin Lim on Snapchat!