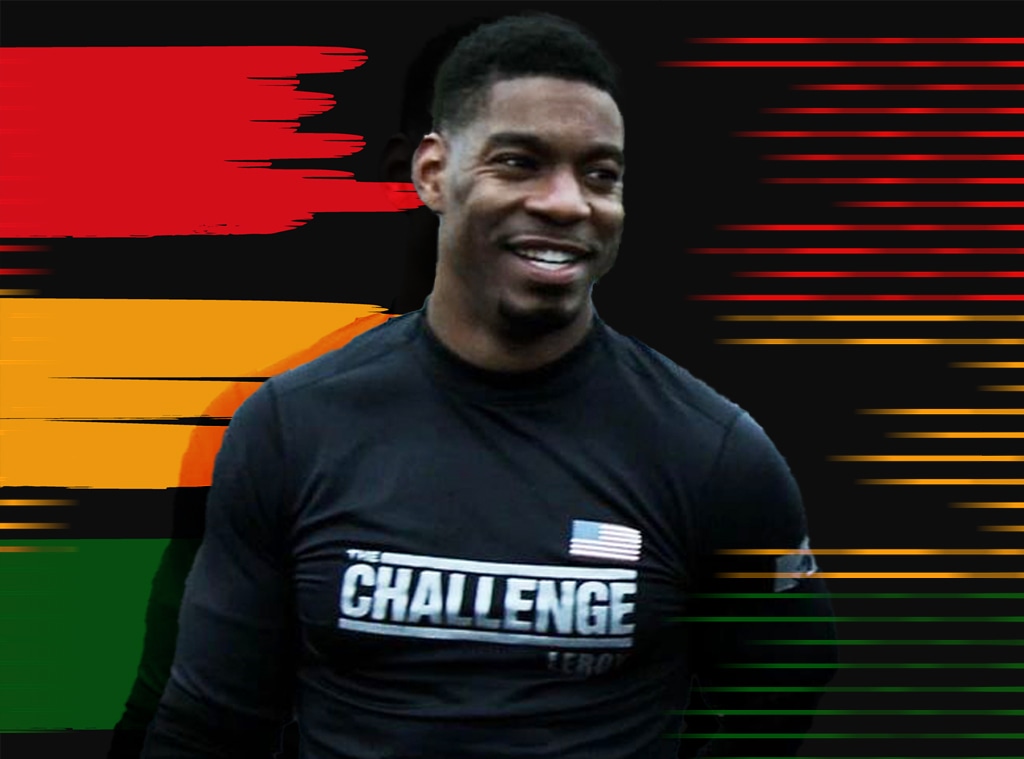 MTV
In honor of Black History Month, E! is talking to Black reality show contestants to reveal what it's really like being a minority on TV.
Fans of The Challenge remember the moment things started getting real for the MTV favorite last June. Releasing a tweet speaking out on contestant Dee Nguyen's "offensive comments on the Black Lives Matter movement," the network revealed they were severing ties with the Australian Geordie Shore alum.
Addressing Nguyen's social media statements, the network continued, "We strongly condemn systemic racism and stand with those raising their voices against injustice."
One voice within their own family that definitely took notice of their action? Leroy Garrett, a fan-favorite who had competed in 11 seasons by that point since making his debut on 2011's The Real World: Las Vegas.
"This is a great start and a step in the right direction," he wrote. "BUT I wish you guys would've had this same energy in the past when I was called Racial Slurs. I hope U continue to keep that same energy with current and future cast members!"
Longtime viewers of The Challenge, which first premiered 1998, immediately knew the incident Garrett, 35, was addressing.
While filming 2017's The Challenge XXX: Dirty 30, Camila Nakagawa (a.k.a. the Camilinator, the nickname she earned for her destructive drunken behavior) used racial slurs during a shocking tirade against Garrett.
"You are f--king an idiot. Guess how many wins you've had? Zero. You're a fucking Black motherf–-king p--sy," a drunk Nakagawa yelled in Garrett's face, before hitting him with a pillow. "It's all about Black mother--kers like that piece of s--t!"
Watch:
Necessary Realness: Black Lives Matter Inspires the World
While the rest of the predominantly white cast members who were present for the tirade were "blown away," according to Garrett, he felt the moment exposed the actual reality many Black people brace themselves for when they sign on to stop being polite and start getting real. As he told E! News in a recent interview, "I set myself in an environment where those things could happen."
As she physically and emotionally assaulted him, Garrett deliberately remained quiet. "It sucks that we always have to be the one to turn the cheek and be the bigger person," he explained. "Can you imagine when she said that if I start cursing her out? I'm standing over her Black, 6-foot-1…you are only going to remember me screaming over her."
While Nakagawa was removed from the house for the night, she returned to the competition, going on to win the season and its $450,000 prize. And while she wasn't present at the reunion, her absence had little to do with her offensive behavior. Rather, she was disqualified and reportedly banned from future appearances after physically attacking a crew member and destroying property while filming a subsequent Champs vs. Stars spinoff series.
So yes, Garrett had to continue living and working with Nakagawa after the incident, even though, as he told E!, her tirade was "way worse" than what was aired.
"African Americans shouldn't have to feel numb hearing the word 'n----r,'" Garrett said of the still all too pervasive slur. "It's like football, if I know the play you are going to run, I know how to stop it. It hits different when it comes from someone that you thought was your friend, so to hear her speak that way it was just, like, damn. It could make you feel, like, wow, is this how all people who are not Black feel like when they are mad?" 
Even before that encounter, Garrett had been hyper-aware of how he carried himself on the show—because he felt he had to.
"I have felt the pressure of not being stereotypical. By this I mean some look at Blacks as being loud, violent, up in your face or not being well educated," Garrett shared. "For myself, I'm none of the above or show any traces of that. I don't even think you can count on one hand any of my altercations."
Often one of the only Black male cast members on any given season, Garrett said he's always been "very strategic" about how he carried himself, hoping to set an example for those at home. "I knew there were other young African Americans looking up to me, thinking, 'Wow, if he could do it, I could do it too.'"
Meanwhile, the network he's called home for a decade has been learning and evolving along with the rest of the reality TV genre in the wake of the Black Lives Matter movement—which is why Garrett felt he needed to respond to MTV's tweet about Nguyen's firing.
"MTV has learned their lesson on that and we can move forward," he said. "Now to see what they did, I can applaud it, but I wish they would have done that in the past. At least they are doing things now."
For so long, he continued, "Things would fly back then that don't fly now. It is going to take years but I'm glad things are changing."
But for Garrett, who is currently competing on The Challenge: Double Agents, it's just as important to focus on how Black people are portrayed as it is to hold people accountable for their actions. And that work includes having conversations about race and diversity, both how it's reflected on-camera and in real life.
"We've lost so many African Americans to police brutality and things of that nature, it has to be talked about and that is the only way we can actually have change come is by having these conversations," Garrett said. "It makes people uncomfortable, but we have to learn how to get comfortable being uncomfortable. I'm always open to have dialogue without it being a screaming match."
Which is why he's strived "so hard to make sure I am shown in a different light," he continued. "That is just who I am because I am conscious of what I say and how I speak on an off camera because I want African Americans to be known for being smart. We can own business; we take care of our families. It's a work in progress."
Karen Epstein Photography 2020/MTV
For Garrett, the work will continue off-screen. He announced earlier this year that The Challenge: Double Agents would be his final season, marking the end of a decade-long reality TV career. 
"I am one million percent retiring," he confirmed. "I'm not coming back. That is not a bad thing, it's time for me to start the next chapter in my life and sadly it won't include The Challenge anymore."
Garrett, who recently moved to Houston with his longtime girlfriend, fellow Challenge star Kam Williams, explained he felt "ready to move on" and focus on his Texas-based barber shop, which he opened in January. 
"It's been a long time, it seems like it blew by fast," he reflected of his time on MTV. "I have so many good memories of the people I have met, the places I have been and to be a part of the network. It truly has been a blessing to have done it for as long as I have."
While Garrett said he's not the type to hold grudges, he admitted, "If I could go back, I would have handled things differently like, 'Hey [Nagakawa] needs to go.' I didn't have much power. It was their call, they could have said: We've been dealing with Leroy for so long, we love this guy, this shouldn't have to happen. And I'm looking at it now, like, damn."
But, he added, "MTV has learned their lesson on that and we can move forward. I don't hold any ill will towards [Nagakawa] or them because no one is perfect."
And there Garrett is, once again, setting the example. 
(E! and Bravo are both part of the NBCUniversal family.)