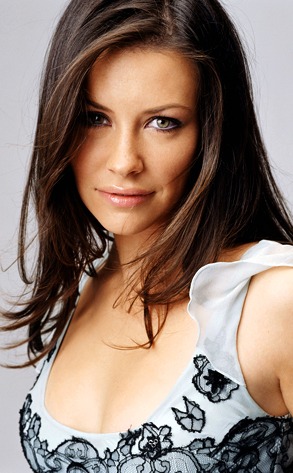 Kwaku Alston/Corbis Outline
• Lost: The lovely Evangeline Lilly, one of the stars of ABC's Lost, has signed an endorsement deal with L'Oréal.
• Reaper: Even though Reaper is almost certainly off the CW schedule, ABC Studios is apparently working to sell it into syndication.
• Brothers & Sisters: Dancing With the Stars champ-to-be Gilles Marini says he will guest on season four of ABC's Brothers & Sisters in a role to be named later.
• Fringe: Jeff Pinkner, the show runner of Fox's Fringe, explains the alternate universe depicted in the season finale and points out some Easter eggs, including that JFK and basketball player Len Bias are both alive over in that other world.
• Dollhouse: This one is a correction. Despite what we told you in the chat, @joshwhedon is not the real Joss Whedon. Boy, next thing you know we'll be finding out that @tinafey isn't the real—wait, what?! Noooo! Unfollow! Unfollow!
• Sons of Anarchy: Heavy metal group Anvil is recording a song to be used in the first episode of SOA season two.
• Lie to Me: Fox has picked up a second season of Tim Roth's series Lie to Me and asked The Shield boss Shawn Ryan to take over as exec producer.
Kristen in St. Louis, Mo.: Any CSI: NY scoop? Please?!
We just caught up with CSI: NY's Emmanuelle Vaugier and she tells us the relationship between Jessica and Flack (Eddie Cahill) is definitely developing. Emmanuelle says, "I think they're fairly serious! They're at a more serious stage that we were at, say, the beginning of the season."
As for the coming season finale, "I think you'll see a lot more of my relationship with Flack, and the last episodes have a lot of twists and turns and some very, very interesting things happen." Will there be a cliffhanger ending? According to Emmanuelle, "I can pretty much assure you that it will." Emmanuelle also tells us to look for a cliffhanger involving her character Mia on her other show, Two and a Half Men.
What's your favorite CSI series?