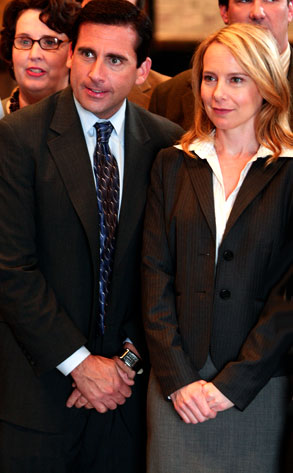 NBC/ Chris Haston
Sad face. Oscar nominee Amy Ryan returns to The Office tomorrow night, but unfortunately, it seems that her return is the beginning of the end for Michael Scott (Steve Carell) and our beloved Holly Flax.
We just spoke to Amy exclusively, and she does feel your pain: "I got stopped in the street last week by this woman who just said, 'You have to go back to him! You broke his heart.' It's a lot of pressure!"
So what goes down between Holly and Michael tomorrow at the "Company Picnic"? Here's what Amy spilled:
According to Amy, "Right now Holly has a hot boyfriend. [The finale] is a company picnic, and he works at the Nashua branch, so yeah, he is there. Michael responds to this in his usual, as-you-would-expect way." By which she means he responds with his usual hilarious and wacko inappropriateness.
After the "Company Picnic" encounter, however, it's all over, as much as Amy would love the prospect of another return visit with her friends at The Office. She says, "I think that door [to return] will always be open, just because it's such a nice party to go to. But that said, there are no plans any time soon for them to be reunited again." Still, we can always hold out for a series-finale capper where Holly Flax returns to propose to Michael, right? As Amy puts it, "You never know when they're going to be whisked away off into the sunset."
As for her partner in crime, "Steve and I get along so well as actors, to the point where we are finishing each others' sentences—even in conversation. Of course, there's no catching up with Steve in the comedy department, but he's so generous. He leaves room for you to take it, you know? He sets you up beautifully. He offers it up to you to grab it as your own." Aww, he really is the nicest guy in show business!
Next up for Amy is a role opposite Philip Seymour Hoffman in the quirky rom-com Jack Goes Boating, which is also Hoffman's directorial debut.
Will you miss Amy Ryan on The Office when she's gone? Do you think Holly was Michael Scott's one true love?
The Office season finale airs Thursday at 9 p.m. on NBC.