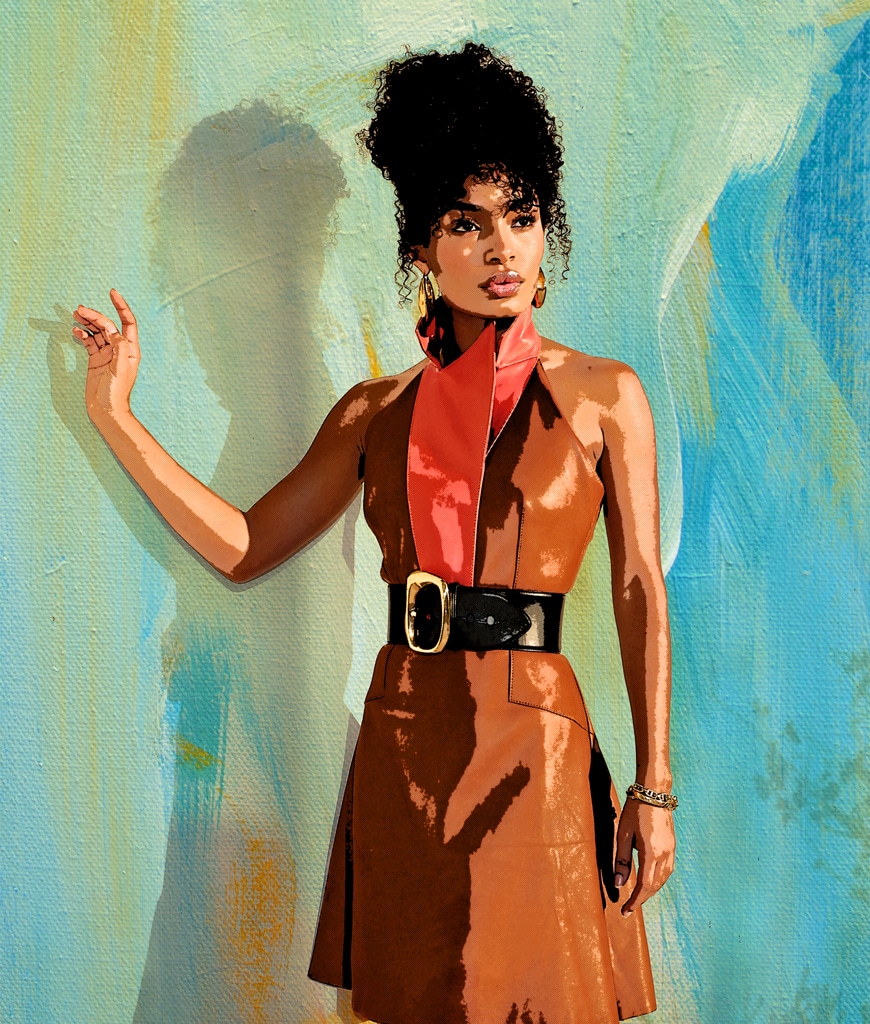 Getty Images; Melissa Herwitt/E! Illustration
In these times of utmost turmoil, we're happy to report that there's a really inspiring, heartening trend to go along with the dispiriting, wake-us-when-it's-over devolutions in our society.
And that's the rise of young people putting their seeming bottomless energy to good use and making it happen, both for themselves and to better the world around them.
There is a litany of names to appreciate, but right this moment it's Yara Shahidi getting the shout-out, an actress and activist who can't help but make you scratch your head and wonder what you were doing at 21.
Finishing school, maybe planning for more school, getting a job, but otherwise... well, surely we were doing something...
The eldest of three kids, Yara grew up immersed in the arts and became a voracious reader thanks to her Black model mom Keri Salter Shahidi and Iranian-American photographer dad Afshin Shahidi, who made sure their daughter was absorbing a diverse array of perspectives.
"Like, my education was very intentional," the Grown-ish star told The Guardian in 2019. From history books so she could go beyond what was being discussed in the classroom at 6 to reading James Baldwin by the time she was 13,  she said, "My parents have always put me in environments that were intentionally progressive and forward-thinking."
Her intellectual curiosity piqued at a young age, and taught by example that she should speak up for what she believes in, it was the tiniest of leaps from acting to activism, the politically outspoken performer never one to shrink from a tough conversation. In fact, it's more likely she'll be the person starting it.  
"I feel like activism has always been ingrained into who I am because of how my parents have raised me," Yara told Teen Vogue in 2017. "When I first started earning money, my mother would help me divide it into three: saving money, spending money, and donation money. Giving became a very integral part of the process, especially as people that had as much abundance as we were able to have. I think having a platform optimized how I wanted to use my voice. I was always an outspoken child, but over the past few years, I've been able to say that I am comfortable—in any situation—voicing my opinion about how I feel, which is a fantastic way of vying for social change."
True story.
"If you get Yara talking, she will not stop talking," Tracee Ellis Ross, who plays her mom on Black-ish and Grown-ish, told Vogue in 2018. "When Yara gets comfortable, she gets comfortable."
You'd be forgiven for assuming she'd reached this milestone already (or you're wondering how the heck little Zoey Johnson on Black-ish grew up so fast), but Yara is celebrating her 21st birthday Feb. 10. And while she may not be one to rest on her laurels, we're paying tribute to the multihyphenate's various laurels for her.
Here's everything she managed to get done long before she was old enough for a much-deserved champagne toast:
But is there such a thing as too much, too soon?
Black-ish creator Kenya Barris admitted to The Hollywood Reporter in 2018, "Sometimes I worry about her, because she's been so uber-successful at everything that she's attempted and I want her to leave room for being a kid."
He needn't have worried that Yara wouldn't have her fun. She's had her share. But from the beginning, she wasn't exactly one to focus on...well, kid stuff.
Talking to Vogue in 2018, she said that one of her "greatest fears is living a self-centric life," explaining, "I think this industry is bred to create that—especially if your physical body is your tool or your face is what makes you money. I'm trying to understand that and then pulling back to figure out, How do we avoid that? How do we want something and have a greater purpose?"
So far, there's been no sign of that fear coming to fruition. Not stopping to worry about whether her opinions might put off some people or hinder her career in any way, Yara has continued to use her platform to speak her mind and shape this incoming generation of leaders—especially young, ambitious women with plenty to say and bold ideas about how to make this world better.
Sound familiar?
Yara told The Guardian in 2019 that she was flattered to have been deemed the "voice of a generation" by many of her admirers, but she politely eschewed the label.
"I read that and think it's physically not possible," she said. "I am beyond proud of being a part of a generation that no one person could be the face of. I'm grateful to be one of many voices."