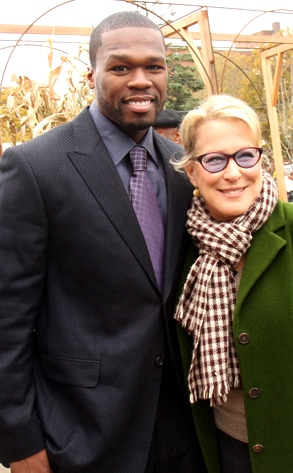 Johnny Nunez/Getty Images
It's probably one of the most unlikely friendships ever created in show business: 50 Cent and Bette Midler.
Yes, the hip-hop impresario and the legendary singer-actress are tight. "Little Jewish lady and the great big rapper," the Divine Miss M tells me. "He's such a doll. I love him. He's gorgeous."
The two originally bonded over gardening. Yeah, gardening...
Midler's environmental group, the New York Restoration Project, and 50 Cent collaborated on the development of a public garden in his childhood neighborhood in Jamaica, Queens.
Fiddy immediately jumped on board when Midler came calling. "He never asked how much," she says. "He just said, Where do I sign?"
The rapper will be by Midler's side once again May 19 for the Restoration Project's eighth annual spring picnic in New York City's Fort Tryon Park. Also expected are Dolly Parton and Tim Gunn, among others. Funds from the soiree and an accompanying online auction benefit the Project's work in revitalizing parks, community gardens and opens spaces in NYC.
A duet with Fiddy and Midler could be next. "I was hoping we'd sing songs from the Depression, but he's so young that I don't think he knows any of them," Midler laughs. "I'm going to have to check things out and see what he feels like singing."
Check back here tomorrow, when Midler sounds off on Adam Lambert, Susan Boyle and the First Wives Club musical.
________
Follow Marc on Twitter @marcmalkin