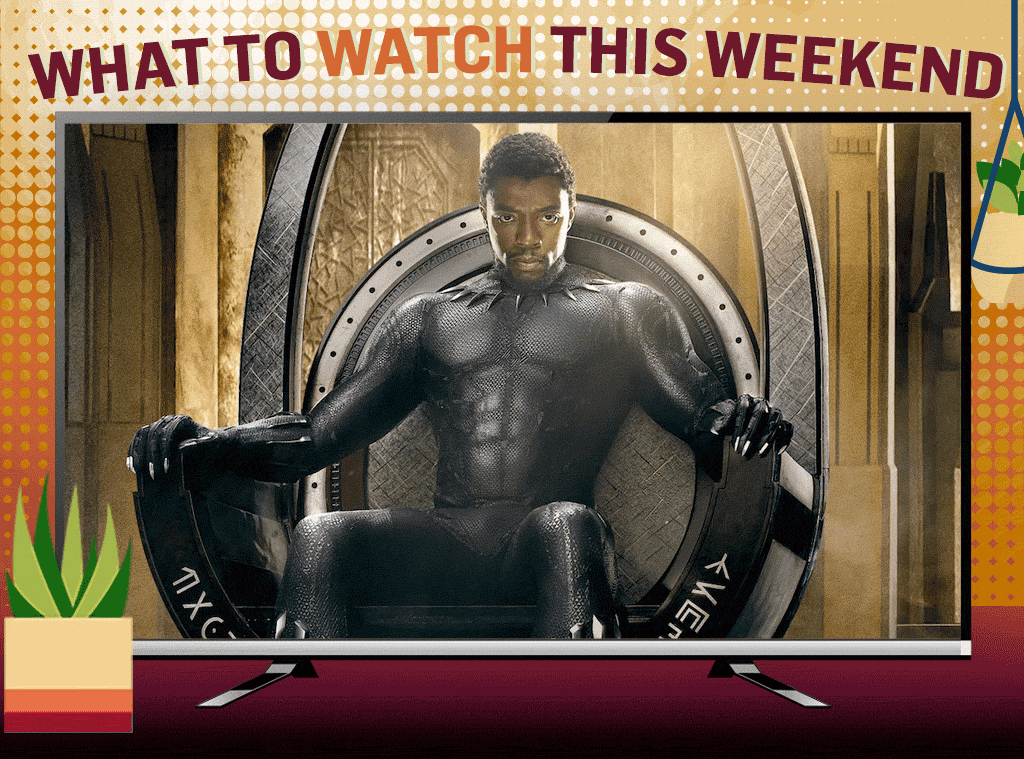 Disney+; Netflix; HBO/E! Illustration
Get ready for some Black excellence. 
E! is honoring Black History Month all February long and part of that means delivering a bounty of movies and TV shows to add to your queue this weekend and beyond—including two highly anticipated new releases up for awards at the 2021 Golden Globes. 
We've compiled a list of projects from Black creators—Issa Rae, Lee Daniels, Shonda Rhimes, Michaela Coel and more—and, for your streaming convenience, broken it down by your service of choice. Plus, we're highlighting a few staff favorites, including Idris Elba's British coming-of-age story and the deliciously binge-able Basketball Wives.
Happy viewing!
Netflix
Fruitvale Station: In his directorial debut, Ryan Coogler tells the heartbreaking true story of Oscar Grant (played by Michael B. Jordan in a breakthrough performance), a 22-year-old black man who was shot by white police officers during a night out in Oakland, Calif., in 2009.
'90s Sitcoms: Iconic series like Girlfriends, Sister, Sister and Moesha were just a handful of the Black comedies the online streaming giant brought back into our living rooms in 2020. Always knew how much we missed them!
Dear White People: Based on the 2014 movie of the same name, the dramedy centers on students at an Ivy League school, diving into the racial inequality that is ingrained in elite institutions. The fourth and final season is slated to debut later this year.
Ma Rainey's Black Bottom: Based on the play of the same name by August Wilson and produced by Denzel Washington, the movie pays tribute to the titular 1920s blues legend and, tragically, serves as a goodbye to one of modern cinema's most talented actors. Viola Davis delivers a powerhouse performance as the Mother of Blues, earning the star her sixth Golden Globe nomination. . And in his final film, the late Chadwick Boseman, who died last August at 43 following a battle with colon cancer, portrays ambitious trumpet player Levee in his final film performance is filled with charisma and charm, heartbreak and humanity, earning him a posthumous nomination for the 2021 Golden Globes.
Homecoming: One word: Beyoncé. No further explanation necessary. 
Moonlight: TBH, Barry Jenkins directs the s--t out of this beautiful coming-of-age tale and love story starring Oscar winner Mahershala Ali, Trevante Rhodes and Naomie Harris. The Academy's pick for Best Picture in 2016—who can forget that infamous mix-up with La La Land?—follows the journey of a young, Black and gay man through three seminal chapters of his life.
Netflix/Atsushi Nishijima/Netflix
When They See Us: Ava DuVernay's Emmy-winning four-part miniseries depicts the wrongful conviction (and eventual exoneration) of a handful of teenage boys known as the Central Park Five who were accused of assaulting and raping a white woman in 1989: Kevin Richardson, 14; Raymond Santana, 14; Antron McCray, 15; Yusef Salaam, 15; and Korey Wis, 16.
Grey's Anatomy, Scandal and How to Get Away With Murder: C'mon, who among us can actually resist Shonda Rhimes' #TGIT hat-trick? 
Hulu
The United States vs. Billie Holiday: Andra Day stars as the legendary jazz singer in this Lee Daniels-directed biopic, dropping Feb. 25,
Bad Hair: Insecure's Elle Lorraine and Lena Waithe star in the satirical psychological thriller from Dear White People's Justin Simien that was one of the buzziest releases to come out of the 2020 Sundance Film Festival. Set in 1989, the movie follows the ambitious Anna (Lorraine) after she gets a weave in order to make it in the image-obsessed world of music television. But things take a turn for the hairy when she discovers her new tresses may have a mind of their own. While it may center on a killer weave, Bad Hair explores the often-overlooked cultural issues and conversations about Black women's hair.
Woke: Lamorne Morris finally gets his time to shine outside of the New Girl loft in the timely comedy Woke, which finds the actor playing the onscreen version of cartoonist Keith Knight. After an encounter with the police, the traumatized San Francisco artist reevaluates his entire life and jump-starts a heightened level of social consciousness—that includes inanimate objects now speaking to him.
The Hate U Give: The adaptation of Angie Thomas' bestselling novel has a tremendous Amandla Stenberg as Starr, one of the few black students at her high school who finds herself at the center of a national controversy when she witnesses a police officer shoot her friend. A coming-of-age tale with a heaping helping of social commentary, The Hate U Give features many standout performances, especially Russell Hornsby's gripping turn as Maverick, Starr's father.
Beyond the Lights: Directed and written by Gina Prince-Bythewood, this 2014 movie starring Gugu Mbatha-Raw as superstar Noni has it all: Romance, drama, comedy and music.
12 Years a Slave: Director Steve McQueen and screenwriter John Ridley both took home Oscars for their adaptation of the 1853 slave memoir Twelve Years a Slave by Solomon Northup. And the 2013 period-drama introduced the world to the magic that is Lupita N'yongo, who won Best Supporting Actress at the Academy Awards for her star-making role
Queen Sugar: Created by DuVernay and produced by Oprah Winfrey, the drama series based on the novel of the same name follows the estranged Bordelon siblings in rural Louisiana as they tackle family issues, love, racial injustices and more. 
Atlanta: Donald Glover created and stars in the critically acclaimed FX series as Earn, a character that manages up-and-coming rapper, Paper Boi, who just so happens to be his cousin. And after too long of a hiatus, the Emmy winner recently teased on Twitter that the impending third and fourth seasons will "some of the best television ever made. sopranos only ones who can touch us."
The Autobiography of Miss Jane Pittman: What better way to honor trailblazing actress Cicely Tyson, who died in January at the age of 96, than by watching her Emmy-winning performance in this searing 1974 adaptation of Ernest J. Gaines' 1971 novel.
HBO Max
Insecure: Partially based on Issa Rae's web series Awkward Black Girl, her HBO series is one of the most relevant shows on TV, centering on female friendships, romantic woes and modern-day racial issues impacting young Black people.
Love and Basketball: One of the most beloved romantic dramas of all-time, this 2000 gem starring Sanaa Lathan and Omar Epps is still just as sexy 20 years later, telling the story of neighbors pursuing their respective careers as professional basketball players while trying not to fall for each other. 
Key and Peele: "We all need some levity in these uncertain times and that's exactly what Keegan-Michael Key and Jordan Peele provide. They are versatile, they're fearless and they are FUNNY. From Obama's Anger Translator to Rap Battle Hype Man to the Substitute Teacher sketch, the laughs, they are endless. 'Ya done messed up, A-A-ron' if you don't watch Key and Peele!" — Gina Sirico
Judas and the Black Messiah: Shaka King directs two of the most exciting actors of their generation—Golden Globe nominee Daniel Kaluuya and LaKeith Stanfield—in this electrifying film about the assassination of Black Panther chairman Fred Hampton, premiering premieres Feb. 12.
I May Destroy You: Undoubtedly one of the best shows of 2020, the drama and its radiant creator and star Michaela Coel were straight-up robbed in the 2021 Golden Globes nominations. Watch it and you won't be able to take your eyes off of Coel or cede the real estate I May Destroy You will now own your brain. 
Lovecraft Country: Created by Misha Green and nominated for Best TV Drama at the Golden Globes, the horror series was one of the biggest pop culture events of 2020. The anthology, which hones in on the supernatural experiences of a Black family in 1950s Jim Crow America, can be exciting, moving, puzzling and downright horrifying with each passing twist and turn.
A Black Lady Sketch Show: Prepare for six-pack abs from laughing so hard at the comedy stylings of creator Robin Thede and her stacked roster of actors, including Ashley Nicole Black, Quinta Brunson and Gabrielle Dennis.
Peacock
The Best Man Holiday: With its stacked returning cast, including Taye Diggs, Regina Hall and Nia Long, this 2013 sequel to The Best Man is just a perfectly wrapped gift for rom-com fans. Please Malcolm D. Lee, can we get one more movie from this group?!
Everybody Hates Chris: This critically acclaimed sitcom was based on the teenage experiences of its creator: legendary comedian Chris Rock. 
Inside Man: Spike Lee's 2006 artsy heist thriller starring Denzel Washington is energetic and filled with more twists than a bag of pretzels. It's everything an action movie should be, basically. 
Deliver Us From Eva: This 2003 movie starring Gabrielle Union and LL Cool J is an underrated rom-com gem. 
Wilmore and The Amber Ruffin Show: Prepare for honest, hilarious and heartfelt takes thanks to two of the freshest voices in late night, Larry Wilmore and Amber Ruffin. 
The Game: Created by Mara Brock Akil, the show was a spinoff of her hit Girlfriends—the beloved BET series that notched 7.7 million viewers for its fourth season premiere, making it the most-watched in cable TV history. A treasure trove of 147 episodes of laughs await you.
Disney+
Black Panther: Wakanda forever. Coogler's 2018 superhero movie—the first in the genre to earn a Best Picture nomination at the Oscars—is a love letter to and a celebration of Black culture and features a powerful performance by the Boseman. Rest in power, King. 
Black Is King: As we said before, Beyoncé.
Red Tails: Anthony Hemingway's 2012 feature film debut starred Cuba Gooding Jr. and Terrence Howard as Tuskegee Airmen, a legendary group of African-American United States Army Air Forces servicemen who served during World War II.
Safety: We dare you not to tear up reading the logline for Safety: "An 18-year-old student puts his football scholarship on the line when he steps up to take custody of his 11-year-old little brother after their mother enters an extended stay at a drug rehab facility." Yep, we're already crying. The movie is based on the story of Ray McElrathbey, the former Clemson football player who brought his sibling, Fahmarr, to live with him on campus in 2006. Yeah, we think he officially redefined the position of safety with that move.
The Proud Family: One of TV's most beloved animated fams is reuniting for an official revival, The Proud Family: Louder and Prouder, and what better way to prepare for their return than by binge-watching all three seasons?
Ruby Bridges: Helmed by historic filmmaker Euzhan Palcy, the 1998 movie depicts the real-life story of six-year-old Ruby Bridges (Chaz Monet), one of the first Black children to attend an integrated school in the Deep South. 
Amazon Prime
One Night in Miami: Oscar winner Regina King makes her directorial debut with this fictional account of four icons of sports, music, and activism coming together to celebrate one of the biggest upsets in boxing history in 1964. King earned a nomination for best director at the 2021 Golden Globes, while Leslie Odom Jr. netted a supporting actor nod for his turn as Sam Cooke. 
Fences: Denzel Washington and Viola Davis join forces in this 2016 adaptation of August Wilson's Pulitzer Prize-winning play of the same name. Davis' performance netted her an Oscar for Best Supporting Actress, while Washington earned his first nomination for Best Director. 
Eve's Bayou: "If you like Lovecraft Country or AHS: Coven, you'll def want to catch this 1997 Southern Gothic thriller (and directorial debut) from writer-director Kasi Lemmons. Jurnee Smollett is only 10 years old in this and her performance is amazing." — Katherine Riley
Carsey-Werner Distribution, Larry Busacca/Getty Images
A Different World: The popular Cosby Show spinoff aired for six years and addressed serious topics its more family-friendly mothershow often avoided. And Dwayne (Kadeem Hardison) is still one of our ultimate TV boyfriends. 
In the Long Run: "This British comedy-drama—about a family from Sierra Leone who have immigrated to East London in the 1980s—is loosely based on star and show creator Idris Elba's childhood. It's great little feel-good show with no schmaltz, and the throwback costumes, set design and music take me back to being a kid. It's worth watching just for the Singing Boy's covers of '80s hits alone!" — KR
CBS All-Access
RuPaul's Drag Race: You better werk if you want to catch up on all of the seasons of TV's most fabulous reality competition series.
Basketball Wives: "Back in 2010, Shaunie O'Neal decided to spotlight a group of 'basketball wives' for a Vh1 reality show. Yes, there was glamour. And yes, there's been plenty of drama. But as season nine kicks off Feb. 9, O'Neal continues to give a diverse group of women a national platform to share their unique stories. Along the way, she's reminding women it's important to forgive, heal and move forward in this unpredictable game called life." — Mike Vulpo
Chappelle's Show: Almost 20 years later, David Chappelle's seminal comedy sketch series is as funny as ever. We dare you to watch the iconic Rick James sketch and not laugh. In fact, we double-dog dare you. 
Love & Hip-Hop, Love & Hip-Hop: Atlanta and Love & Hip-Hop: Hollywood: Correct this blind spot in your reality TV purvey ASAP.
Baldwin Hills: The ridiculously overlooked docu-reality series that ran for three seasons in the late aughts had it all: drama, love triangles and wealthy teens living a lavish lifestyle in an affluent neighborhood of L.A.
Being Mary Jane: Gabrielle Union is crazy-good in this BET drama that aired for five seasons. Then again, when is she not crazy-good?