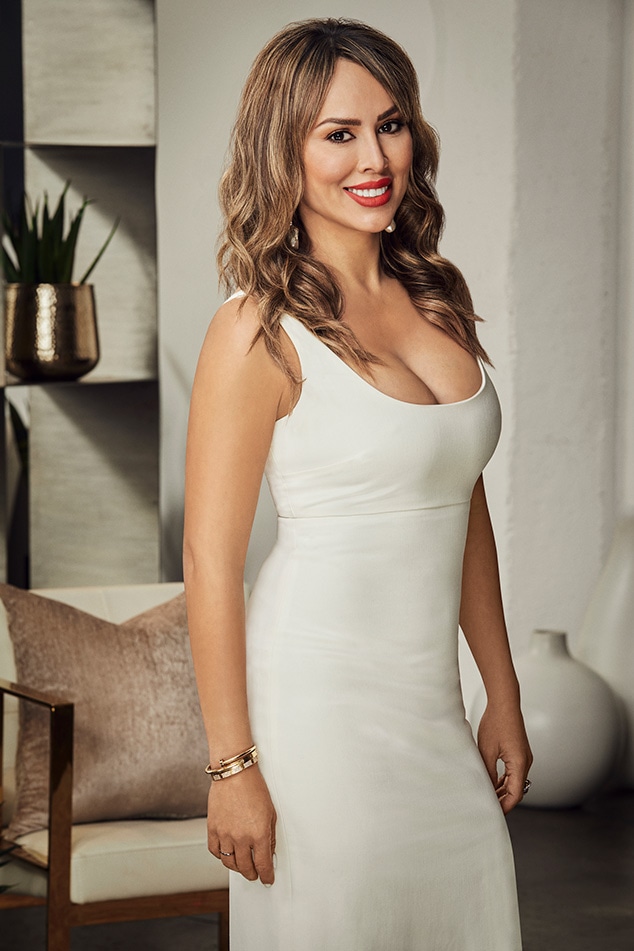 THE REAL HOUSEWIVES OF ORANGE COUNTY -- Season:14 -- Pictured: Kelly Dodd -- (Photo by: Tommy Garcia/Bravo/NBCU Photo Bank via Getty Images
Could Kelly Dodd be losing her orange?
Amid growing controversy this season, The Real Housewives of Orange County star is "expecting to be fired" from the show, a source told E! News, noting "nothing has been confirmed" just yet.
"Although she would love to stay on the show, she has come to terms with it," the source continued. "She knows it's coming."
Kelly has received criticism for her recent controversial comments, including those about the ongoing coronavirus pandemic. Still, the source claimed, "Kelly stands by her opinions and thinks the show is favoring the other ladies," specifically Braunwyn Windham-Burke. According to the insider, the 45-year-old reality star "feels she is definitely being pushed out."
Still, a Bravo rep told E! News the network has made no casting decisions yet.
Earlier this week, Positive Beverage, which had a partnership with Kelly for two years, announced they were cutting ties with her—pointing to her behavior on the show, including her comments during the reunion, and her recent social media posts as reasons for ending the affiliation.
On Jan. 30, Kelly shared a video of herself dining at a restaurant in Newport Beach with friends in which an unidentified voice in the background could be heard yelling, "Nobody's wearing a mask" and "super spreader."
While Kelly later deleted the Instagram clip, she seemed to address the backlash in a separate Stories video. "I'm not a super spreader because there's nothing to spread because we all got the vaccine and we don't have it. So, there's nothing to spread about super spreaders. The sheeple are mad!"
A separate source close to Kelly told E! News she did not get the vaccine. The TV personality also addressed her actions in a since-deleted tweet on Jan. 31. "My goal Sat was to promote the reopening of a local biz closed since March. The crowd was celebrating finally enjoying food & drink in a bar & I don't know the person who yelled 'super spreader.' There was never an intent to harm, only to appreciate a slice of normal."
Watch:
Kelly Dodd Would Love to Join "RHONY" Cast
This wasn't the first time Kelly had come under fire. Back in April, she said the pandemic was "God's way of thinning the herd." She later issued a public apology.
"What I meant was, do these pandemics happen because it's God's way? I'm not God. I'm not insensitive," she said, later adding, "I feel bad for all of the families who have lost loved ones. I do think we should all stay home and protect everybody. That's not what I meant, and I want to apologize to anyone who got offended. I'm sorry."
While Kelly still maintains a strong following on Instagram, Andy Cohen noted during part one of the reunion that her "behavior on the show and on social media has really outraged people." He told Kelly he gets messages from people saying that she's "uneducated," "putting out misinformation" and "behaving like a moron." 
"People were wanting to boycott the show," he added, "I've never seen anything like it."
Some fans have also called for Kelly to be fired from the show. "Hey@BravoTV, fire @RHOC_KellyDodd," one follower wrote. "That is all. Thank you. #RHOC." Added another, "@Andy @BravoTV
PLEASE listen to us and fire @RHOC_KellyDodd."
During part two, which aired Jan. 25, Andy also pointed out that Kelly "got a lot of flak online" for a picture of her wearing a hat that read "Drunk Wives Matter." He wasn't the only one calling her out. During the show, Braunwyn claimed Kelly sent her "racist" text messages, an allegation Kelly quickly shut down. "I'm Black!" Kelly revealed, citing her alleged 23andMe test results and later adding, "How am I racist?"
Though her declaration was shocking, Kelly later attempted to clarify her comments in an interview with E! News. "So we have Braunwyn who is blonde-haired, blue eyes, as white as can be," she said. "She's always saying that I'm a racist or a homophobe and it really irritates me. So I did a 23andMe and I don't identify myself as a Black person, that was not my point. My point was I'm Black, Asian, Mexican, Spanish, I'm 30 percent Native American and I'm one percent Jewish. And I'm all races. I don't see people with color, I see people. That's it."
Watch:
Does Andy Cohen's Son Have a Favorite "Real Housewives" Star?
(E! and Bravo are both part of the NBCUniversal family).