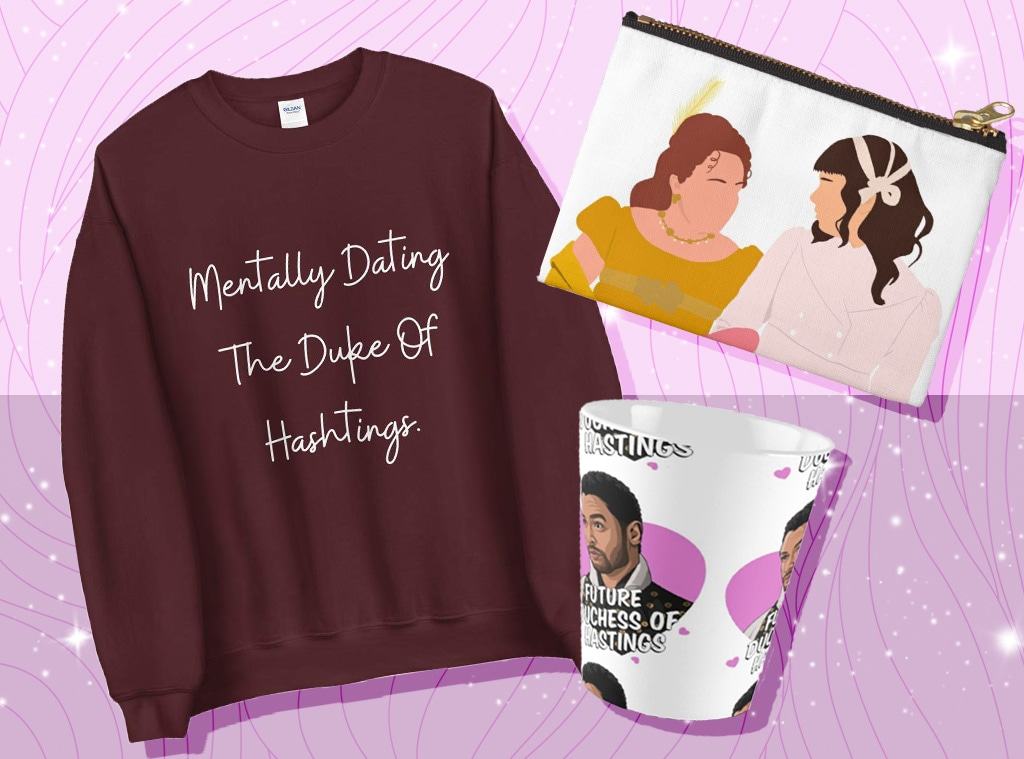 E! Illustration
Spill The Tea Lady Whistledown's Society Papers Unisex Sweatshirt by FlawlessArtShop
Become an honorary member of the  Society Papers staff with this cozy sweatshirt.
Bridgerton Wrapping Paper - The Duke
Bianca Bow Headband
Extravagant headpieces and bows were a staple on the show! Although a feather crown would be a nice gift, your Valentine can rock this bow headband on the daily.
Bridgerton Future Duchess of Hastings Mug
Who didn't develop a crush on the Duke of Hastings while watching Bridgerton! Now every morning you can manifest marrying a Duke as you sip your coffee or tea.
Bridgerton Book 1: The Duke and I by Julia Quinn
Read the book that started it all and see what was left out of the show! Even better, give this book to someone who hasn't watched the Netflix series yet.
Penelope Feathertop and Eloise Bridgerton Characters Illustration Zipper Pouch
Penelope and Eloise are icons! Gift your best friend this adorable pouch so they can take all their essentials with them when they're looking to figure out who the town gossip is.
Bridgertonian Calendar 2021 Poster
Bridgerton Sticker Pack by CarolynCreatesArt
Lovingly Lace Gloves
To be honest, bringing back the glove trend in 2021 doesn't sound crazy. These chic lace gloves will certainly elevate any outfit!
Mentally Dating Duke Of Hashtings Bridgerton Crewneck Sweatshirt
Whether you're taken or single, this sweatshirt will show everyone where your mind is at. And we don't blame you, we're obsessed with the duke, too!
The Daphne to My Simon Candle
Give this hand-poured soy blend candle to your bf or bff to show them how much you love them! And you can choose from four different scents: Memories of Camp, Cinnamon Swirl, Vanilla Hazelnut Coffee and Sugar Cookie.
Bridgerton Matches by CraftsByEmilyJean
You can't light a Bridgerton candle without matches saying, "I burn for you."
-Originally published on Friday, Jan. 29, 2021 at 5:00 a.m. PST