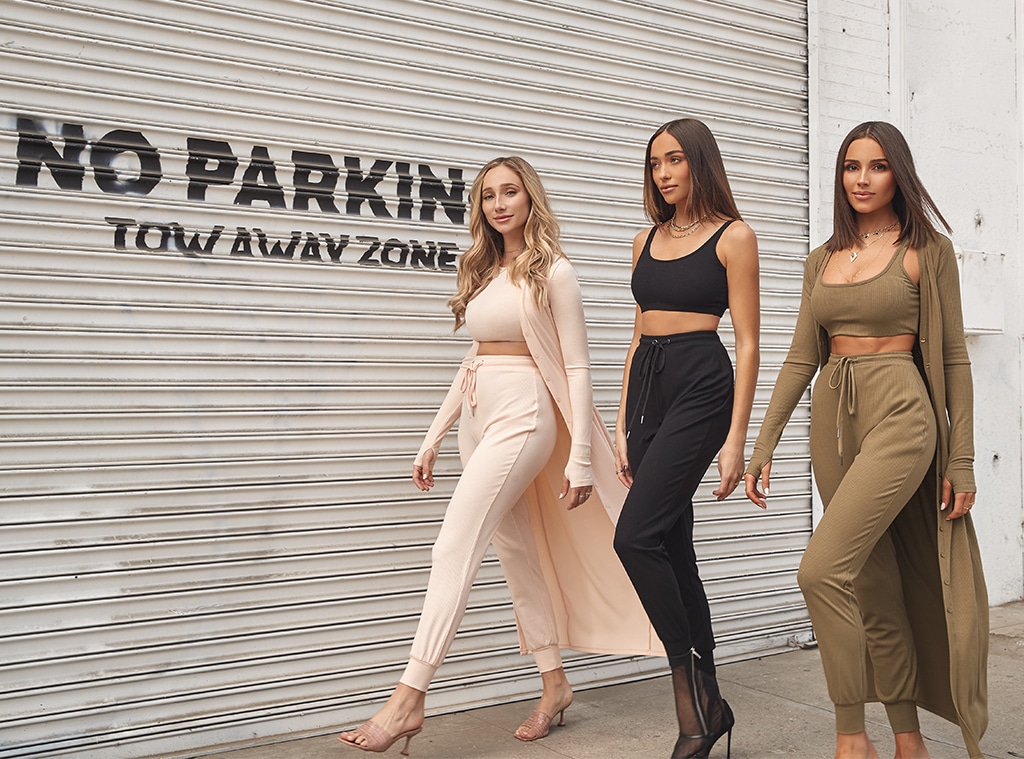 Macy's
We independently selected these products because we love them, and we hope you do too. The products shown are from a celebrity's own product line. If you buy those products through the links in this article, Macy's, which sells the celebrity's product, has agreed to give Shop with E! a commission on purchase.
The Macy's Culpos x INC new arrivals are here, and we caught up with the Culpo sisters to hear all about their campaign for these Instagram-worthy additions. The line is meant to inspire you to confidently wear the latest trends, and the sisters have shared which of the new arrivals are their favorites.
"This collection is a lot more fashion forward than some of our other more comfy, cozy collections," Olivia Culpo exclusively told E! "There are a lot of really amazing silhouettes and structured shoulders. I also love the color palette for this drop with the denim and nudes."
So how did the sisters decide who would model what in their new campaign, shot right after Aurora Culpo gave birth to baby Solei?
"We shot the campaign with a super small crew at a totally COVID-safe set back in the fall," Sophia Culpo said. 
"The good news is a lot of the styles come in a few colors so it was really just choosing colors for each other," Aurora explained. "I tend to wear a lot of lighter colors and whites, Olivia loves her nude tones and Sophia looks amazing in black so it actually worked out really well."
The Culpos x INC line is a family affair, and the sisters wouldn't have it any other way.
"We absolutely love working together as a family, so even when we might be arguing over something, we are all truly enjoying the process," Olivia says. "I would say my favorite thing is probably seeing how we all style the same pieces so differently."
So now below, shop each of the Culpo sisters' favorite pieces from their new Culpos x INC drop at Macy's.
Culpos x INC Faux-Leather Peplum Tube Top
Culpos x INC Fuzzy Cropped Tank Top
Culpos x INC Three Piece Set
Aurora is obsessed with this three piece ribbed set in the olive hue. Shop it in a range of other colors as well.
Culpos x INC Exaggerated-Sleeve Faux-Leather Blazer
"In one of the campaign photos I am wearing the leather blazer dress with the most amazing boots and that is another favorite piece for me," Sophia says.
Culpos x INC Jean Bodysuit
Culpos x INC Faux-Leather Biker Shorts
Culpos x INC Faux-Leather Exaggerated-Sleeve Bodysuit
Culpos x INC Paperbag-Waist Jeans
"I have been living in the trousers," Aurora said. "They are comfortable and you can dress them up or down (which is what I have been doing!)."
Culpos x INC Jean Blouse
This blouse that Olivia loves can be worn with either its zipper in the front or back. Shop it in two other colors as well.