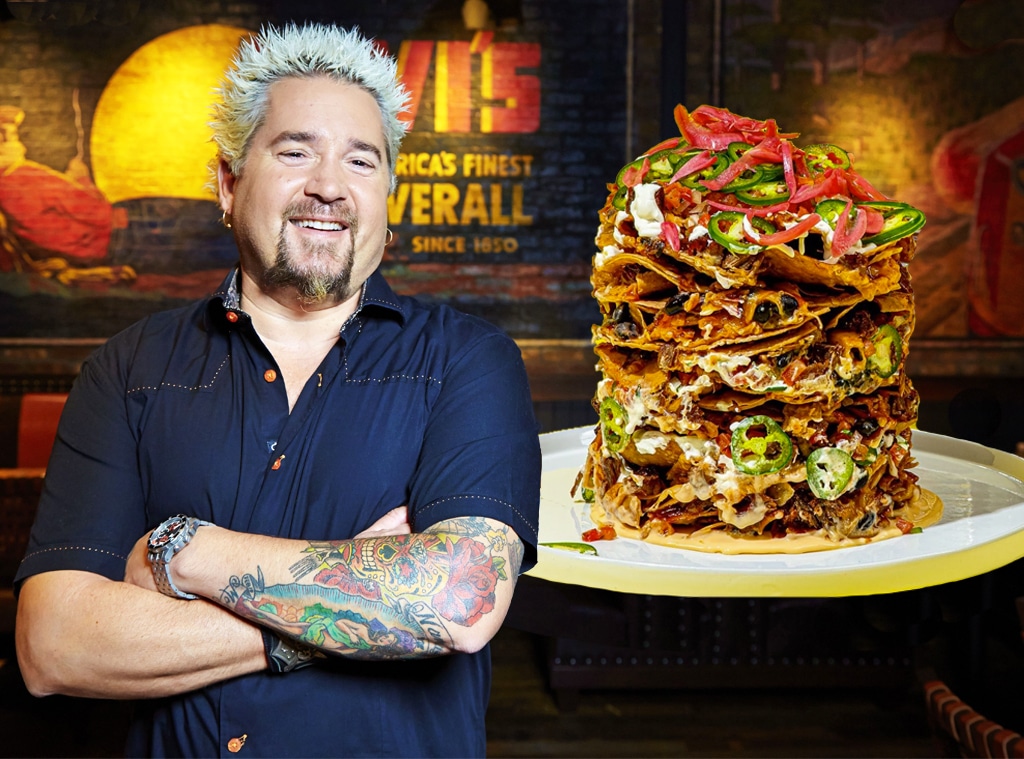 Dan Hallman/Invision/AP/Shutterstock; Goldbelly
Guy Fieri's Guy's BBQ Trash Can Nachos
The Mayor of Flavortown is now offering his iconic dishes on Goldbelly! Guy's Trash Can Nachos will instantly upgrade your Super Bowl experience regardless of who wins. In case you're unfamiliar with the crowd-pleasing snack, it's a delicious tower of crispy tortilla chips, cheddar, black beans, pico de gallo, jalapeños, chile peppers, sour cream, cilantro and pickled onions. And of course, make sure to cover it in Guy's Super Melty Cheese Sauce and Signature BBQ Sauce to top it off!
Joe's KC BBQ Ribs, Brisket & Burnt Ends
Whether you're for the Bengals or Rams, this Kansas City BBQ spread will make you put your differences aside because it's that delicious! Plus, you can spend more time watching the big game and less time on food prep.
Chicago Style Hot Dog Kit
Enjoy Vienna Beef Hot Dogs famous Chicago-style hot dogs! And you won't have to even leave the house, because this kit comes with everything you need like buns, relish, mustard and more.
Pretzel Lover's Combo Pack by Milwaukee Pretzel Company
The Big Game BBQ Brisket Chili + Buffalo Chicken Dip by Water Dog Smoke House
How does one keep their guests happy when the game gets tense? Bring out a platter of chili and dips! This kit comes with gourmet crackers, four pounds of house-smoked brisket chili and four pounds of house made buffalo chicken dip.
Not Fried Chicken Ice Cream Bucket - 9 Pieces by Life Raft Treats
Ok this treat is pretty cool! Crafted by Chef Cynthia Wong, a James Beard Awards' Outstanding Pastry Chef, these intricate ice cream creations look like chicken wings, but they're actually made of waffle ice cream, a chocolate-covered cookie "bone" and a coating of white chocolate and crushed corn flakes. 
Detroit-Style Pizza - Choose Your Own 3 Pack by Emmy Squared
Customize your own pack of Detroit-Style pizzas for the big game! Whether you like classic cheese or vodka sauce, Emmy Squared offers so many delicious and unique pizza options that the whole family will enjoy.
Chunky Beef Chili by Blount's Family Kitchen Soups
We don't know about you, but our mouth is watering at the sight of this chili! Whether you serve it as the main course or a side, your guests will be oh so happy.
Game Day Chocolate Football Cookie Box (6-Pack) by The Goddess and Grocer
Pat's Original Philly Cheesesteak - 4 Pack by Pat's King of Steaks
Burnt Ends - 2 lbs by 4 Rivers Smokehouse
Game Day Football Field Brownie Tray by The Goddess and Grocer
—Originally published on Monday, January 25, 2021 at 3:21 p.m. PST.