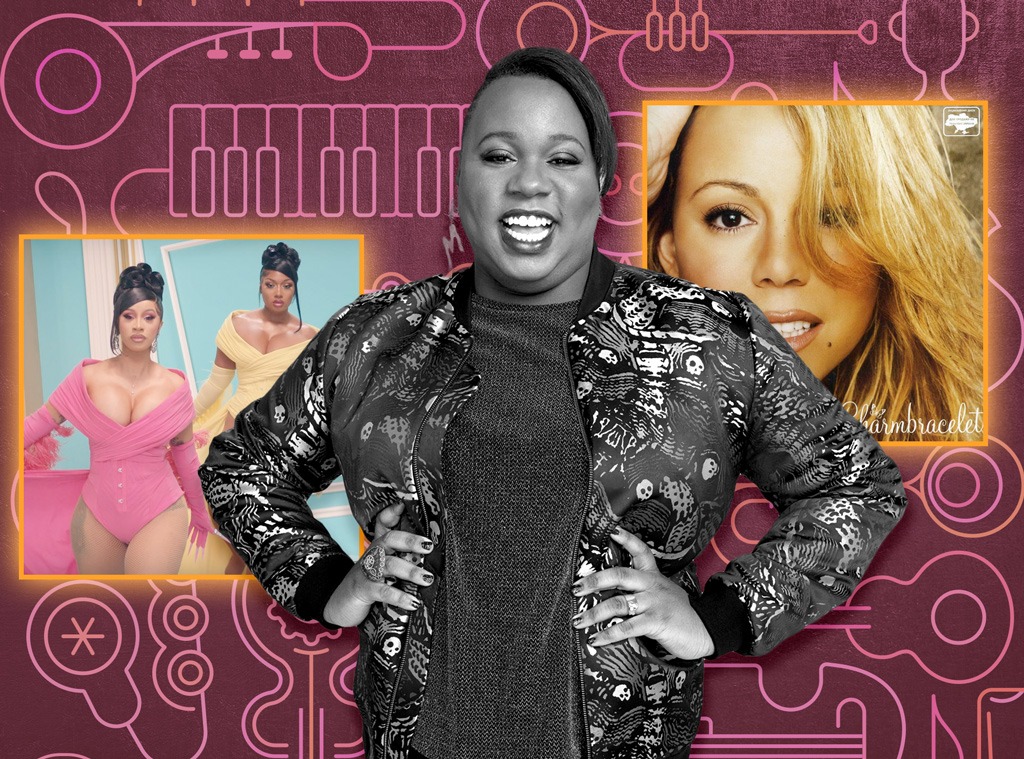 NBC; E! Illustration
Alex Newell is having a moment.
It's been a decade since audiences were first introduced to the powerhouse performer as he competed on the first season of Oxygen's The Glee Project, seeking out a coveted guest-star arc on the Fox hit Glee. He didn't win, but proved so impressive that he landed the role of Wade "Unique" Adams anyway, eventually becoming a series regular.
Since then, Alex has carved out an impressive career that's taken him into the recording studio, with an EP and a handful of stand-alone singles to his name, onto Broadway, with a role in the 2017 revival of Once on This Island, and back to TV, where he's currently co-starring on NBC's charming musical dramedy Zoey's Extraordinary Playlist, now in its second season. 
In fact, it's Alex's work as Mo, a genderfluid DJ and the titular character's next-door neighbor, that just earned him a Best Supporting Actor in a Comedy Series nomination at the 2021 Critics' Choice Television Awards, taking place on March 7. "Color me dead," Alex wrote on Instagram after learning of their nomination, "shocked.. and truly honored to even be thought of and nominated!!!!"
In celebration of the show's second season on NBC, E! News asked Newell to pull back the curtain on the artists and albums that have influenced him over the years. From the song he wishes he'd recorded to the album he hopes he never hears again, this is the soundtrack to his life.
The song/album that reminds me of childhood: Probably Charmbracelet by Mariah Carey because it was the first one I ever bought with my own money. I had been a giant fan of Mariah, and I'd gotten so many of her albums. I just loved her voice. That one came out around the time that I had my own money and I was like, "I guess I need to have this." I bought it and I fell in love with it.
The song/album people might not expect me to love: Probably that one. It's one of her—I don't want to say "failures," but it's not one of her most well-known albums. I think most people would be shocked that I owned that one. To this day, I still have the CD of it, which is strange.
The song/album that makes me think of falling in love: I'm a full sap, so probably "Saving All My Love for You" by Whitney Houston.
The song/album that I turn to when I'm at my lowest: This is a strange, obscure one. I'm a musical theater junkie and nerd. They did a musical of Grey Gardens, the story about Little Edie and Big Edie. And it kind of reminds me that everything could be a lot worse.
The song/album I hope I never hear again: Probably the U2 one that just magically showed up on my phone.
If I could only hear one song for the rest of my life, it would be: I could hear "Get Me Bodied" by Beyoncé forever. There's just something about it. They played it back-to-back in high school at our dances, and I was just like, "I could listen to this song all the time." I didn't get tired of it.
The song/album that's guaranteed to get me turned all the way up: "WAP." I'm obsessed with Cardi B, so I'm always going to say "WAP."
The song/album that I wish I wrote/recorded: I wish that I had recorded Jason Derulo's "Want to Want Me" because I heard the demo right before he recorded it and I turned the song down. But it's fine, it's fine. It works better for him anyways.
My own song that I'll be happy to retire: Probably "Kill the Lights." It's so high, and I recorded it at the beginning, when I was 21, 22. I literally can never sing that song live without killing my vocal cords.
My own song that I'll never get tired of performing: Probably "Basically Over You." It's a really good song. It's just a really fun song to sing. Even when I recorded it with the person that wrote it, MNEK, it was just a fun time singing with him and laying down the vocals on it. I just love that song. Probably my No. 1 baby.
Zoey's Extraordinary Playlist airs Tuesdays at 8 p.m. on NBC.
(E! and NBC are both part of the NBCUniversal family.)
Watch:
Jane Levy on Why She Took "Zoey's Extraordinary Playlist" Role