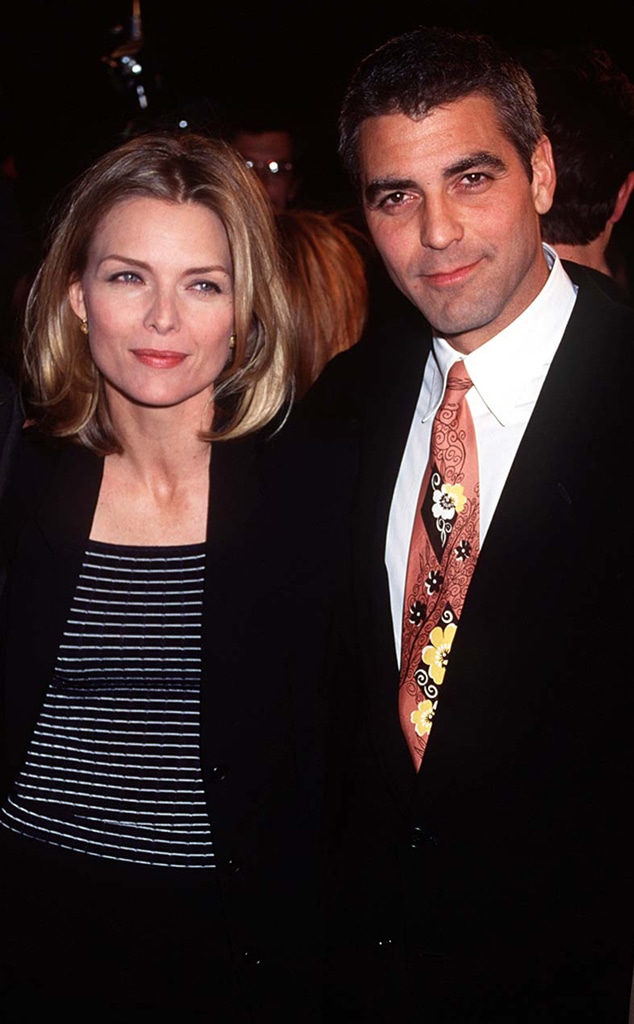 Magma Agency/WireImage
Sometimes, even the best in the business can have a little too much fun.
Close to 25 years ago, George Clooney and Michelle Pfeiffer teamed up for the romantic comedy, One Fine Day. The flick told the story of two strangers and their young children who unexpectedly intersect on one stressful day in New York City. Sounds lovely, right?
But while participating in the Variety Studio: Actors on Actors interview series, George couldn't help but recall one day of filming where he showed up a little tipsy after drinking with close friend Rande Gerber.
"I came home at 1 in the morning, and I'm like, 'Oh s--t.' I was pretty hammered," George recalled to Michelle. "I woke up at 5 in the morning. I was like, 'I feel OK.' Then I looked in the mirror, and I was like, 'Oh, I'm still drunk.' I got to the set, and we walked to the trailer and I sat down and you looked at me. You go, 'What?' And I was like, 'I didn't know we were going to work today.' And you go, 'You're still drunk.'"
He continued, "It's a scene we did in a oner where you and I are talking back and forth to each other. I kept trying to spray whatever mouth spray I could because I smelled like a…like a distillery."
But wait, there's more! Michelle proceeded to remind her close friend and co-star of the day he showed up with a broken face. George quickly took himself back to the lunchtime basketball game where he didn't exactly win big.
Watch:
George Clooney Defends Meghan Markle Against Media Criticism
"I took an elbow in the face from one of the crew members, and it broke my eye socket," he confessed. "And I was like, 'I can still shoot.' I remember we actually shot scenes where we blocked half of my face with a kid."
Despite the off-screen curveballs, One Fine Day became a fan-favorite. In fact, the movie's original song, titled "For the First Time," ended up receiving an Oscar, Golden Globe and Grammy nomination. 
More than two decades after the film's release, George is now the father of 3-year-old twins, Alexander and Ella. During filming, Michelle remembered a time when her close friend showed signs he could be a great father.
"I would watch you with Mae [Whitman] and Alex [Linz] on the set," she recalled. "Because you're a kid at heart, and you're like Peter Pan. It used to irritate me because you would get really upset when they wouldn't behave and do what they were supposed to do. We would spend 30 minutes getting them settled down, and then you would disrupt the whole thing and you would get them going. You'd do some practical joke and then undo the whole thing, and then you'd get upset they weren't behaving. Do you remember that?" 
George replied, "That's why I shouldn't have been a parent then. I had to wait till I was elderly—I'm like Tony Randall having children now."