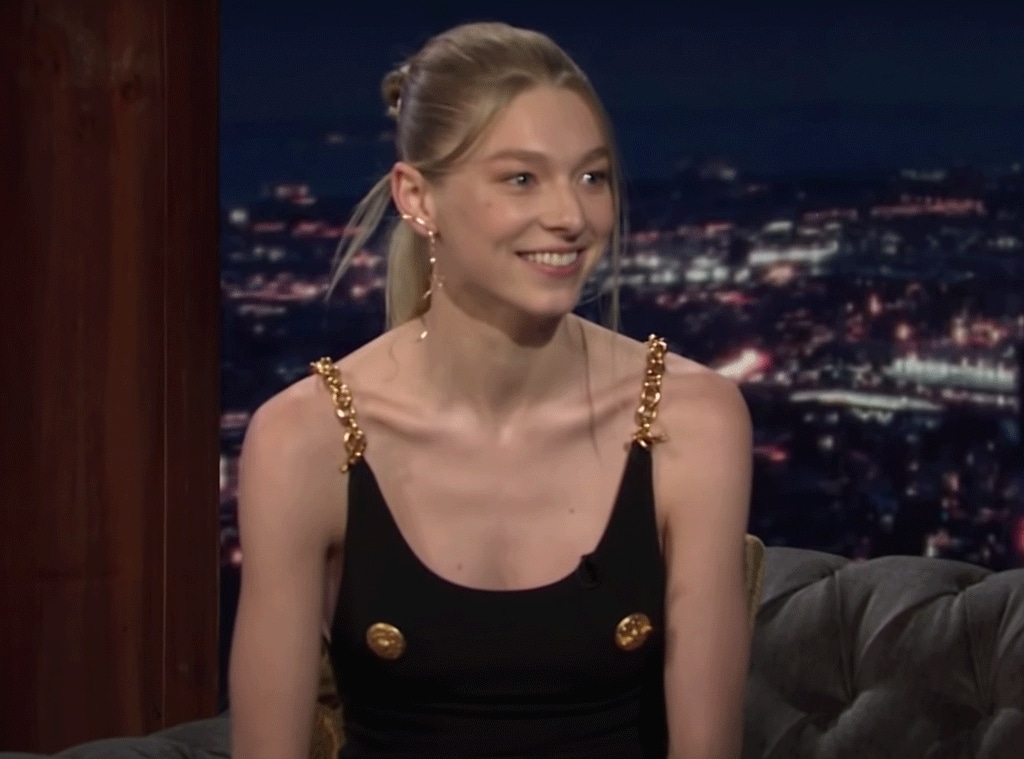 YouTube
Hunter Schafer is an actress, model and now TV writer.  
During the Jan. 20 episode of The Tonight Show, the 21-year-old star talked about co-writing and co-producing an episode of Euphoria. The idea to take on these new roles came about while Schafer was driving across country and spending some time in North Carolina amid the ongoing coronavirus pandemic.
"I have to be honest, I was not doing super well mentally at that time, you know, as quarantine has put a lot of us in that place," she told Jimmy Fallon. "I had taken it upon myself to research mental hospitals in North Carolina. I was like, 'It might be a good decision to do that with where I was at.'"
Schafer started searching for hospitals on Google but found that "all of them had terrible reviews." So when Euphoria's creator Sam Levinson called, she asked him for advice.
"And then Sam called me later that day and I was like, 'Sam, I've been researching mental hospitals for, like, two hours. Like, why do they all have terrible reviews? Like, I can't find any that are good,'" she recalled. "And he was like, 'Well, Hunter no one likes being at mental hospitals. No one is going to leave a good review for a mental hospital.'"
During their discussion, they began tossing around ideas for an episode. As Schafer put it, "I wrote the episode instead of going to that kind of institution."
Schafer said it was "really nice" to be able to put her "energy into something." However, she made it clear she didn't want to discourage others from seeking help. "I think mental hospitals are great if you need to go to them," she said, "not to side with the reviews."
The special episode, titled "F*ck Anyone Who's Not A Sea Blob," focuses on Schafer's character Jules. According to Variety, the episode picks up where season one left off. Per the outlet, it shows Jules observing the Christmas holiday and dealing with her decision to leave town on her own after her plans to run away with Zendaya's character Rue fell apart. Fallon played a preview of the episode during the interview.
"At least for me, being trans is spiritual," Schafer said in the teased scene. "You know, it's not religious. It's not, like, for some congregation. It's for me. It's mine. It belongs to me, and I don't ever want to stand still. Like, I want to be alive. I mean, that's what this has always been about is, like, staying alive."
Schafer has spoken about her similarities to Jules before, including during a 2019 interview with The New York Times.
"I transitioned in early high school, and her transition might have been a little bit earlier than mine," she told the publication. "But transitioning while you're in public school is a pretty intense experience, so I knew I could bring that to her. And then Jules' drive and motivation for the way she acts from the start, as far as a desire to be treated 'like a woman.' And I'm saying that with quote fingers because that's a loaded term. But I think one of Jules' main battles is her desire for romance and normalcy and love, which I think she's kind of locked down a routine as far as getting some form of that. But of course it's not healthy, and I can relate to that point in my life. I didn't act out on it, but I certainly desired to be treated a certain way in order to affirm my femininity."
The episode will be available to stream on HBO Max starting Friday, Jan. 22 and will then air on HBO Sunday, Jan. 24.