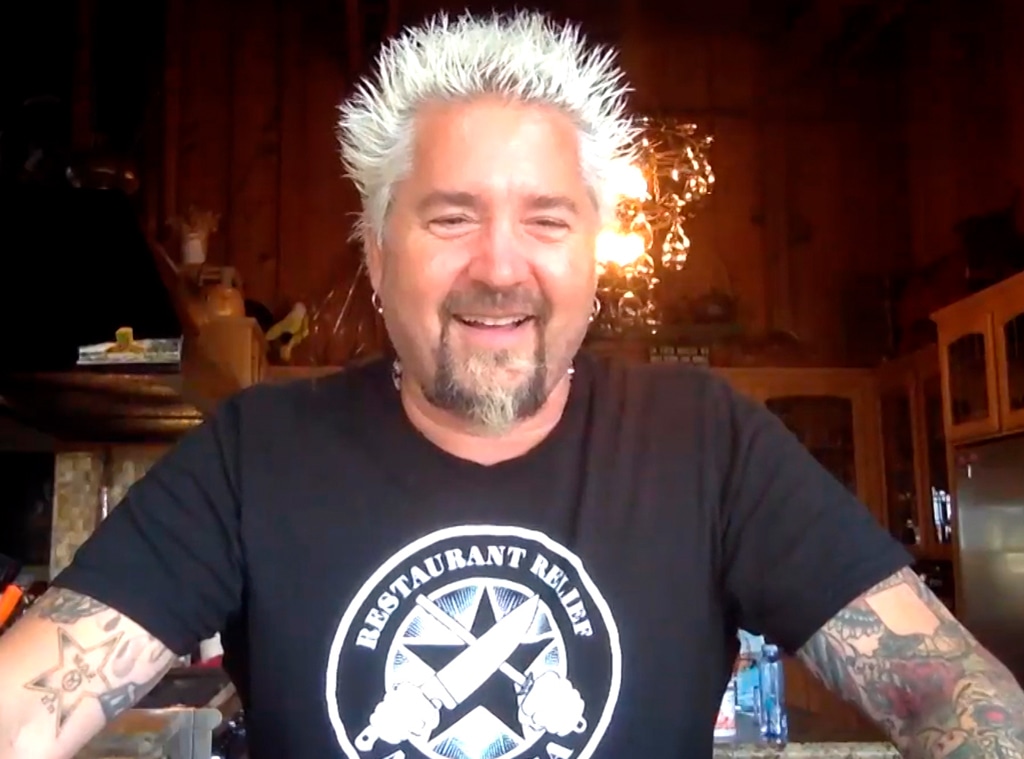 NBC/NBCU Photo Bank via Getty Images
COVID-19 can't stop and won't stop Triple D.
For Guy Fieri and so many chefs, the coronavirus pandemic brought along challenges to the restaurant industry very few could anticipate or prepare for.
As cases began to climb in March 2020, government officials implemented restrictions on dining establishments, such as reduced capacity or takeout and curbside pickup only. Nearly ten months into the pandemic, many businesses are still struggling to adapt to the new normal, pay their employees and keep their doors open.
But from the beginning, Guy rolled up his sleeves and figured out a way to help thousands of restaurants suffering across the country.  
"This isn't just about people not having the convenience to eat food—this is the lifeline to single parents, to students, to dual-family incomes," Guy told Travel + Leisure in January. "Many people who work in the restaurant industry have two jobs…Finally I get this epiphany: I'm going to go to all of the people who make the money off of the industry—the suppliers—and tell them that now's the time to stand up and give back."
While Guy initially spent $50,000 of his own money to buy gift certificates at all of the restaurants in his hometown of Santa Rosa, Calif., the Food Network star wanted to go big by helping all of California.
And after receiving support from the President of the California Restaurant Association, Guy set his eyes on the entire country and teamed up with the National Restaurant Association to build the Restaurant Employee Relief Fund.
Watch:
Healthy Food Options to Eat While Social Distancing
After getting the names of presidents from the top 50 companies who directly contact and do business with the restaurant industry, Guy started making calls. What came next was a movement to help many across the nation.
"My manager calls me and tells me I need to pull over, 'Pepsi gave you a million dollars and I have them on the other line right now—they want to talk to you.' It still gives me goosebumps," Guy recalled. "An hour later, UberEats was on the phone. They gave us $2 million. By the end of that day, we had $8 million and I was losing my mind."
According to RERF, more than $21.5 million was raised from companies and individual donations. Fifty percent of grants went to racial minorities and 80 percent of grant recipients reported earning less than $50,000 per year in household income before being impacted by the COVID-19 pandemic. 
Guy wasn't stopping there. The best-selling author also used his platform to humanize the ongoing struggle restaurants are facing.
This past December, a documentary produced by Guy titled Restaurant Hustle 2020: All on the Line premiered on the Food Network. The special shined a light on what chefs like Marcus Samuelsson, Christian Petroni, Maneet Chauhan and Antonia Lofaso have experienced in their restaurants throughout the pandemic.
Nathan Congleton/NBC/NBCU Photo Bank via Getty Images
Before the doc premiered, Guy reflected on his emotions while watching his peers suffer. "It was a very trying time to listen to your friends that you love and respect and see them go through this, up and down, that you couldn't do anything about," he shared on Today. "We will beat these situations and we will prevail through them, unified. Divided, we don't."
While some may know Guy for his restaurants, cookbooks and signature hairstyle, others know him from his long-running series titled Diners, Drive-Ins and Dives.
Although COVID-19 prevented Guy from visiting restaurants in person, he still found a way to spotlight businesses across the country thanks to a safe and unique pivot.
He asked restaurants to send him a dish that he could prepare at home. With help from his youngest son and camera guy Ryder Fieri, 15, Diners, Drive-Ins and Dives Takeout was created and 20 episodes have been shot.
Since the pandemic began, Guy has heard from strangers who have said his shows and fundraising efforts have made a difference. And as he celebrates his 53rd birthday on Friday, Jan. 22, perhaps the greatest gift is knowing his small acts have made a big difference.
"[People] came up to me and said it was unbelievable. 'It wasn't just about the money, it was that people we didn't even know cared about us,'" Guy recalled hearing when speaking with Travel + Leisure. "The restaurant business is there for everybody: it's a place to eat, to feel good, to hang out, to interact. And they've never asked anybody else for anything."
Now, more than ever, they need our appetites and appreciation.