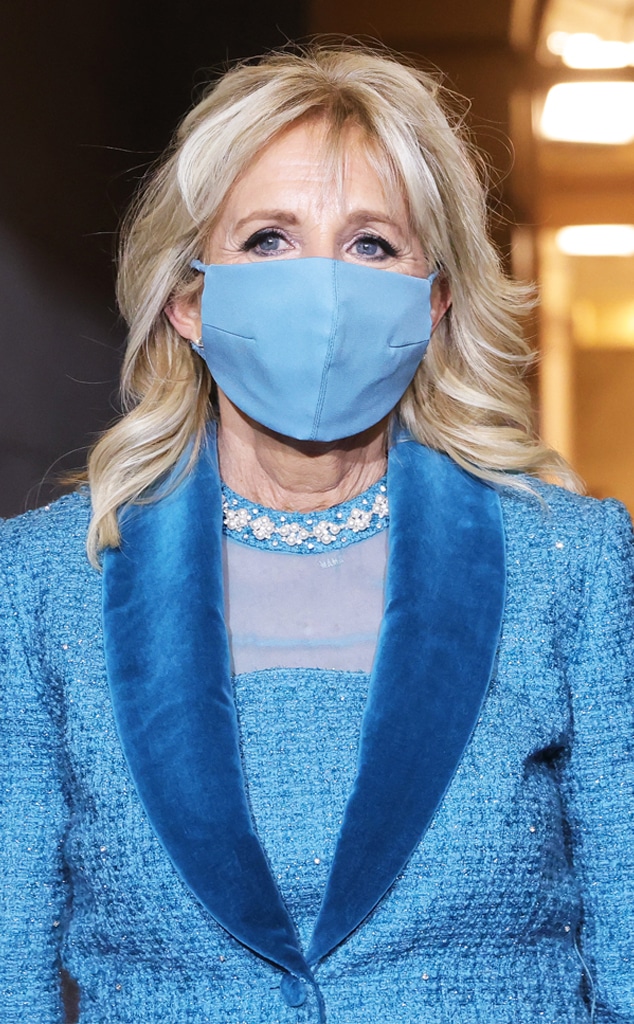 Shutterstock
Feeling anything but blue! 
It's officially the start of a new era as President Joe Biden and Vice President Kamala Harris were sworn into office on Wednesday, Jan. 20 in Washington, D.C.
Inauguration Day kicked off with a major celebration, which included moving performances by Lady Gaga, Jennifer Lopez and Garth Brooks.
Plus, the president delivered a powerful message of unity and hope. Another major moment at today's ceremony? First Lady Dr. Jill Biden's monochromatic blue ensemble, which was designed by Alexandra O'Neill, the mastermind behind New York-based fashion label Markarian.
The first lady dazzled from head-to-toe in a glimmering sky blue coat adorned with Swarovski crystals. Underneath her eye-catching outerwear, Jill donned a tapered dress in the same color, which was also embellished with pearls and crystals. She tied her outfit together with a matching face mask and gloves.
There's no doubt FLOTUS dressed to impress, but her ensemble symbolized so much more than your average fashion statement.
Speaking to E! News exclusively, Alexandra shares the empowering message behind Jill's custom-made creation. Read on for all the fabulous and poignant details. 
JIM LO SCALZO/POOL/AFP via Getty Images
E! News: What was the importance of the blue ensemble? Why was that color chosen for today's event?
Alexandra O'Neill: We chose blue because it is a very calming color that signifies trust, confidence and stability.
E! News: What does it mean to you to have her wear your brand?
AON: It's an honor she chose a female-founded American brand that makes everything in the heart of New York City's Garment District. This will definitely be the highlight of my career.
E! News: Why do you think it's important for the first lady to highlight young, up-and-coming designers?
AON: I think that she recognizes the impact she can have on a brand's career. She is giving an emerging designer a chance to be showcased on a global level, which is unlike anything else. It also sets an important precedent to support American-founded, small emerging businesses.
E! News: How involved was the first lady when designing this look for her?
AON: It was a collaborative process with a nice dialogue. [She and her team] were so wonderful to work with. I know that they were considering multiple designers for today, so it is an incredible honor that she walked out wearing Markarian.
E! News: Did she have any special requests for her design? Was she looking to wear something specific?
AON: We wanted to make something classic and feminine for Dr. Biden, but something that would also stand out to signify such a special day. Her team first approached us and a few other designers in December, where we shared ideas and submitted a few different sketches for consideration. They were very open to seeing different options and the look evolved from there...We did not know that she would be wearing [our design] until she walked out this morning!
E! News: How does it feel knowing she chose your creation for the inauguration?
AON: It was such a surreal moment and so exciting. I mean, what an incredible opportunity to be even a small part of American history and this new administration.
The first lady wasn't the only one to wear a monochromatic outfit on Inauguration Day. Former First Lady Michelle Obama, Jennifer Lopez, Hillary Clinton, Kamala, and Jill and Joe's grandchildren were just a few who rocked the trend.
In fact, Michelle, Hillary and Kamala's decision to wear coordinating shades of purple also signified something powerful. According to Harper's Bazaar, the enchanting hue is a combination of the political party's colors—red and blue. It's a style choice that symbolizes unity as the nation welcomes a new era of White House leaders.
Moreover, the magazine noted that Vice President Kamala often donned purple during her presidential campaign in honor of Shirley Chisholm, who frequently wore the color during her groundbreaking run for president. Shirley's presidential dreams were never fully realized, but in 1968, she became the first Black woman elected to Congress.
Of course, we're only scratching the surface here when it comes to the inauguration fashion. Click here to see all of the showstopping outfits.